Posted by Emilyann Girdner (Author of Amazon Best-Selling Books) on 7th Jul 2020
Looking for the Best Outdoor Digital Signage Solution for Your Industry?
Outdoor digital signage is here to stay and growing in popularity by the day. MarketsandMarkets reported that, "the digital signage market is expected to grow from USD 20.8 billion in 2019 to USD 29.6 billion by 2024," so it's more important than ever for businesses and organizations to keep up with the digital age of communication and understand the newest and best solutions on the market for outdoor digital signage and digital signage protection in general.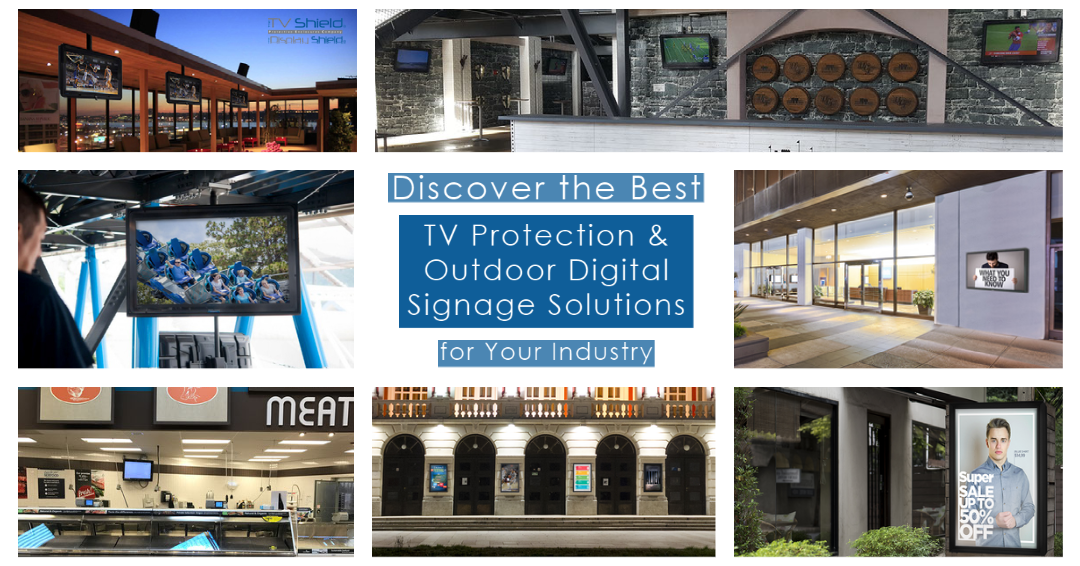 Outdoor digital signage enclosures are the most comprehensive form of TV and display protection and wildly growing in popularity. Unfortunately, most digital signs just aren't built to withstand flying objects, moisture, various climates and the other threats of harsh environments. But the great news is that robust outdoor digital signage enclosures offer complete protection.
Outdoor Digital Signage Enclosure Protection Features:
Heat protection for cold temperatures

Sun damage resistance

(

film available

)

Rain, wash-down, and general water defense

Durability for storms

Moisture resistance

Dust and grime protection

Robbery and vandalism security

Pest and insect defense

Salt air/corrosion protection

Durability against flying objects

Self-harm and ligature resistance
Is an Outdoor Digital Signage Enclosure What Your Business or Organization Needs?
The following are a few excellent examples of the amazing ways outdoor digital signage enclosures are meeting needs across various industries. These outdoor digital signage and display protection examples may be the solution you need for your business or organization. Click the "learn more" buttons for each category to discover the unique ways different industries need TV and display protection such as climate control, tamper defense, protection against salt air, chemical wash-downs and much more or simply select the orange product selector button below to start browsing outdoor digital signage enclosures.
Examples of Outdoor Digital Signage Growth Across Industries: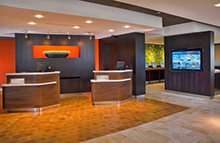 Hospitality
Why are more and more of the most loved resorts and hotels from Marriott, Bluegreen Vacations and Sheraton to Trump International Beach Resort choosing outdoor digital signage enclosures and TV cabinet solutions?
Weatherproof TV boxes and outdoor digital display enclosures offer extensive protection against water and bug entry, vents for necessary airflow, temperature regulation options such as thermostatic fans and heaters, moisture control solutions, and more.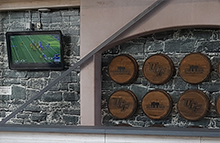 Stadiums
From the University of Alabama and Georgia Tech football teams to NFL teams like the Jacksonville Jaguars, the Washington Redskins, the Dallas Cowboys, the Tampa Bay Buccaneers, the Oakland Raiders and the Cleveland Browns, TV and display enclosures are becoming the popular solution for outdoor digital signage and TV protection.
Common Stadium Usage:
Electronic menu boards
Score boards
TVs in VIP lounges
Dugout TVs
Sideline TVs or digital monitors
Schedule signs
Advertising displays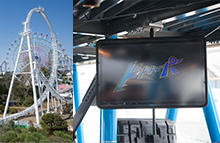 Theme Parks & Attractions
From nationally loved theme parks like Dollywood, Coney Island, Sahara Sam's and Six Flags to various other locations such as zoos, casinos and many more, weatherproof TV cases and outdoor digital display enclosures are becoming a favorite outdoor digital signage solution in the entertainment industry.
Between shows and ride lines, adventure park goers appreciate a little down time. This is why parks are placing their TVs and electronic signs in protected TV enclosures in sitting areas and throughout long lines leading to rides.
Brief Application Examples:
Digital ticket boards
Electronic information signs
Marketing displays
Ride instruction video cases
Digital menu boards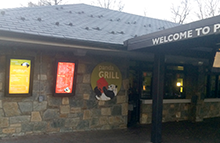 Restaurants
Commercial digital signs are simplifying restaurant menu display and advertising for countless establishments such as P.F. Changs, TGI Fridays, and more. In addition, Schwans, Perdue Foods and Tyson are just a few food manufacturers who are choosing durable LED TV and display enclosures in order to place signage in factories.
Brief Application Examples:
Restaurant signage
Bar TVs and signs
Electronic menu boards
(including weatherproof touch screen menus)
Digital signage for manufacturing facilities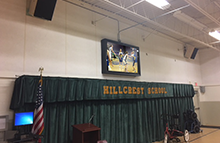 Education
Communication is crucial, especially across school campuses. This is why education signage is becoming an increasingly popular term. Educational facilities have a growing need to improve communication in the digital age which has led to the use of digital signage networks that stay up-to-date across entire college campuses and communicate messages in real-time.
Brief Application Examples:
Sports arena marketing displays
Theater stage screens and digital displays
Lunchroom menu boards
Electronic score boards
TVs and digital signs near pools
Entertainment complex TVs and monitors
TVs in athletic complexes and gyms
Chorus and choir room lyric displays
Science lab education boards
Outdoor TV solution for PE and recess
Child safety solution for TVs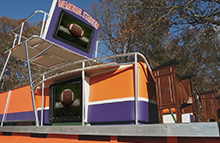 Transportation
Digital display enclosures are ideal for providing security and defense for digital monitors used in high traffic places, such as flight boards in airports. Protective TV and display enclosures are ideal for numerous applications in addition to aviation such as food trucks , bus lines, subways, train stations, boats and car lots.
One interesting outdoor TV challenge is that TVs located outside on boats, ferries, and yachts are often replaced numerous times a year because of corrosion damage from salty air. However, now there are cost-saving protection solutions like The Display Shield (weatherproof digital signage and TV enclosures) which is composed of highly durable outdoor plastic that is not damaged by salt.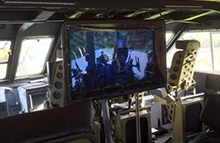 Government
Weatherproof LED TV enclosures and outdoor digital signage solutions are ideal for almost any federal government office, town hall, courthouse, capitol building, intelligence headquarter, state prison, jail, police station, army facility, national park, state park, ranger station, weapons depot, air force facility, military base, post office, light house, airbase, museum or memorial.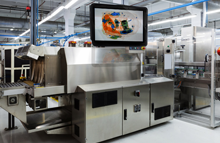 Manufacturing
Factories are large buildings that sometimes have hundreds of workers, so digital signage can be very helpful. Mills and factory yards usually must be kept superbly clean, and yet in many cases manufacturing processes create debris. Outdoor digital signage and TV enclosures not only protect TVs from dust, but these display cases can also be washed down and kept clean, which is a need for many sterile manufacturing facilities.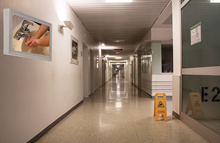 Medical Industry
From pharmaceutical manufacturing plants, medical training institutions, hearing centers, dental offices and counseling centers to hospitals, many different organizations within the medical industry have needs for environmental TV protection solutions. Baxter, Stryker, Cedar Park Regional Medical Center, Takoma Regional Hospital, Howard University Hospital, Happy Teeth Dental Centers and the USDC are just a few well-known facilities utilizing TV and display protection and taking advantage of TV enclosure anti-ligature features.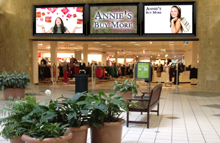 Retail, Corporate Environments, and More
Outdoor digital signage and interactive display cases are becoming increasingly popular for retail environments, offices, manufacturing plants, news stations, apartment complexes, theme parks and other various businesses. Whatever the retail environment threat, outdoor digital signage enclosures are a trusted solution. From water protection, moisture defense, bug defense and impact-resistance to theft control and more, enclosures are saving businesses thousands of dollars in damage prevention.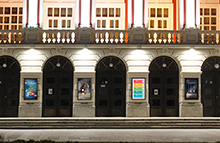 Theaters
Theaters are popular and fun social spaces, which means there's a significant amount of foot traffic. Due to their attendance rates, they're an excellent space for endless entertaining and communication. In fact, according to some studies, moviegoers are more likely to embrace advertising in the theater than on the internet or TV. TV and display enclosures enable theaters to convert outdoor poster boards to outdoor digital signage and protect it from tampering, weather conditions and more.