Outdoor Menu Board Solutions | Food & Restaurant Digital Signage
From restaurants, bars, and food trucks to food processing facilities and grocery stores, we are honored to be the trusted provider of protective TV and digital signage enclosures across the food industry. Below is a guide to common restaurant digital signage needs and ways our indoor and outdoor digital menu board and TV enclosures provide support.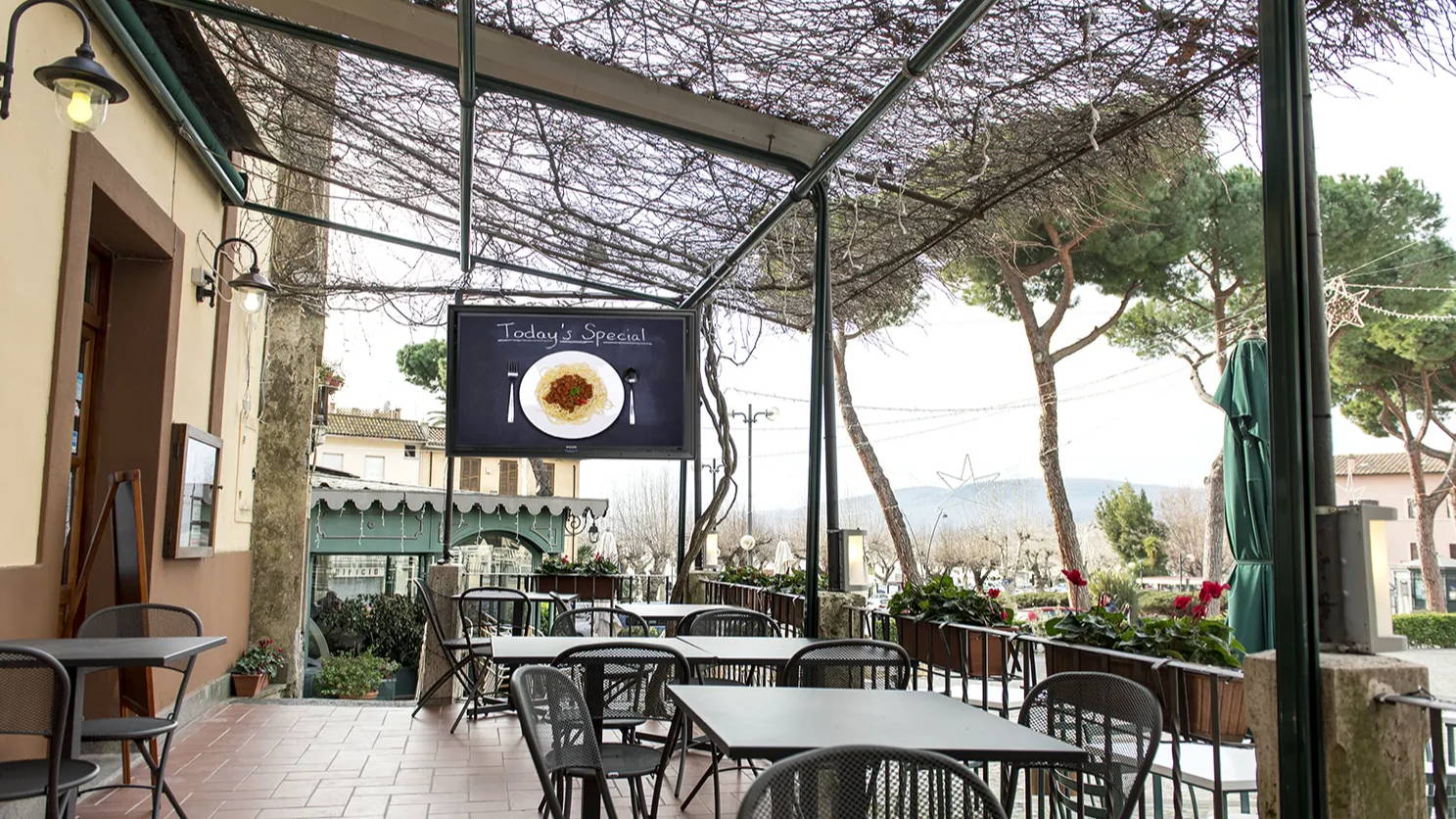 What is Restaurant Digital Signage
Restaurant digital signage refers to the use of digital mediums for communication in restaurant settings. This may range from using a TV or digital monitor to show curbside advertising in front of a restaurant to outdoor digital menu boards to TVs showing entertainment for guests and more.
What are Restaurant Signs Called?
There are a variety of restaurant signs for different uses at restaurants, bars, food trucks, and more. Below is a list of common terms and synonyms for restaurant signs.
Restaurant digital signage

Outdoor restaurant sign

Menu boards

Digital menu boards

Electronic messaging boards

Menu display board

TV menu board

Outdoor menu board

Drive thru menu board

Café display signs
Common Food Industry TV or Digital Signage Protection Uses
Bar and grill TVs

Restaurant TVs

Digital menu boards

Electronic messaging and safety boards in facilities, grocery stores, and around grounds

Internal and external advertising (digital signage for revenue)
Indoor & Outdoor Restaurant Sign Solutions
Gone are the days of messy chalkboard menus, letter boards, acrylic menu panels, and light boxes. Commercial digital signs are simplifying restaurant menu display and advertising for companies across the country. Outdoor restaurant signage weatherproof enclosures paired with digital monitors are becoming the menu board of choice since these signage options have text, photo and video display capabilities as well as audio. Many digital displays even have easy to use scheduling features across multiple displays.
In the past, even indoor restaurant digital signage has been easy to damage with heat, flying objects, and vandalism. However, paired with any standard TV or digital monitor, protective digital display enclosures and weatherproof digital display cases offer secure, tamperproof, water-resistant, durable signage and digital menu board solutions.
Outdoor Bar TV Enclosures | Club & Bar Digital Signage
If you're a bar owner, you may be wondering, "how do I proof my TV for outdoors?" or "what are the benefits of digital signage?" From showing outdoor branding for your restaurant (with video and sound incorporated if you use a digital signage TV), to showing sports and popular TV programs for guests, to using digital signage for menu boards, to displaying information in the kitchen such as schedules or orders, TVs and digital signage streamline communication and entertainment, reduce paper use for things like menus and schedules, and generally create a more modern feel for your business.
Bars are magnets for entertainment hungry guests but they're also a hub for excitement, which means things can get a little out of hand. That is why many sports bars and grills are choosing protective digital display enclosures for indoor and outdoor TV protection solutions. When flying beer bottles are a regular occurrence, outdoor bar TV enclosures like The Display Shield come in handy for protecting TV and display investments. Not to mention, many restaurants, bars, and pubs are located on the beach and deal with salt-water corrosion when trying to place TV outside.
The Display Shield is made from long-lasting HMWPE outdoor plastic that is not damaged by salt, offering increased corrosion prevention and saving restaurant and bar owners on TV replacement costs.
Fast Food & Restaurant Drive Thru Menu Boards
Digital displays are perfect for fast food and restaurant drive thru menu boards. Companies can load their menu or utilize food industry digital signage software to deliver their menu via video, images, text, and sound – no limitations! And for indoor or outdoor scenarios where threats like tampering or weather are a concern, TV and digital signage enclosures are the perfect protection solution.
Here is a great photo of a restaurant drive thru being built...
Food Truck Digital Menu Board Solutions
You might have the best food in town, but if customers don't order it, your food truck is doomed. That's why it's so important to make sure your food truck digital menu board is the best it can be. Taking a few simple steps to plan, organize, and design your food truck menu can make a world of difference to your mobile food business' success. Food truck outdoor digital signage for a food truck digital menu board (a digital signage monitor or TV in an outdoor TV enclosure) is a key advantage.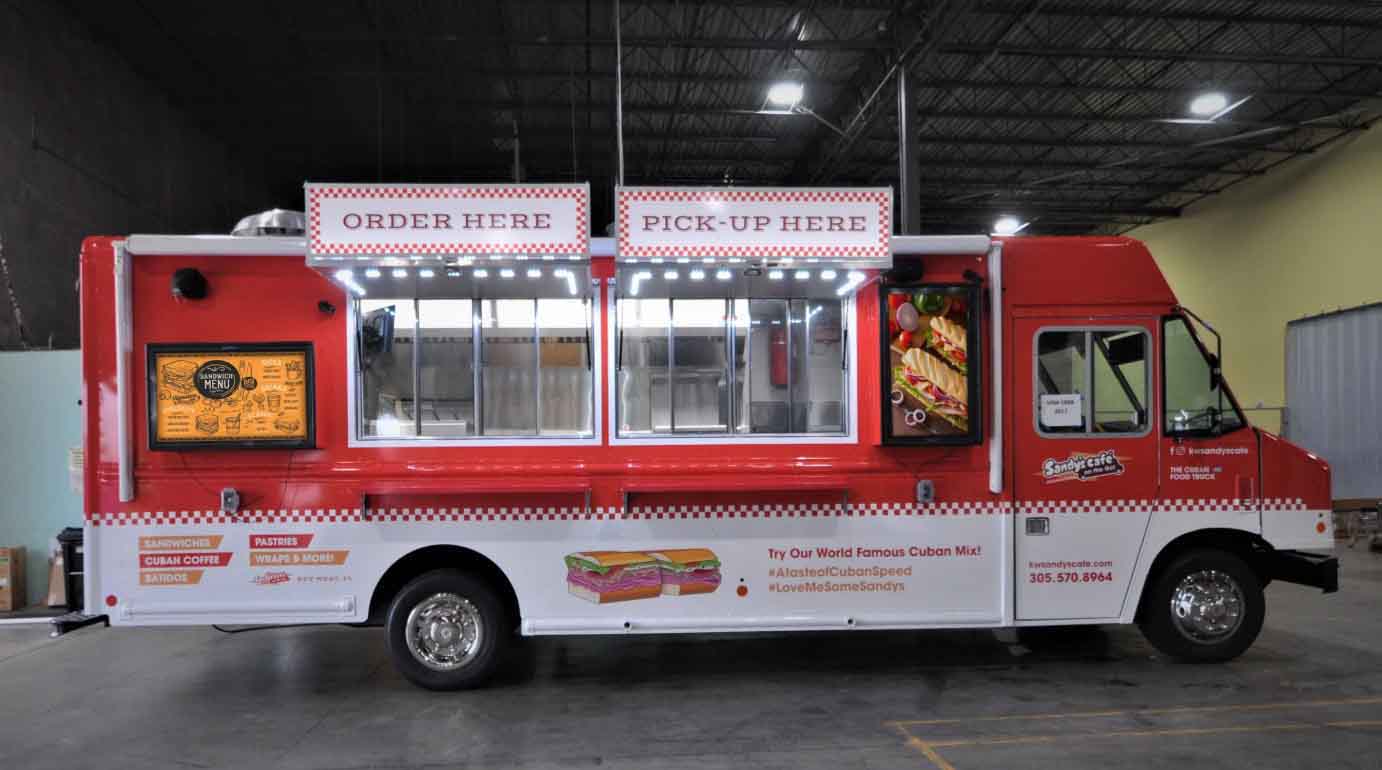 Protective Digital Display Enclosures for Food Manufacturers
Schwans, Perdue Foods, and Tyson are just a few food manufacturers who have used PEC's durable LED TV enclosures to place TVs in factories. How does one place a TV in a work environment where dust and debris can easily work their way in and fry the unit? The solution is an indoor and outdoor TV enclosure, like The Display Shield.
Examples of Digital Monitor Communication Needs in Manufacturing Facilities:
Safety awareness

Reliable and timely production metrics

Quality control

Up-to-the-minute production totals

Inventory levels

Assembly line alerts

Production quotas vs. actual performance

Accidental employee injuries

Delivery information regarding vital components
We customize The Display Shield enclosures for your unique application (dust control, wash-down resistance, etc), so please call us today at 800-331-2628 or 321-441-9689 to discuss your needs.
Some of PEC's Food Industry Clients
Ready to Protect Your TV or Display?
Select a common food industry enclosure below or contact us for support.
The TV Shield PRO (Powder-Coated Aluminum and Steel)
The TV Shield PRO Touch (Powder Coated Aluminum and Steel)
The TV Shield PRO Lite (Powder Coated Aluminum)
The TV Shield PRO Lite Touch (Powder Coated Aluminum)
The TV Shield PRO Portrait (Powder Coated Steel)
The TV Shield PRO Portrait Touch (Powder Coated Steel)
The TV Shield®, The Display Shield® and The TV Shield Pro® and their logos are trademarks of Protective Enclosures Company. All other trademarks and logos are the property of their respective owners.