Business & Commercial Display TV & Signage Solutions
From protecting TVs in building halls, conference rooms, and break rooms for news and entertainment to securing digital signage in those same locations or outside office buildings and businesses for internal and external advertising (revenue opportunities), digital signage and TVs are key for many businesses.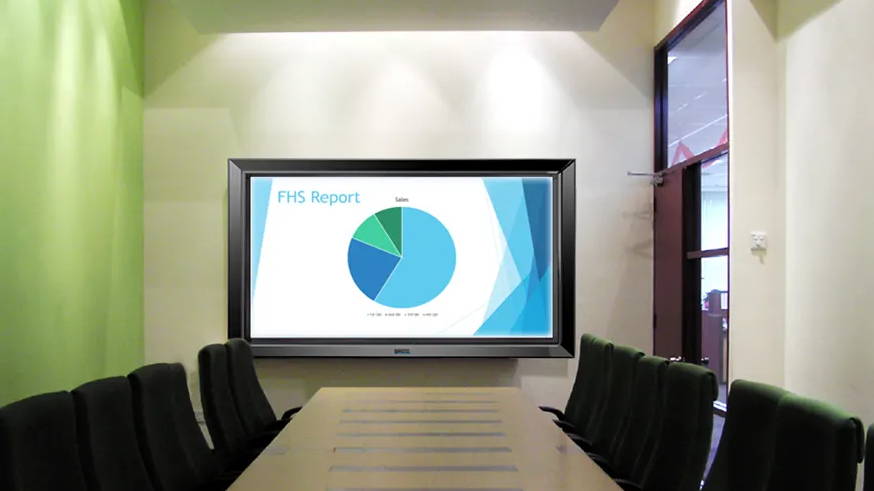 Why is Corporate Signage Important?
Corporate signage will transform your corporate campus and give your workforce the power to collaborate like never before with corporate and conference room digital display screens and solutions. From interactive touch screen solutions to displaying important information like schedules or safety protocols, a digital display is key for many businesses and corporations.
Engaging Communication that's Easy to Manage
Conveniently manage your screen from the lobby to your training rooms, elevate your corporate environment with visual innovation and a customized experience to leave a lasting impression on new talent, customers, and employees alike.
Communicate and Deliver Information without Contact
Whether businesses need to direct visitors and employees regarding social distancing guidelines or provide electronic menu boards people can read from a distance as opposed to physical menus people touch and share, companies are turning to digital signage solutions (often paired with great software solutions). Indoor and outdoor digital signage and TVs are a great solution for communicating to people where to go, what to do, and helping them feel safe. Pairing digital signage touch screen solutions with hand sanitizers or hand wipe kiosks to minimize face to face interactions is another potential solution.
Entertain Anywhere
One easy and helpful way to keep clients or guests busy while they wait or are seated is to entertain them with TV. This will create a better experience and improved satisfaction. Outdoor TV cabinets are the best way to integrate TVs into busy or outdoor spaces as they offer true impact resistance against potential damage, can house other media devices to pair with the TVs, can be completely washed down and easily kept clean, and more.
Improve Security
Digital display screens can display security messages or warnings as needed. On the flip side, screens are also used to display messages ensuring safety measures and helping guests, clients, and employees feel safe during business hours.
Ready to protect your TV or display?
Here are Some of Our Customers Across Various Industries
Select a common corporate enclosure below or contact us for support.
The TV Shield PRO (Powder-Coated Aluminum and Steel)
The TV Shield PRO Touch (Powder Coated Aluminum and Steel)
The TV Shield PRO Lite (Powder Coated Aluminum)
The TV Shield PRO Lite Touch (Powder Coated Aluminum)
The TV Shield PRO Portrait (Powder Coated Steel)
The TV Shield PRO Portrait Touch (Powder Coated Steel)
Learn More About TV and Digital Signage Protection:
10 Top Outdoor Digital Signage Enclosure Features (Outdoor Touch Screen Options and More)
The TV Shield®, The Display Shield® and The TV Shield Pro® and their logos are trademarks of Protective Enclosures Company. All other trademarks and logos are the property of their respective owners.