Posted by Emilyann Allen on 4th Nov 2019
10 Top Outdoor Digital Signage Enclosure Features (Outdoor Touch Screen Options and More)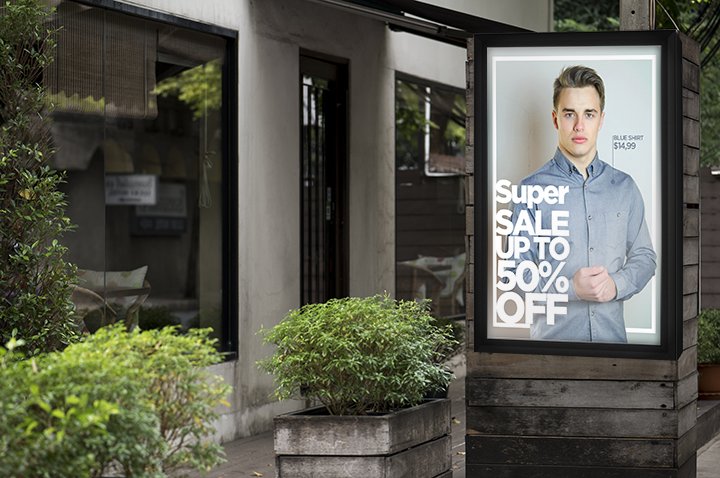 Thanks to innovative weatherproof TV and display cabinets, indoor digital signage (even interactive digital displays) can now be placed outdoors or in harsh environments. This is a huge step up over posters or outdoor LED signs that don't offer the same tech as TVs and digital displays. This means features like real-time streaming capabilities, touch screen options, and sound don't have to be compromised. Retail stores, theme parks, outdoor electronic menu boards at restaurants, chemical resistant digital signage in manufacturing facilities, and outdoor electronic signs for churches are just a few of the endless potential applications. Below are some of the exciting top-of-the-line outdoor digital signage enclosure features you may not have known are available.
Top 10 Innovative Outdoor Digital Signage Enclosure Features:
1.
Interactive Outdoor Touch Screen –
Options like Protective Enclosures Company's The TV Shield PRO touch screen enclosures are ideal for interactive outdoor touch screen digital displays. Featuring extremely tough metal housing that encases the TV or display and a high strength shatter-resistant anti-glare polycarbonate front shield, The TV Shield PRO water-resistant interactive display solution eliminates the risk of having to replace an expensive outdoor touch screen TV or interactive digital sign if the screen breaks. The touch capability can work with both non-touch and touch screen TVs or digital signs.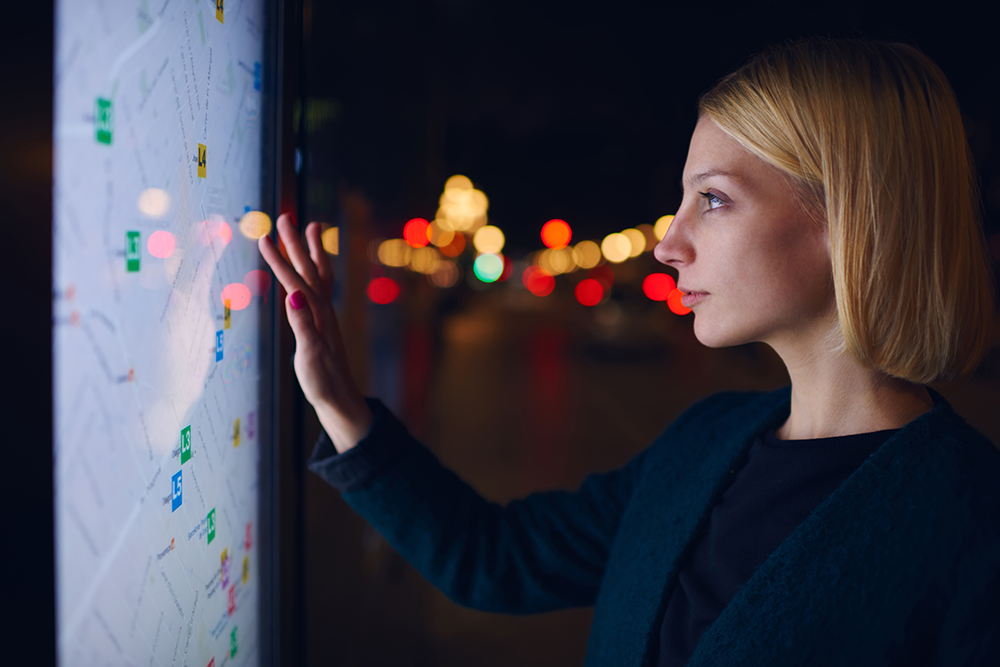 2.

Portrait and Landscape Orientations –


Whether you need an outdoor TV, flight board, menu board, outdoor LED sign, signage for a food truck, a shop floor reporting digital display board for a manufacturing facility, or a sign for various other applications, outdoor digital signage enclosures are available in portrait and landscape formats.
3.
Robust Materials for Various Applications –
You may be thinking there's no way you could incorporate digital signage on your yacht due to salt-water air corrosion. Or you may have never seen a digital display solution for manufacturing facilities that can withstand chemical washdowns or dust. However, modern highly engineered and refined protective indoor and outdoor digital signage enclosures come equipped or can be customized to protect from those harsh environments and more.


4.
Climate and Moisture Control –
If you're shopping for an outdoor digital signage solution, be sure to keep in mind the following threats and challenges. Protective Enclosures Company specializes in indoor and outdoor digital display cases that handle all the following conditions.
Water (rain, pool splashes, sprinklers, wash downs)

Harsh saltwater air

Moisture (condensation, dew, steam, humidity, dampness)

Dust (grime build up)

Tampering (burglary, theft, vandalism, attempted destruction of product)

Pests (bugs, insects, birds)

High impact (storms, branches, baseballs, footballs, golf balls, other flying objects)

Extreme temperatures (hot climates and cold environments)

Sun (anti-glare front screens are available)
5.
Low-Cost Solutions Thanks to Superb Engineering –

Outdoor electronic sign prices can be steep to say the least. Not to mention, unfortunately, investing that much money in an outdoor display limits you to the technology of that display. Pairing a display of your choice with an outdoor digital signage enclosure is much more budget friendly.


6.
Anti Ligature Hoods –
Anti ligature TV enclosures are leaving a lasting mark in many industries. An anti ligature TV cabinet's base frame bolts and seals to the wall over a TV using heavy duty mounting hardware, while the enclosure attaches to the base frame using a high strength security screw system for the ultimate defense against removal from the wall (this is an open back design). The enclosure prevents access to the TV mount which could be used as a ligature point if it were accessible. A slope top hood is also at the top of the enclosure, preventing it from having a flat top surface.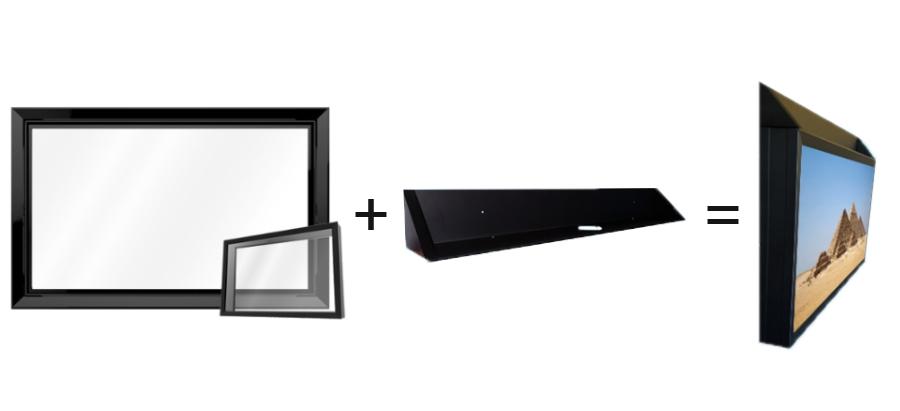 7.

Color and Decoration Possibilities –


If you're looking to install a TV or display in a decorative application, for example a theme park or haunted house, historically you may have felt limited to building a custom TV or display enclosure yourself in order to achieve your desired aesthetic. But you can save yourself a huge headache by just grabbing a sleek enclosure like The Display Shield and decorating the unit or recessing it into a wall. This way you don't have to worry about temperature, moisture, glare, or all the other challenges you'd otherwise face. Plus, units like The TV Shield PRO are paintable.
8.
Easy Maintenance Access Options –
Want to protect your digital display outside but you're worried about being able to access the display? The TV Shield PRO is one example of a great outdoor digital signage enclosure option that enables access to your TV or display with no hassle. It opens with gas shocks and comes with a full motion mount inside.
9.
Security Systems –
There's no doubt that one notable concern for businesses placing TVs or displays outside is that they'll be damaged or stolen. Imagine spending gobs of money on an outdoor rated TV or display only for it to be ruined by vandalism or stolen. Theft and vandalism control such as chambered key locks or custom security screw systems come standard with outdoor digital display enclosures like The Display Shield and The TV Shield PRO.
10.
Mind-Blowing Impact Resistance –
Obviously, a regular indoor TV or display can't withstand high impact hits such as flying baseballs. Outdoor TVs and outdoor digital sign boards face similar issues. Even if the glass on the front is upgraded strength glass for outside, it's still glass. Unfortunately, many times shoppers invest heavy funds into outdoor TVs and displays only to discover the front does shatter. Of course, shattering glass is also a safety hazard and potential liability issue most businesses don't want to take on.
Not to worry, because certain outdoor TV enclosures and outdoor digital display cases use guaranteed not to crack, thick, shatterproof front shields built with ultra-clear grade Lexan® polycarbonate (the same material used in bullet proof glass, racecar and spacecraft windshields). It is not shatter-resistant, but shatterproof, unlike cheaper safety glass.
Research reports like "Digital Signage Market by Offering (Hardware (Displays, Media Players, Projectors), Software, Services), Product, Application, Vertical (Retail, Transportation & Public Places, Sports & Entertainment, Education), and Geography – Global Forecast to 2024," published by MarketsandMarkets, illustrate the projected growth of digital signage. Given the cutting-edge outdoor digital signage enclosure features available today, it won't be surprising if outdoor digital signage makes up a large portion of the projected growth in the industry. Businesses adapting outdoor digital display solutions now are wise and will stay relevant as consumers continue to see and expect these type of technology solutions.