PEC Expects to See a Big Turnout at InfoComm15 with New Anti-Glare Front Shield for Current TV Enclosure Models, The TV Shield PRO Debut and a Made in America Campaign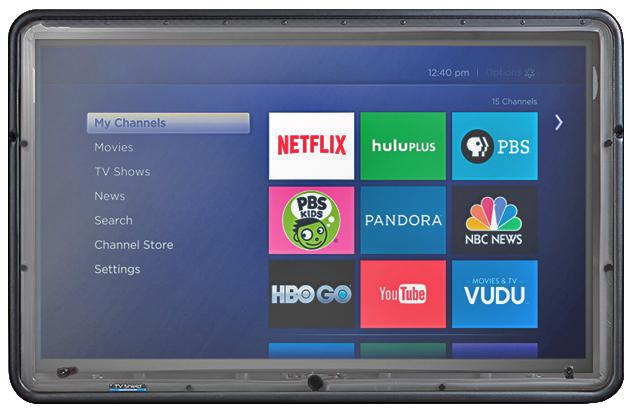 Protective Enclosures Company, the leading American manufacturer of plastic outdoor TV enclosures, is at InfoComm15 with new Anti-Glare Front Shields. The TV Shield PRO demo, a highly anticipated aluminum and metal enclosure, is also at PEC's InfoComm15 booth. Just after Flag Day, InfoComm couldn't come at a better time, as PEC is in the middle of a Made in America campaign, an effort to spread the word about PEC's American Dream story.
Anti Glare Front Shields for PEC's Weatherproof TV Cases:
Shoppers can soon experience PEC's newest glare resistance solution. Obstruction caused by sun glare is the most challenging obstacle for outdoor digital signage. PEC is thrilled to announce that an Anti-Glare Front Shield demo will be featured at InfoComm15. For customers placing TVs directly in the sun, this new front shield is an innovative breakthrough. Anticipated to be available for shipment by the end of the summer, new customers can buy The TV Shield or The Display Shield weatherproof TV cases with the Anti-Glare Front Shield pre-installed and existing clients will have the option to purchase the Anti-Glare Front Shield to install themselves (an easy enough process).
The TV Shield PRO Outdoor Display Enclosure:
The TV Shield PRO® outdoor LED TV enclosure is easier to install than other metal enclosures. The product features an internal full motion mount which enables easy access to the inputs (a feature lacking in current outdoor LED enclosures) and the back of the monitor for maintenance. This industrial-grade digital monitor enclosure will be available with acrylic or non-glare acrylic protective front shields with size options from 46" up to 80". The TV Shield PRO should be a huge hit for professional and commercial shoppers and is due to hit the market before the end of 2015.
As PEC celebrates Flag Day with new and upgraded products at InfoComm15, the Orlando, Fl., based American company has many accomplishments to enjoy. PEC just announced that sales have doubled over last year; their enclosures are now at The National Navy Seal Museum, Bryant-Denny Stadium (at the University of Alabama), Marriott, Duke University, Jet Blue, TGI Fridays, Tyson, Six Flags, State Farm locations and more. PEC CEO, Justin King, stated "The electronics industry had concerns about outdoor digital signage solutions, and PEC is working one product at a time to fill those needs. Come see our Anti-Glare Front Shield solution and The TV Shield PRO at InfoComm15."
InfoComm15:
Exhibition: June 17-19, 2015
Orange County Convention Center
9400 Universal Boulevard
Orlando, FL 32819
PEC Booth: 4972
All PEC, The TV Shield ®, The Display Shield ® and The TV Shield PRO® logos and product names are owned by PEC. Other company and product names may be trademarks of their respective owners, and PEC does not claim official endorsement of any named businesses.