Protect Digital Signage for Manufacturing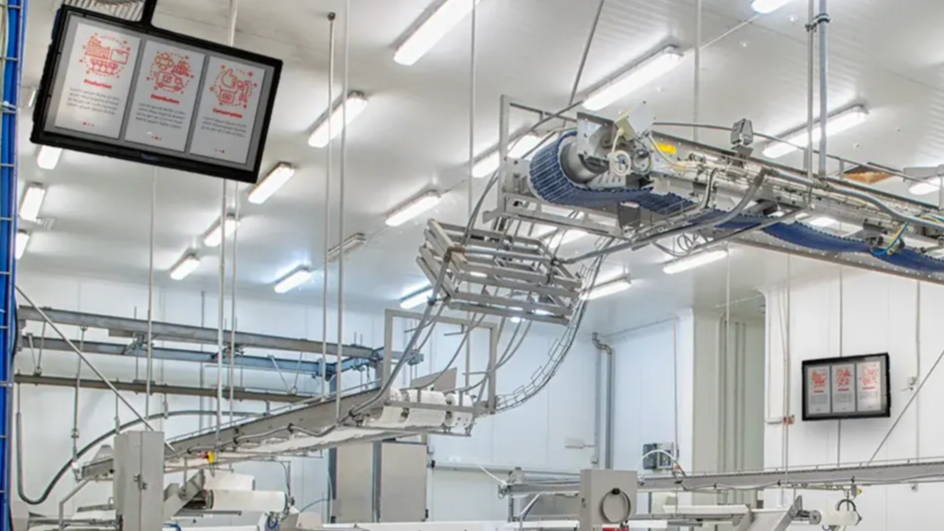 Manufacturing Facilities Need Durable TV Enclosures


TV Ventilation can be a Problem
In some mills and factories, dust and debris are easily produced during the building or manufacturing process. Designed with PEC's ExactSeal sealing system, The Display Shield (used without a fan in this scenario) is sealed shut to enable smooth ventilation. In addition, the TV cabinet features filtered vents that allow for some air circulation but help block debris from entering the unit.
TVs can't be Sprayed during Factory Cleaning
In the past, manufacturers could not place TVs in factory buildings because the TVs couldn't withstand standard cleaning wash-downs or manufacturing process debris. However, manufacturers from the food industry all the way to yacht manufacturers are now using The Display Shield manufacturing screen enclosure to protect their TVs from water damage.
The Benefits of Digital Production Displays in Manufacturing Facilities
Safety awareness
Reliable and timely production metrics
Quality control
Up-to-the-minute production totals
Inventory levels
Assembly line alerts
Production quotas vs. actual performance
Accidental employee injuries
Delivery information regarding vital components
Some of Our Industrial TV Enclosure Clients
Schwans, Perdue Foods, Tyson, General Motors and Sunrise Yachts are just a few manufacturers who have used PEC's durable LED TV enclosures in order to place TVs in factories.
Be it protecting TVs or displays for outdoor or indoor facility areas, we have manufacturing signage protection options for various needs. Our The Display Shield enclosure is in high demand for manufacturing facilities and applications requiring debris or dust resistant and wash-down safe TV protection. Companies across the globe are saving thousands of dollars with this solution.
We customize The Display Shield enclosures for your unique application (dust control, wash-down resistance, etc), so please call us today at 800-331-2628 or 321-441-9689 to discuss your need.
Ready to Protect Your TV or Display?
Select a common manufacturing industry enclosure below or contact us for support.
The TV Shield PRO (Powder-Coated Aluminum and Steel)
The TV Shield PRO Touch (Powder Coated Aluminum and Steel)
The TV Shield PRO Lite (Powder Coated Aluminum)
The TV Shield PRO Lite Touch (Powder Coated Aluminum)
The TV Shield PRO Portrait (Powder Coated Steel)
The TV Shield PRO Portrait Touch (Powder Coated Steel)
Related News & Resources:
Digital Signage for Manufacturing and Food Processing Facilities - What You Need to Know
Streamline Food Processing Output by Incorporating a Digital Display Strategy
Outdoor TV and Weatherproof Digital Signage Solutions for Manufacturing Facilities
The Display Shield: ProFood World Showcase
The TV Shield®, The Display Shield® and The TV Shield Pro® and their logos are trademarks of Protective Enclosures Company. All other trademarks and logos are the property of their respective owners.