Digital Signage for Manufacturing and Food Processing Facilities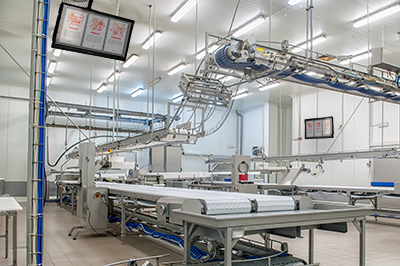 Check out the information below to better understand communication needs on plant floors and why TV and display enclosures are vital to protecting digital signage for manufacturing and food processing plants.
Examples of Communication Needs in Manufacturing Facilities:
Safety awareness
Reliable and timely production metrics
Quality control
Up-to-the-minute production totals
Inventory levels
Assembly line alerts
Production quotas vs. actual performance
Accidental employee injuries
Delivery information regarding vital components

Benefits of Digital Signage for Manufacturing and Food Processing Plants:
Safety Improvement -

When it comes to manufacturing plants and food processing facilities, ROI is typically best measured with an improvement in safety. This is a contrast from most industries where ROI is often calculated more heavily in cost savings, improvement of sales, customer experience, and brand support. Safety is relative to cost savings since the financial benefits of a safer work environment are huge, but safety is number one. Digital signage improves workplace safety and productivity with repetitive and engaging communications that include safety reminders and alerts.
Reduces Less Efficient Communication Forms and Reduces Environmental Waste -

Considering that 40 percent of workers don't have access to email, plants often rely on word-of-mouth, print materials, and bulletin boards to get their message across (Digital Signage Today). This is not very effective or efficient. Digital signage paired with software can eliminate or greatly reduce those less efficient communication forms which can also lower environmental waste and save costs.


Saves Time and Improves Efficiency for Workers and Operations -

Floor managers need to spend more time on the floor accompanying their plant workers, which has a tendency to boost morale and promote teamwork. Digital signage allows plant managers to program information and let it run, which saves them time in general which can enable them to get more done elsewhere and be more involved on the plant floor.


Provides Real-Time Information -

Food processors want more real-time information out on the floor. They have several lines running and they want to know instantaneously if they have an issue with a particular line.

Examples of Threats to Digital Signage for Manufacturing Facilities:
Potential flying objects
Liquid splashes
Chemicals
Dust
Extreme cold or heat


The Display Shield Manufacturing Signage Solutions and Benefits: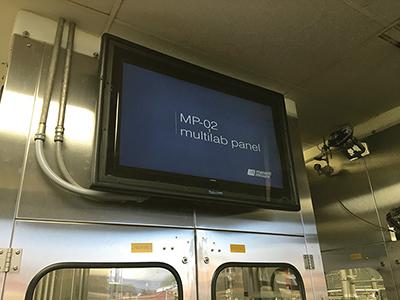 The Display Shield materials are chemical-resistant. They allow the manufacturer to perform high-pressure wash-downs.
The Display Shield has an IP55 rating for water and dust resistance and is frequently modified by PEC for a higher rating for manufacturing environment.
The back housing is a high molecular weight polyethylene material. It's the same material used in outdoor playground equipment, automotive gas tanks, and other things of that nature. This material is designed to last for 25 years in outdoor applications.
The front panels are made of engineered, high impact, shatterproof polycarbonate material. Polycarbonate plastic is 250 times more impact-resistant than glass and 30 times stronger than acrylic. It's used in fighter jet windshields and bulletproof vests.
Since The Display Shield was originally developed for outdoor use, it can withstand everything from summer heat and thunderstorms to freezing cold and snowfall.
The Display Shield has options to either cap or remove the patented vent system as well as the heating and cooling functions, to eliminate any potential leak paths for certain facility applications.
The Display Shield is designed to prevent theft and tampering attempts.
It can be mounted just about anywhere.
The Display Shield can accommodate screen sizes from 19 to 65 inches (The TV Shield PRO goes up to 85 inches).
When using The Display Shield, displays housed inside the enclosure can also be easily switched out with newer technology when the time comes. Additional components or media can be stored as well.
The Display Shield is a stronger, lighter, more customizable enclosure solution than the stainless-steel solutions found in many food plants today.


With innovative digital signage protection solutions like The Display Shield (which is used in facilities by companies such as Pepsi, Tyson, Kellogg's, Perdue, Land O Lakes, and more), it's no surprise that manufacturers are actively turning to digital signage as a messaging solution. Digital signage is the future of improving workplace safety and productivity for manufacturing, food processing, and many more industries. What are you doing to improve the safety of your workplace or facility?