Digital Signage for Government | TV & Display Protection
See The Display Shield TV Enclosure Protecting a TV for the Navy Seal Museum:
Digital signage is vital for efficient government processes. From wayfinding, to communicating safety procedures and real-time data, the importance of digital signage for government institutions spans from military bases, to court houses, state prisons, and museums. Below are a few of many state and federal government locations that benefit from digital signage.
Town Hall

Courthouse

Capitol Building

Intelligence Headquarter

State Prison

Jail

Police Station

Army Facility

National Park

State Park Signage

Ranger Station

Weapons Depot

Air Force

Military Base

Post Office

Lighthouse

Air Base

Government Healthcare Facilities

Museum Digital Signage

DMV
Government Digital Signage Protection
Many times, these digital signage applications may be in harsh environments with threats like tampering, weather, or other dangers. Specifically designed for commercial applications, indoor and outdoor TV and digital signage enclosures like our The Display Shield are especially popular for high traffic locations as well as high security environments that need safety minded display and TV enclosures. Learn more about government digital signage and PEC's signage protection solutions below.
Anti-Ligature TV Enclosures
As much benefit as televisions deliver, they also pose a significant risk in certain settings. Places like hospitals, correctional facilities (jails), day cares, and mental health institutions treat televisions and digital displays as safety hazards because they can cause physical harm if not properly mounted, either by accident or by intention.
Anti ligature TV enclosures seek to give facilities a better, safer way to bring television to their audiences. They essentially serve to create an anti ligature TV solution.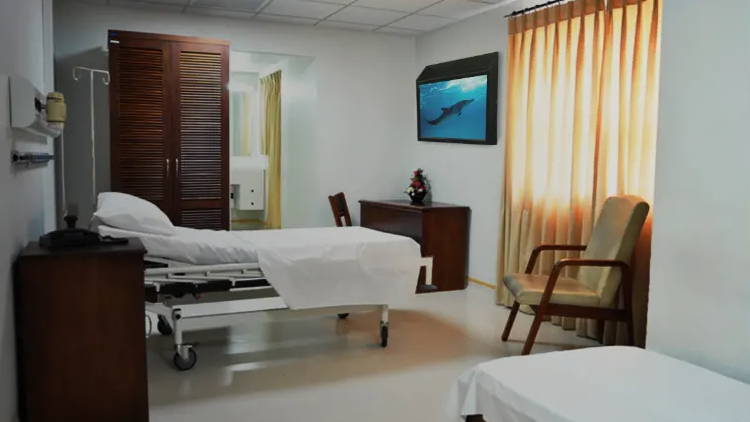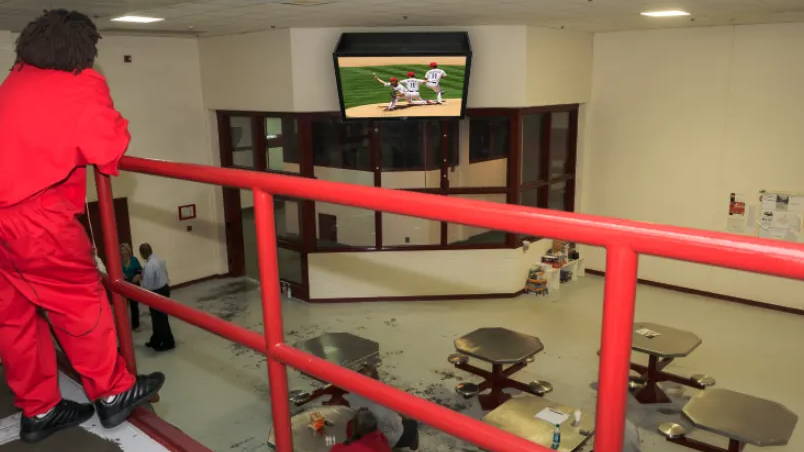 Armed Forces & Manufacturing TV & Display Enclosure Needs
From weapons development facilities to military bases, TV and display enclosures enable improved communication and entertainment delivery by protecting TVs and displays from threats like tampering, theft, water, chemicals, dust, and more. Below are some common examples of how digital signage and TVs are important for manufacturing plants and military bases.
Examples of Communication Needs:
Safety awareness

Reliable and timely production metrics

Quality control

Up-to-the-minute production totals

Inventory levels

Assembly line alerts

Production quotas vs. actual performance

Delivery information regarding vital components

Communicating schedules

Showing entertainment
State Park Digital Signage
There is a plethora of needs for state park digital signage. Indoor and outdoor TVs and digital signage are great ways to communicate safety awareness, additional information about the park, and entertainment around the grounds. Outdoor digital signage enclosures allow parks to place TVs and displays almost anywhere without having to worry about tampering, weather conditions, and the like.
Protect Museum Digital Signage
There is no doubt that bright, engaging, interactive (touch screen) digital signage that incorporates images, video, sound, and text creates a much more immersive experience for museum visitors. But how are museums protecting TVs and digital signage? Museums often face a limitation of having to place TVs or displays far out of reach from visitors (which also typically means they're harder to keep clean and lasting). Or when trying to use touch screen displays, there is significant risk of tampering and wear and tear damage that means having to replace the expensive equipment frequently. Fortunately, museum digital signage enclosures are a great solution that offer digital signage screen protection, temperature control, dust resistance, and many more helpful features. In addition, museums love that media devices can also be protected inside with the TV or display.
Explore Outdoor Digital Signage Options
Ready to protect your TV or display?
Select a common government enclosure below or contact us for support.
The TV Shield PRO (Powder-Coated Aluminum and Steel)
The TV Shield PRO Touch (Powder Coated Aluminum and Steel)
The TV Shield PRO Lite (Powder Coated Aluminum)
The TV Shield PRO Lite Touch (Powder Coated Aluminum)
The TV Shield PRO Portrait (Powder Coated Steel)
The TV Shield PRO Portrait Touch (Powder Coated Steel)
The TV Shield®, The Display Shield® and The TV Shield Pro® and their logos are trademarks of Protective Enclosures Company. All other trademarks and logos are the property of their respective owners.