Posted by The Display Shield on 25th Mar 2021
Outdoor Digital Signage for Churches: Everything You Need to Know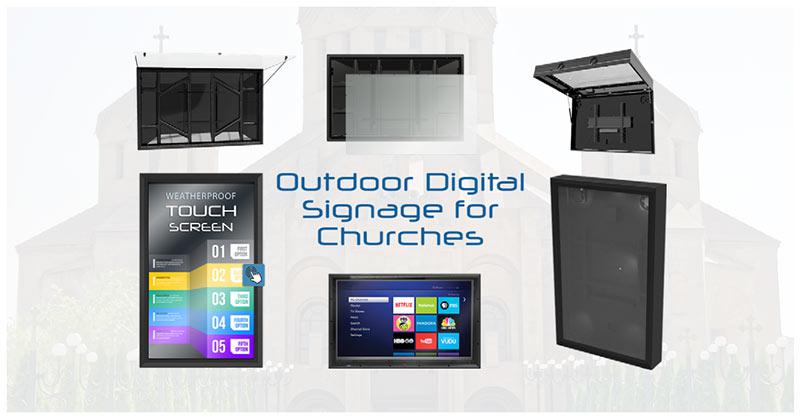 Outdoor digital signage for churches and temples generates revenue, attracts attention, keeps churches modern, and much more (9 Ways Houses of Worship can Benefit from Digital Signage). It's no surprise outdoor digital signage for houses of worship is becoming increasingly popular all the time. So, the pressing question is what is the best outdoor digital signage for churches?
Best Outdoor Digital Signage for Churches
Below we will deep dive and look behind the scenes of outdoor digital signage options. To make wise decisions about placing electronics like TVs or digital signs outside or inside and protect them from tampering, it is important to understand materials used for weatherproof or tamper protection, functionality of options like outdoor rated signs compared to outdoor display enclosures, and more.
Outdoor Digital Sign vs Outdoor Digital Signage Enclosure


Indoor and Outdoor Digital Signs –
Due to the nature of and design of outdoor digital displays, they address some but not all the concerns for putting a digital sign outside. An outdoor digital display is typically a basic bare-bones digital display (without bells and whistles) in an integral casing to assist with water resistance. Essentially this means consumers end up usually investing in expensive low-tech digital signs and miss out on the newest features. They usually allow for insulation against the cold and allow airflow to reduce humidity. However, unfortunately, the quality of the TV and the picture is often compromised. In addition, if things go wrong which they are known to do - especially since these signs are outdoors - it's very hard to fix electronics which are inside an integral casing. They can also be extremely expensive to repair on top of giant price tickets to purchase in the first place.
Outdoor digital signs do tend to stand up well against theft since they can be difficult to remove from the wall. However, they typically won't fare so well against high impact such as flying objects during storms, vandalism, and the like because the display screen is breakable glass and not protected behind an enclosure. The materials used to build outdoor TVs and digital signs just don't stand up to the strength and durability of outdoor enclosures. Think of cell phones and their need for cell phone cases. The electronics just aren't built to last without protection. Again, it is also an important consideration that outdoor digital displays do tend to cost considerably more for less features and benefits. Weatherproof digital signage comes with an eye-watering price tag for signs that don't offer full impact resistance.
Indoor and Outdoor Digital Signage Enclosures –
The best outdoor digital signage enclosure options on the other hand, address all outdoor digital display threats by creating a fit-for-purpose enclosure. These cabinets are weatherproof and durable. They prevent water entry, ensure airflow to reduce moisture intrusion, and insulate against extreme temperatures. They are made with materials and design engineering that just can't be achieved with regular TVs and displays. Another benefit is that you can put any TV or digital display you like in it (high tech, low cost, you name it) or even add and protect additional media players like Apple TV, Roku, or Amazon Fire Sticks (which outdoor digital displays cannot protect). The materials used to produce quality outdoor TV cabinets such as The Display Shield offer 20+ year durability. They are also designed to be opened and closed. This means you can access the TV or media players inside with ease. And, with shatterproof front panels, they are protected all times even while viewing.
These enclosures are also popular for indoor use where it is helpful to protect TV and display investments from potential tampering or theft. Touch screen variations of these enclosures are popular too, which offers protection for indoor or outdoor touch screen digital signage.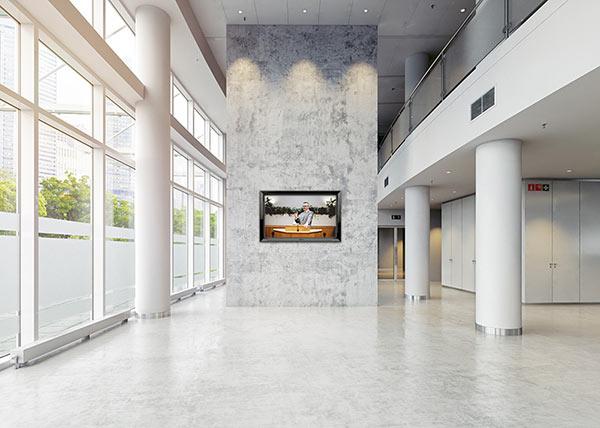 Best Outdoor Digital Signage for Churches: Top Enclosure Options
Protective Enclosures Company is a top trusted provider of enclosures for outdoor electronic signs for churches. Below is a list of enclosures for indoor and outdoor house of worship digital signage applications.
The Display Shield –
The Display Shield ® is an affordable indoor and outdoor digital display enclosure that offers comprehensive protection for digital signage, displays, or TVs. It is the most cost effective, light weight, weatherproof display enclosure on the market for protecting signage investments in almost any environment. Available in horizontal and vertical formats, these weatherproof display cabinets are manufactured using HMWPE (High Molecular Weight Polyethylene) housing, which is a specific polymer rated for outdoor usage and durability and shatterproof polycarbonate front panels (all Protective Enclosures Company enclosures offer shatterproof polycarbonate front panels).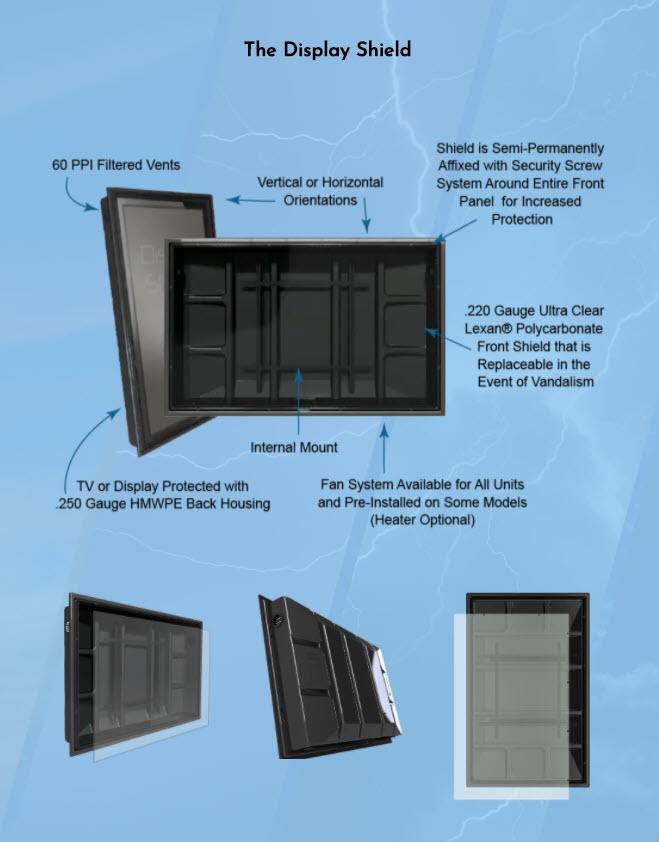 The TV Shield PRO –
The TV Shield PRO ™ is a weatherproof, secure, and robust protective outdoor TV enclosure and digital signage cabinet with all the bells and whistles that was researched, designed, engineered, and is manufactured in the USA. The "hybrid" design is built with a combination of lightweight aluminum and steel, which is powder-coated for the ultimate strength and durability in environmental TV protection.
The TV Shield PRO Portrait –
The TV Shield PRO Portrait ™ is a weatherproof, secure, and robust protective outdoor display enclosure that is made in the USA and built completely from triple coated steel for ultimate strength and durability. Designed for use with any standard indoor TV or digital display, it is ideal for commercial and professional markets where a monitor is needed in a vertical orientation.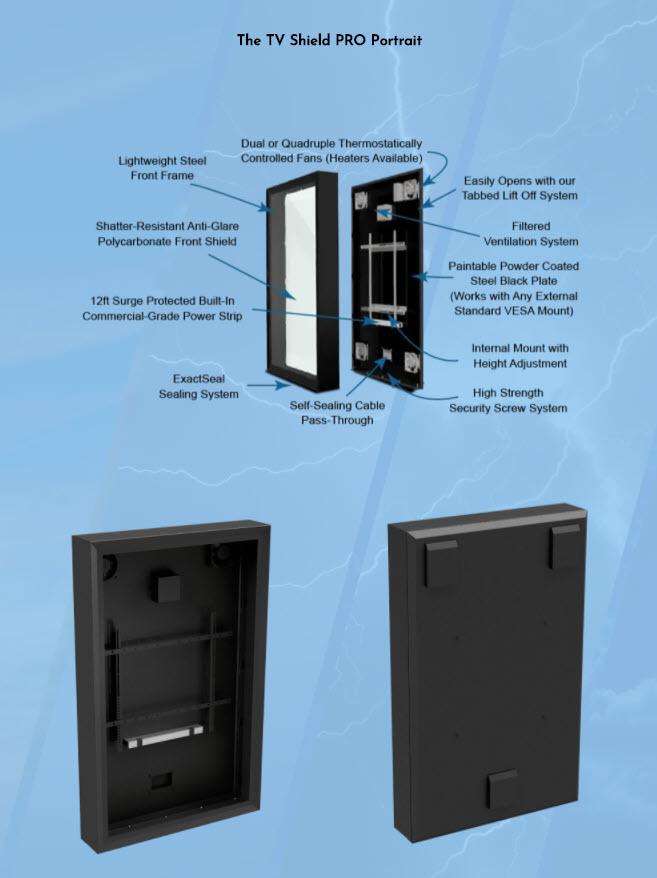 The TV Shield PRO Lite –
The TV Shield PRO Lite ™ is an affordable protective TV enclosure built using lightweight aluminum for ultimate strength and durability. Perfect for indoor TV protection, or outdoor applications that need strong screen defense rather than full weatherproofing, this TV cover is ideal in high traffic buildings, lobbies, classrooms, hospitals, institutional environments, and more.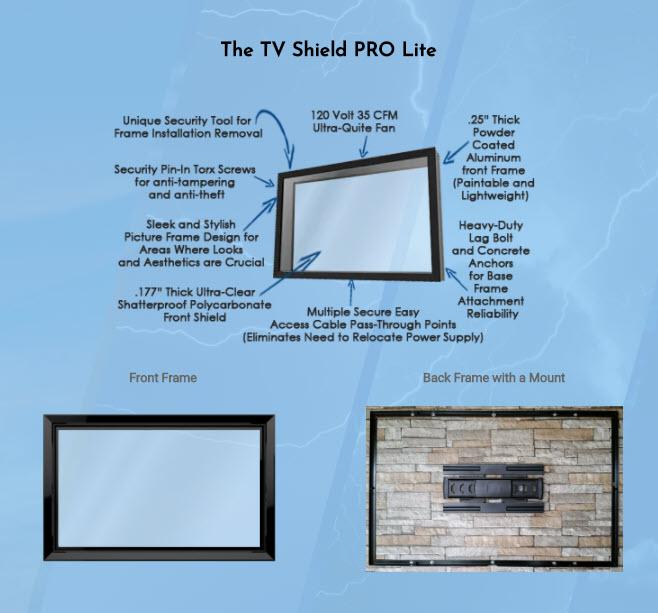 From costs to features, materials used to build outdoor digital signage for churches, and more, hopefully this article gave you the insight and tools you need to choose your preferred outdoor digital signage option. However, if you have questions, we at Protective Enclosures Company are happy to answer any questions you may have. Simply contact us at 800-331-2628 or use or contact form to place an inquiry.