Posted by Protective Enclosures Company on 27th May 2021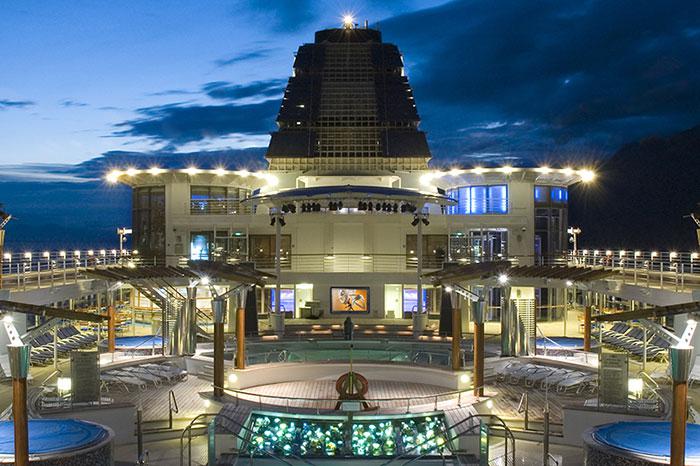 Affordable Outdoor Cruise Ship Digital Signage: The Display Shield
Cruise ships are just one of many locations such as theme parks, restaurants, hotels, and much more that are waking up to the undeniable statistics of the effectiveness of digital signage and adopting outdoor digital signage. One Intel brief reports digital signage captures over 400 percent more views than a static sign. That is just one of the various benefits of outdoor TVs and outdoor digital signage for cruise ships. This article covers some reasons cruise ship digital signage is important, outdoor digital sign challenges such as corrosion, as well as The Display Shield ® solution.
Article Table of Contents
What are Uses of Cruise Ship Digital Signage?
Benefits of Digital Signage vs Traditional Signs on Cruise Ships
Outdoor Digital Sign Challenges for Cruise Ships
Affordable Outdoor Digital Display Solution for Cruise Ships
What are Uses of Cruise Ship Digital Signage?
Below is an extensive list of information cruise ships convey via digital signage.
Trip arrival and departure times
Advertising (internal and external which earns ships extra revenue)
Activity schedules (movies, concerts, comedy shows, piano bar times, etc.)
Digital menus
Ship maps with directions
VIP Clubs specials
Announcements
Spa information
Safety and health notices
Medical Center information
Restaurants and dining details
FAQs and updates
Upsell

packages

Internal staff communications
Provide games and interactive entertainment for passengers
Benefits of Digital Signage vs Traditional Signs on Cruise Ships
Why are cruise ships adopting digital signage rather than static signs?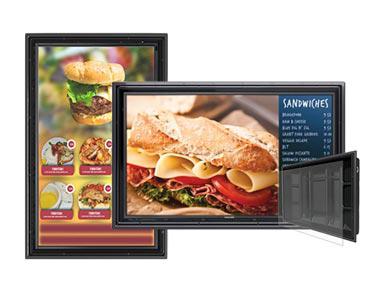 More Impactful -

As was mentioned earlier in this article, according to an Intel brief, digital signage captures over 400 percent more views than a static sign. Moving graphics always catch more attention.

Cost-Savings -

Save costs over time by reducing labor, shipping, printing, and processing expenses.


Longevity -

Static signs

don't

last as long as digital signs (ultimately adding up to more cost over time).

Convenience -

Digital signage can be updated far easier whether it be by software and technology that pushes content updates from one central location to multiple screens across a ship or manually updating each screen depending on the set up.
Outdoor Digital Sign Challenges for Cruise Ships
Why would digital signage for cruise ships be placed outside and on deck? The same uses and benefits of indoor digital signage apply on deck. In addition, there are times it may be best to convey certain information in specific outdoor areas too, such as by the tiki bar or pool.
However, taking digital signage outdoors on a cruise ship has challenges. Digital signage typically refers to digital displays which are essentially TVs built with special programming and digital signage in mind for public areas and commercial uses. As anyone would imagine, putting a standard TV (or any basic electronics outside) just doesn't work.
With that in mind, what are the challenges of outdoor digital signage on cruise ships?
Corrosion (salt-water air is not friendly to electronics)
Tampering and vandalism
Theft
Hot and cold temperatures
Rain and pool splashes
Storms or flying objects
These threats are why outdoor digital signage enclosures are a popular solution for cruise ships.
Affordable Outdoor Digital Display Solution for Cruise Ships
Fortunately, cruise ships do have the option of installing any V or display they wish on deck with a corrosion resistant digital signage enclosure. That means cruise ships choose the price point and technology they want, put it in an outdoor TV or display case, and are good to go. Digital signage corrosion is the biggest threat for most outdoor digital signage cases, but fortunately The Display Shield® stands up well to salty conditions.
The Display Shield ® is an affordable indoor and outdoor digital display enclosure that offers comprehensive protection for digital signage, displays, or TVs. It is the most cost effective, light weight, weatherproof display enclosure on the market for protecting signage investments in almost any environment.
Corrosion Resistance -
Aside from the large screws around the edge of the frame, The Display Shield outdoor cruise ship digital signage solution is composed of entirely corrosion-proof materials. And those screws are easily replaced when the rare need arises. Cruise ships love The Display Shield corrosion resistant digital signage solution because it is extremely affordable. Outdoor digital signs (which don't withstand saltwater air conditions) are usually two or three times the cost of The Display Shield.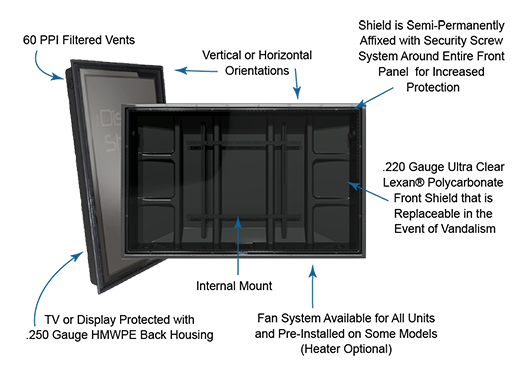 The Display Shield Build and Materials -
These weatherproof display cabinets are manufactured using HMWPE (High Molecular Weight Polyethylene), which is a specific plastic rated for outdoor usage and durability. The front panel of the outdoor display cabinet is an industry leading .220-inch-thick ultra-clear LEXAN® polycarbonate which is perfect for direct viewing of the display and complete defense against a flying object or tampering. The Display Shield has a semi permanently affixed front shield that is designed to stay closed day to day but does give you the ability to remove the panel for maintenance and access or easily upgrade or replace the front panel in the future if needed. The Display Shield uses a custom security screw system that requires a specific tool to remove the front panel. This makes the unit completely tamperproof and provides optimum safety for your digital display or TV. The price point for The Display Shield offers huge savings for customers.
The Best Outdoor Cruise Ship Digital Signage: The Display Shield
Clearly cruise ships benefit tremendously from utilizing outdoor digital signage on the high seas and The Display Shield® makes outdoor digital signage a possibility that would otherwise by various factors, especially saltwater air corrosion. Still need more information? Below are some additional links that may be helpful.
10 Top Outdoor Digital Signage Enclosure Features
Outdoor Digital Display Enclosure Accessories