PEC's The Display Shield Now at O.co Coliseum (Home of the Oakland Raiders)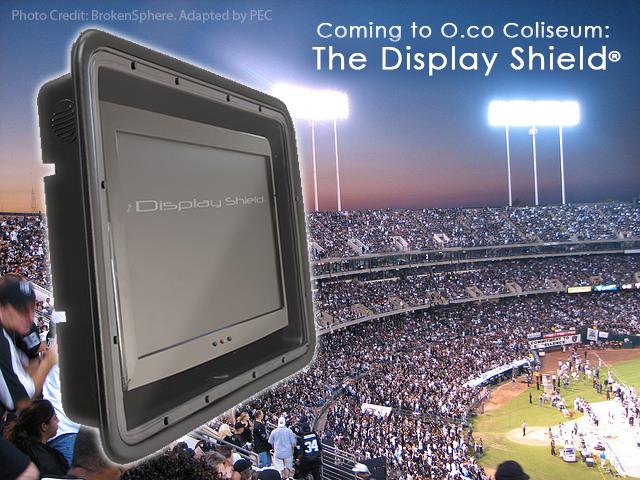 Protective Enclosures Company, the patent holder and manufacturer of The Display Shield ® and The TV Shield ® branded enclosures, today announced the installation of their weatherproof display enclosures at O.co Coliseum (Oakland Raiders stadium). Selected by integrators Fitzpatrick & Sons,General Contractors, Inc., ten 50-60" The Display Shields are scheduled to be used to protect HD TVs in the luxury field suites located in the dugouts around the field and were selected for various reasons, the primary being price point. Having built their outdoor display cases at thousands a piece in the past, this is "The Holy Roller" of deals, offering a savings of approximately 80%. PEC CEO, Justin King, joked "If it's raider treasure, you know its gold."
Home to the Oakland Raiders since 1966, C.co Coliseum has previously been known as Oakland Coliseum, Oakland- Alameda County Coliseum, Network Associates Coliseum, McAfee Coliseum and Overstock Coliseum. However, because the Raiders are residing in the only remaining multipurpose stadium in the NFL, reports suggest a completely new stadium could be in the works in order to keep the team in Oakland, which is sure to keep Raider Nation happy.
Offering defense against water, moisture, dust, tampering, pests, high impact collisions with objects like footballs, extreme hot or cold temperatures and sun ray damage, The Display Shield is becoming a popular low cost lightweight display enclosure choice for educational facilities and sports stadiums in addition to O.co Coliseum (home of the Oakland Raiders) including Bryant-Denny Stadium (arena used by the University of Alabama), EverBank Field (where the Jacksonville Jaguars play), AT&T Stadium (home to Dallas Cowboys) and more. With a front cover made of ultra-clear Lexan ® polycarbonate, the same material used to produce bulletproof glass and back housing built of long lasting HMWPE outdoor plastics, The Display Shield is durable and is sure to stick around for a long time.
About PEC:
PEC is a privately held, US based manufacturer of affordable, lightweight, weatherproof and secure protective enclosures for TVs, Flat Panel Displays and Digital Signage. Protective Enclosures Company is the parent company of The TV Shield, The Display Shield and The TV Shield PRO. PEC products, The TV Shield and The Display Shield, are used in over 4000 locations, in 12 countries.
Press Contact:

Emilyann Girdner
Protective Enclosures Company
Marketing
marketing@protectiveenclosures.com
(407) 982-7330
* All PEC, The TV Shield & The Display shield logos and product names are owned by PEC. Other company and product names may be trademarks of their respective owners.

Photo Credit:
"Oakland Coliseum field from Mt. Davis" by BrokenSphere - Own work. Adapted by PEC. Licensed under Creative Commons Attribution-Share Alike 3.0 via Wikimedia Commons - http://commons.wikimedia.org/wiki/File:Oakland_Coliseum_field_from_Mt._Davis.JPG#mediaviewer/File:Oakland_Coliseum_field_from_Mt._Davis.JPG