Posted by Emilyann Allen on 1st Oct 2021
The Best Affordable Digital Signage for Schools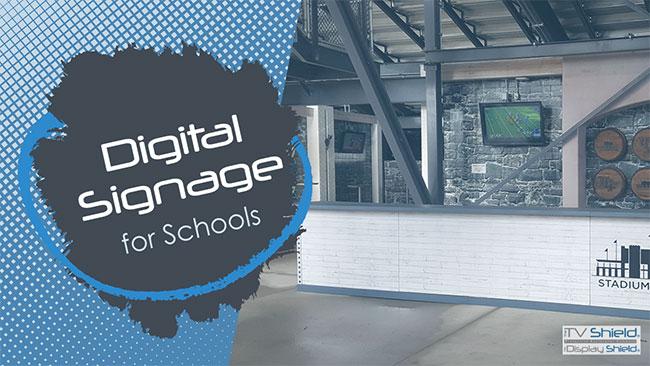 Why is digital signage becoming so popular for school systems? There is no disputing the time and cost saving benefits compared to temporary static signs that involve manual labor to keep up-to-date or cheap options that don't last. Studies such as this Intel brief report confirm digital signage is extremely effective and captures over 400 percent more views than a static sign. Not only that, but indoor and outdoor digital signage displays can be affordable and even save money as well. What are the benefits of digital signage for schools? How much does a digital display board for schools cost? Are there good affordable indoor TV and outdoor digital signage options for schools? This article covers that information and more.
Table of Contents:
Is Digital Signage for Schools Important?
What are the Benefits of Education Digital Signage?
What are Examples of Digital Signage for Schools?
What is the Best Digital Signage for Schools?
What is the Best Outdoor Digital Signage for Schools?
Is Digital Signage for Schools Important?
School digital signage is an important communication and revenue tool for elementary schools, middle schools, high schools, colleges, universities, and other various educational programs. From streamlining communication to faculty and students across campuses, to using screens for advertising space to generate revenue, digital signage has become a vital component for schools.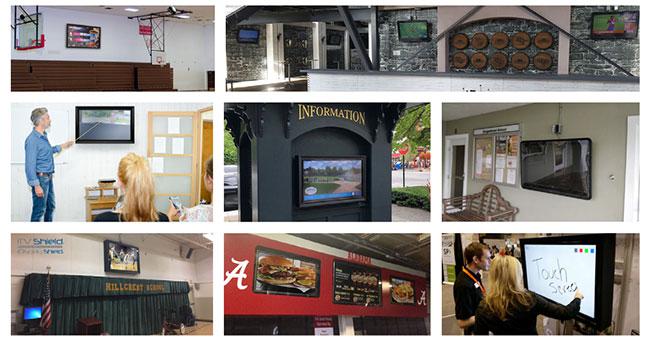 What are the Benefits of Education Digital Signage?
Save time and money – Schools are saving time and money by condensing their campus and school ground static signs of the past to modern but affordable digital signs that are more attention catching, save money due to less upkeep, and offer better longevity.

Making a good first impression – Outdoor signage is the first impression for schools. A tattered old broken sign with chipped paint sends a different message than a new top-of-the-line digital display. The same is true for various uses of digital displays… digital displays show schools are keeping up with the latest technology.
Communicating more information – A stagnant sign lacks the space for communicating information compared to a digital/video sign that can show endless information.
Streamlining and efficiency – Digital signage can be updated easily and quickly even on short notice. The content can be changed or tweaked as needed anytime. In addition, when using the correct software paired with digital signage, displays in numerous places across school grounds can all be changed at the same time from one remote location.

Outdoor digital signage offers the ability to use software and technology that streamlines communication, is easier to manage than manually changing out and updating static signs, and is faster ( click here to read this great success story at Iowa State University).

Catching attention and improving impact – Did you know that digital signage captures 400 percent more views than a static sign? Digital signage notably improves audience engagement.
Touch screen options – Digital signage can provide not just signage but interactivity as well. Even better… there are outdoor touch screen digital signage options as well. Imagination the many benefits of indoor and outdoor information screens across campuses. In addition, schools are utilizing these types of technology and tools for other purposes as well such as indoor and outdoor classroom whiteboard alternatives. Paring TVs and displays with enclosures does the trick affordably and provides TV and signage protection.
Ready to Grab a Digital Signage Enclosure?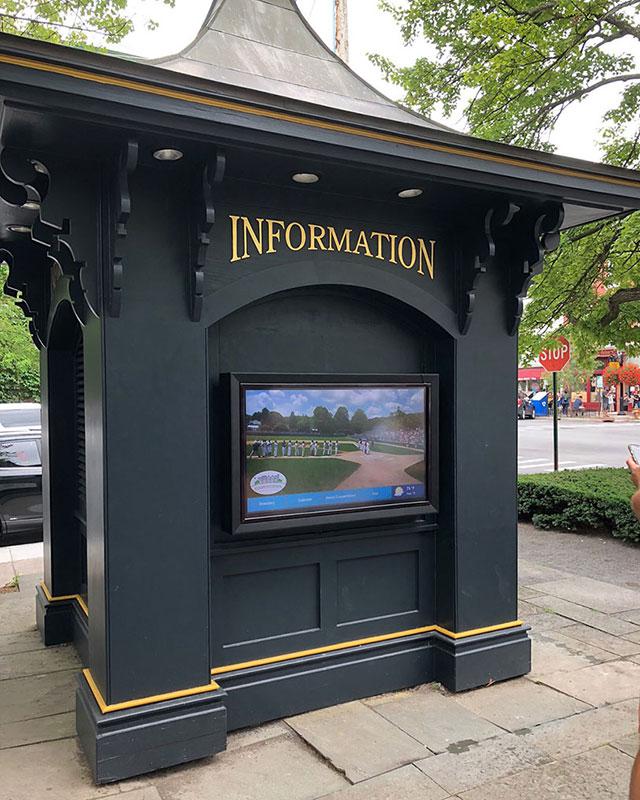 What are Examples of Digital Signage for Schools?
In what ways are schools utilizing education digital signage? From information booths to menu boards, scoreboards, whiteboards, and more… digital signage serves many purposes. Check out the list below.
Uses of Digital Signage for Schools:
Information screens
Advertising displays
Live streaming for school events
Wayfinding
Streamlining communication and efficiency (click here to read this great success story at Iowa State University)
Additional revenue (selling ad space on signs)
Sports arena marketing displays
Theater stage screens and digital displays
Menu boards
Electronic score boards
TVs and digital signs near pools
Entertainment complex TVs and monitors
TVs in athletic complexes and gyms
Chorus and choir room displays
Science lab education boards
TV and display solution for outdoor classrooms, PE, recess, and more
What is the Best Digital Signage for Schools?
The best digital signage for schools is the combination of a high quality digital display paired with helpful accessories like quality digital signage software for schools . In many cases a protective case is a good add on as well. In fact, when it comes to outdoor digital signage, a protective TV or digital display enclosure is vital. Which display, software, and enclosure to use depends on factors like the purpose and need for the signage as well as budget.
What is the Best Outdoor Digital Signage for Schools?
The standout best outdoor digital signage for schools solution is pairing an indoor or outdoor TV with an outdoor display enclosure . From cost savings to durability and efficiency, this solution offers tremendous affordability, quality, and value. Other digital signage solutions are often too expensive.
However, an outdoor digital signage enclosure like The Display Shield starts as low as $399 plus the cost of any digital monitor of the buyer's choice, even an indoor TV (so it could be just a couple hundred). For both an enclosure and TV to be used for outdoor digital signage, this can be as low as around $650 or $1000 to $1500 which includes the protective cover and TV or display (with even lower prices for bulk purchases).
How does the price of outdoor digital signage compare to other options? One example is according to LED sign manufacturer, HES SIGN, individual LED signs start at $15,000 to $50,000. So, pairing a TV or display with an outdoor TV enclosure offers remarkable savings.
What are the Benefits of Pairing a Weatherproof Digital Signage Enclosure with a TV or Display?
Benefit from true robust outdoor durability because enclosures are built with materials far better able to withstand the elements and other threats like tampering than materials used to build typical outdoor TVs and displays
Enjoy an expansive range of size options from 19" to 85" or bigger
An outdoor digital signage enclosure can protect not only your TV or display, but also other devices behind the TV within the enclosure – such as a mini-PC, Roku, Apple TV, etc.
Save money with quality top-of-the-line enclosures starting as low as $399
Enjoy outdoor touch screen options
Top quality outdoor digital display enclosures give peace of mind with completely shatterproof front panels made of polycarbonate
Pairing an enclosure with a TV or display is also becoming a popular indoor digital signage solution for protecting TVs and displays from theft and vandalism.
Takeaways
It is an exciting time for education digital signage and the benefits of it are improving schools around the world. When it comes to digital signage for schools, there are numerous uses and great solutions.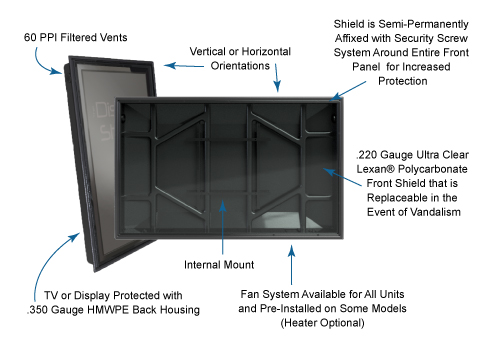 Ready to Grab an Outdoor Digital Signage Enclosure?