Posted by Protective Enclosures Company on 1st Jul 2021
Retail Digital Signage Guide - Outdoor Solutions
Perhaps you've been lacking outdoor retail digital signage? Or you've been resorting to temporary static signs that involve manual labor to keep up-to-date? If you were unaware of the benefits of digital signage or concerned about the cost of digital exterior retail signage, the good news is not only do studies such as this Intel brief report affirm that digital signage is extremely effective and captures over 400 percent more views than a static sign, but outdoor digital signage displays can be affordable as well. What are the benefits of weatherproof digital signage? How much does an outdoor business sign cost? Take a stroll through the guide below to learn more.
Article Table of Contents
What is Outdoor Retail Signage?
Why is Retail Signage Important?
What are the Uses of Outdoor Retail Signage?
What are the Benefits of Outdoor Retail Digital Signage?
What are the Types of Outdoor Retail Signage?
What is the Best Outdoor Retail Signage?
What is the Best Outdoor Retail Digital Signage Solution?
How Much is Outdoor Digital Signage?
Outdoor Retail Digital Signage Q&A
What is Outdoor Retail Signage?
Outdoor retail signage refers to any kind of store or commercial graphics in an outdoor space that shows information to customers and the public. Outdoor retail signage can show a variety of information, ranging from business or product details, sales, outside advertising sold to third parties that earns additional revenue, wayfinding, menus, interactive touch screen games or information directories, and much more. Signage for retail stores can vary in shape and size based on intent and placement from a small folding sign by the front door, to outdoor digital signs on the outside of the building, to a billboard. Signage is a vital part of every business because it grabs attention, makes a first impression, communicates important information, can be a customer service tool, and generates revenue.
Why is Retail Signage Important?
Retail signage is very important because it is a primary communication tool for stores. Along with aiding the bottom-line goal of driving sales and growth, store advertising increases awareness of existing products, introduces new products, promotes sales, educates customers, offers customer service, and more. Retail signage can be a very powerful way to increase brand awareness, improve customer experiences, and drive additional revenue.
What are the Uses of Outdoor Retail Signage?
Retail digital signage can show a variety of information:
Business or product details
Sales and promotions
Events
Outside advertising for third parties (which earns additional revenue)
Wayfinding
Menus
Interactive touch screens with customer service features, games, etc.
Information directories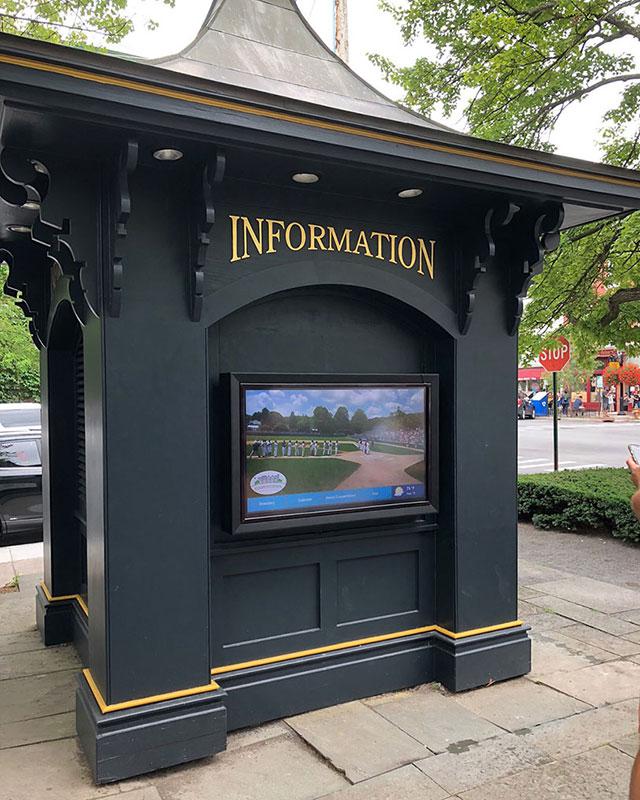 What are the Benefits of Outdoor Retail Digital Signage?
The Benefits of Retail Digital Signage Compared to Static Signs:
Digital signs offer the option to utilize video, imagery, and sound
In the long run and often even up front, digital signage can save extensive amounts of money compared to the expenses of printing, labor, or pricey LED signs
Not only are outdoor digital signs money savers, they also add an upswing in overall sales volume by 31.8 percent ( Digital Signage Today)
Digital signage captures over 400 percent more views than a static sign according to this Intel brief report
63 percent of people say that digital signage catches their attention which is significantly higher than TV, internet, and billboard advertising ( Digital Signage Today)
42 percent of retail video viewers would rather shop at stores that have video displays ( Digital Signage Today)
Outdoor digital signage displays offer the option to utilize touch screens and interactivity
Outdoor digital signage offers the ability to use software and technology that streamlines communication, is easier to manage than manually changing out and updating static signs, and is faster ( click here to read this great success story at Iowa State University)
Digital signage can offer a hands off, safe and clean, option because it can be controlled from a single screen with cloud based technology
What are the Types of Outdoor Retail Signage?
The following is a comprehensive list of various types of outdoor retail signage and options.
Digital signs
LED signs
Pylon signs
Pole signs (this could range from large scale pole signs to small lamp post banners and flags)
Outdoor banners (typically these are vinyl banners hanging on buildings or retractable pop-up banners, but it can also include small lamp post banners or flags)
Monument signs
Directional signs
Wall signs
Blade signs
Awnings
Window graphics
Sidewalk signs
Vehicle graphics
Lightbox signs
Kiosks
Outdoor retail signage is signage placed in public areas or outside storefronts which displays business information, logos, deals, wayfinding, and more. Outdoor retail signage encompasses a large variety of signage options such as static, LED, or digital with variations ranging from sidewalk signs and pole banners to Pylon signs and more, size variations, an array of prices, placement options, and durability choices including if the sign is meant for temporary or permanent use. It can refer to anything from a temporary sign on or by the door to large advertising posters to outdoor store signs such as LED signs or digital signage.
What is the Best Outdoor Retail Signage?
In general, most sources report retail signage elements that perform the best for capturing attention are large sizes, moment (digital signs), colorful imagery, and good lighting. The best type of outdoor retail signage for each business is unique and depends on factors such as need (application), environment, budget, and more. In addition, different signs perform different roles that all work together to achieve goals. So, a combination of a couple or few types of signs may be ideal for certain businesses.
Typically, the goal of most retail signage is to drive sales. Signs pointing to a store's location help drive sales, marketing signs promoting discounts drive sales, and so on. So, the best outdoor retail signage depends on the need of the individual company. Evaluate goals, where the best locations for signage are on your property, budget, and your vision. Determining those elements will help you decide on the best digital signage plan for your needs. Digital signage is becoming a popular retail signage solution because it can communicate several things through one sign.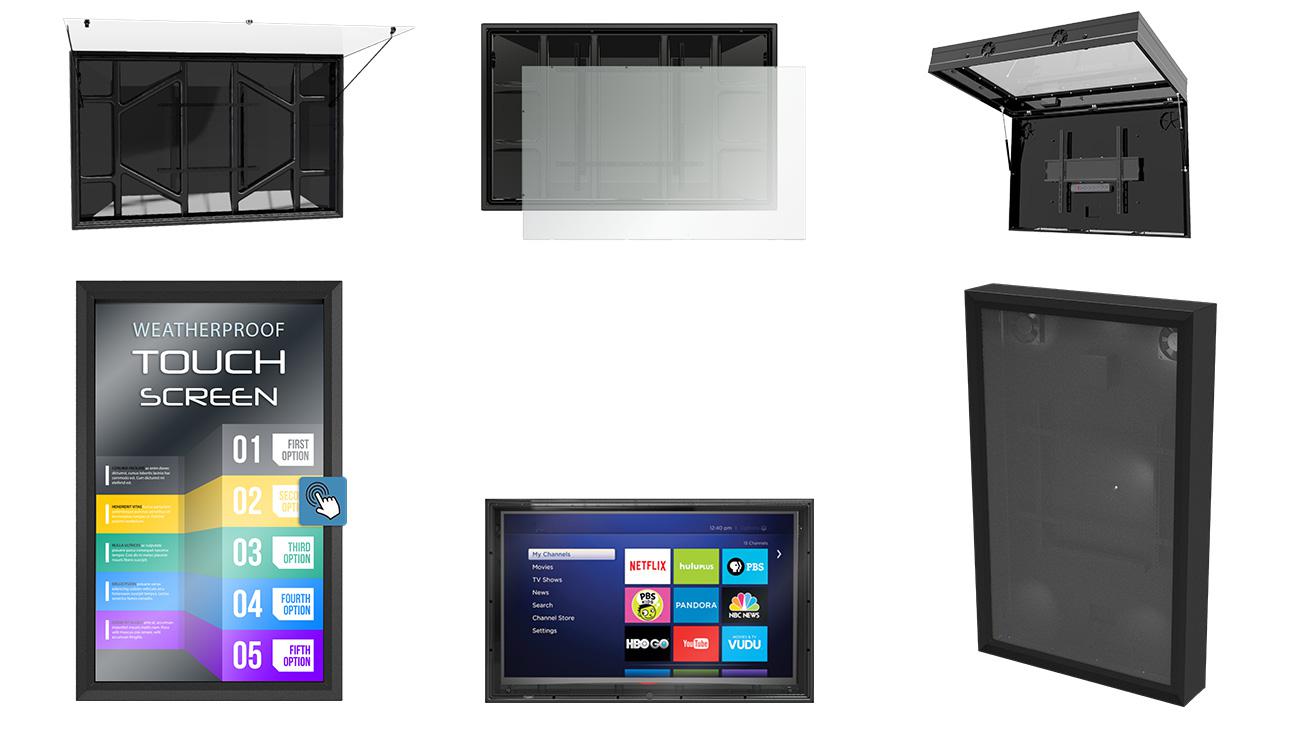 What is the Best Outdoor Retail Digital Signage Solution?
The standout best solution from this best outdoor digital signage list is pairing an indoor or outdoor TV with an outdoor display enclosure .
Benefits of Pairing a Weatherproof Digital Signage Enclosure with a TV or Display: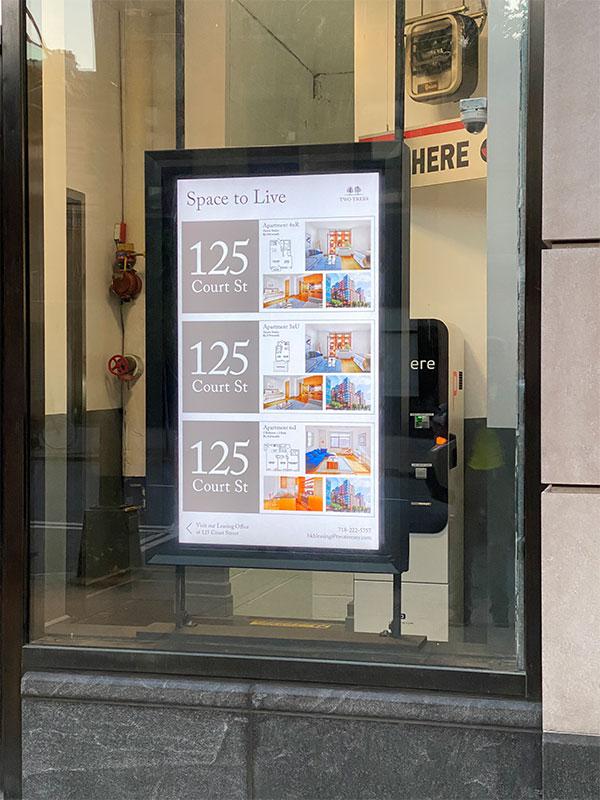 Save money with quality top-of-the-line enclosures starting as low as $399
Enjoy an expansive range of size options from 19" to 85" or bigger
An outdoor digital signage enclosure can protect not only your TV or display (aka monitor, OLED, LCD, etc.), but also other media devices you want to put behind the TV within the enclosure – such as a Roku, Apple TV, etc.
Utilize outdoor touch screen capabilities as needed
Benefit from true robust outdoor durability (enclosures are built with materials far better able to withstand the elements and other threats like tampering than materials used to build typical outdoor TVs and displays)
Top quality outdoor digital display enclosures give peace of mind with completely shatterproof front panels made of polycarbonate
Pairing a TV or display enclosure with a TV or display is also becoming a popular indoor digital signage solution for protecting TVs from theft and vandalism.
How Much is Outdoor Digital Signage?
How much does digital signage cost? An outdoor digital signage solution like The Display Shield digital display enclosure starts as low as $399 plus the cost of any digital monitor of the buyer's choice, even an indoor TV (so it could be just a couple hundred). For both an enclosure and TV to be used for outdoor digital signage, this can be as low as around $650 or $1000 to $1500 which includes the protective cover and TV or display (with even lower prices for bulk purchases).
How does the price of outdoor digital signage compare to other options? How much does an outdoor LED business sign cost? In contrast to the low costs of digital signage, according to LED sign manufacturer, HES SIGN, individual LED signs start at $15,000 to $50,000.
Retail Digital Signage – Outdoor Solutions Takeaway
It is easy to see why outdoor digital signs are becoming important tools for business success. Having walked through a variety of key considerations for outdoor store signs, now you are set to make wise outdoor digital sign decisions and enjoy the benefits.