Posted by Emilyann Allen (Author of Amazon Best-Selling Books) on 2nd Aug 2021
What are the Types of Outdoor Retail Signage?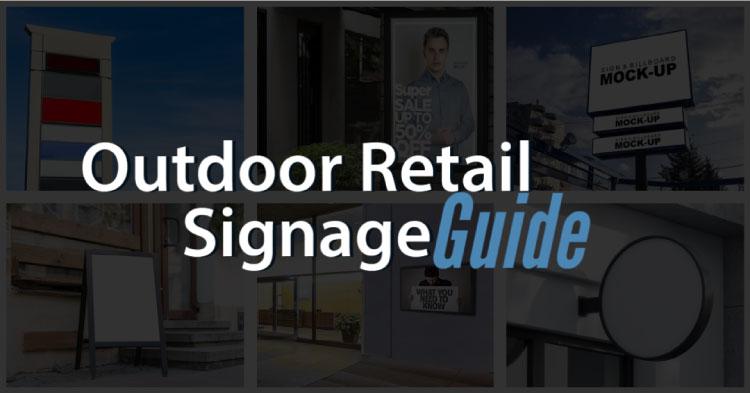 The following is a comprehensive list of various outdoor retail signage options. Static signage will always have uses and benefits. However, being that outdoor digital signage is a new emerging technology which has been proven more effective than static signs as is affirmed by many sources such as the article, " 10 Key Stats Accelerating Digital Signage Adoption," and this Intel brief report, this list also highlights ways that digital signage can be utilized in various types of signage placement and applications. Digital signage can also be a huge money saver in many scenarios.
Table of Contents
What is Outdoor Retail Signage?
What Materials are Best for Outdoor Signs?
Types of Outdoor Retail Signage
What is Retail Signage?
Retail signage is a key communication and sales tool for retail businesses. Retail signage encompasses various formats of signage that may be placed inside or outside of stores. This type of signage can be used to showcase new products, promote sales, create awareness for underperforming products, educate customers, increase brand awareness, provide customer service, enhance customer experiences, and drive additional sales.
What is Outdoor Retail Signage?
Outdoor retail signage refers to signage placed in public areas or outside storefronts which displays business information, logos, deals, wayfinding, and more. Outdoor retail signage encompasses a large variety of signage options such as static, LED, or digital with variations ranging from sidewalk signs and pole banners to pylon signs and more, size variations, an array of prices, placement options, and durability choices including if the sign is meant for temporary or permanent use. It can refer to anything from a temporary sign on or by the door to large advertising posters to outdoor store signs such as LED signs or digital signage.
What Materials are Best for Outdoor Signs?
The best material for outdoor signs sometimes depends on the type of sign and purpose of the sign, but in general weatherproof, impact resistant, and UV resistant materials are ideal. Common materials for different types of outdoor signs vary depending on how long the sign is meant to be outdoors. Some common outdoor sign materials are concrete, vinyl, mesh, polycarbonate, HMWPE, acrylic, powder coated aluminum, and steel.
Types of Outdoor Retail Signage
Types of retail signage included in this guide are pylon signs, pole signs, outdoor banners, monument signs, wall signs, blade signs, awnings, window graphics, and sidewalk signs. Static signs, chalkboard, digital signage, LED signs, vinyl banners, and more can be used for different types of signs and will be mentioned throughout the guide. For example, digital signage is an option for pylon signs, pole signs, window graphics, and more, so digital signage will be mentioned relative to those types of signs.
Pylon Signs
A pylon sign is a tall freestanding sign. It may be mounted on a pole, more than one pole, or built into a tall freestanding structure made of concrete or other materials. The defining characteristics of pylon signs compared to other signs is they are freestanding (detached from buildings), they are typically tall and meant to be seen from a distance, and they are usually supported by one or more structural elements which are architecturally similar to the design of the sign. Tall roadside pylon signs, entrance pylon signs, highway signs, wayfinding pylon signs are common variations and names of pylon signs.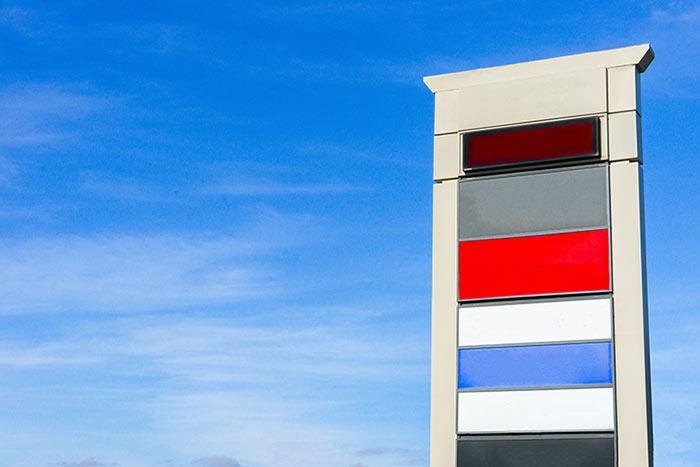 Pylon Signs Details -
Style Options: Static, LED, or Digital
Outdoor Durability: Long Term
Size Range: Pylon signs typically range from 8 feet tall to over 100 feet tall.
Price Range: The cost is typically $8,000 or $20,000 up to $100,000 to $200,000 for both the structure and the signage component. Lower height and options like outdoor digital signage rather than static or LED signage can keep costs lower.
Purpose: Pylon signs may be dedicated to advertising one business, multiple businesses, displaying important information, wayfinding, and more. The purpose of a pylon sign depends on which type of pylon sign and where it will be located. In general, pylon signs are usually very tall and meant to be seen from a distance. They often display business logos and sometimes a slogan to the public, however, some businesses are repurposing pylon signs with digital signage which opens the possibility to still highlight a logo or slogan but still include some added attention-grabbing information or graphics. Tall roadside pylon signs, property entrance pylon signs, and wayfinding pylon signs are common variations of pylon signs.
Placement: Most pylon signs are taller than other types of signs and are used roadside or by a parking lot. In some cases, they may be installed free-standing at a building entrance, by a building, in a shopping center courtyard, or generally somewhere where a tall informational sign is helpful, such as a large campus.
Pole Signs
A pole sign is a sign displayed on a pole or poles where the pole is exposed and visible without covering or excessive decoration. Usually, the poles are made of steel and the sign is displayed in a lighted cabinet on top. Historically in the sign production industry, pole signs referred to heavy-duty steel outdoor business signs. Sometimes pylon signs and pole signs are considered the same thing. However, many experts say they are distinguished as completely different categories since pole signs are clearly mounted on a pole or a couple poles, rather than more complex structures.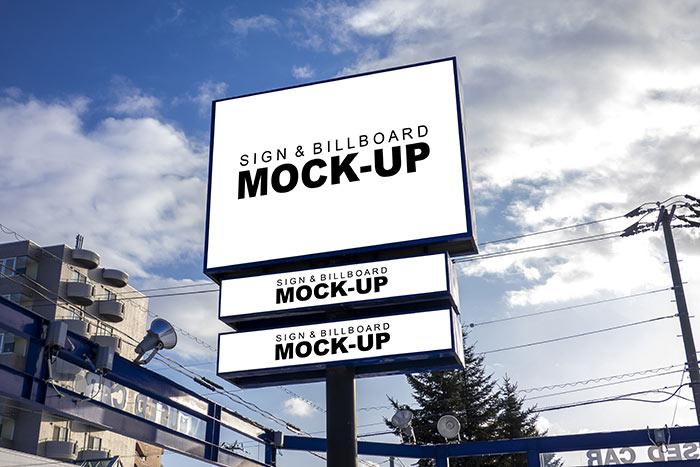 The traditional pole sign described above is likely the best and closest form of the original term, "pole sign." However, it is good to note the terminology seems to be evolving culturally to also encompass any type of sign that is displayed on any kind of pole or post. So, sometimes a lamp post banner, vinyl banner hanging from a pole, billboard pole signs, traffic signs, or other types of signs on poles, may also be referred to as pole signs. It is also good to be aware that originally pole signs only displayed static signage. These days though, outdoor digital pole signs are increasingly popular. Not only are new weatherproof digital pole signs becoming popular due to their success at boosting sales volume and saving money at the same time, but many businesses are also repurposing existing exterior retail signage to outdoor digital signs. Pole signs are also becoming a great solution for drive thru menu boards and could be used similar for retail businesses as customer service or to-go pick retail digital signage.
Pole Sign Details -
Style Options: Static, LED, or Digital
Outdoor Durability: Long Term
Size Range : Traditional pole signs can easily reach 20ft to 80ft, similar to pylon signs. Sometimes pylon and pole signs are referred to as the same thing, but the difference is a pole sign is clearly mounted on a simple pole or poles, rather than a more complicated or decorative structure. Since the term, "pole sign," has evolved and often refers to any sign on a pole, these signs can also be shorter perhaps around 5ft and up.
Price Range: According to HomeAdvisor.com, pole signs often range from $20,000 to $100,000 which includes both the structure and the signage component.
Purpose: A pole sign may promote a business, multiple businesses, deals, or events. Usually, traditional pole signs are tall and roadside or in a clear position to identify shopping plazas, car dealerships, gas stations, restaurants, and retail locations. Because the term, "pole sign," is becoming more generalized, it could also refer to any type of sign displayed on a pole which may encompass signs from flag pole signs and vinyl banners to outdoor digital pole signs and more. So, considering all those types of signs, pole signs could be used for various purposes from identifying business locations to advertising sales and events, and more.
Placement: Traditional pole signs are similar to pylon signs. They are used roadside or by a parking lot. Sometimes, they are free-standing outside a building, at a shopping center, or generally somewhere where a tall informational sign is helpful, such as a large campus, national park, or theme park.
Outdoor Banners
Outdoor banners are portable banners that convey various information such as business names, event information, deals, and more. This type of outdoor retail signage is designed for temporary outdoor use and not intended for extended long-term placement outside. Often, they are made of vinyl or sometimes mesh. Common types of outdoor banners are roll-up banners (retractable pop-up banners), lamp post banners (flag signs), hanging banners attached to buildings, fences, or stands, portable banner stands with bases that can be weighted with sand or water, or feather and teardrop style flag banners (also known as flying banners or beach banners).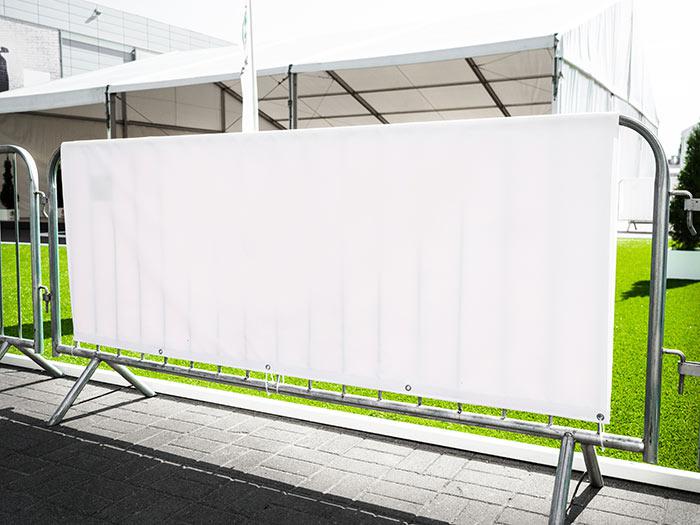 Unlike indoor banner stands, outdoor banners are designed to handle wind and mild weather elements for a small time. According to Banner Stand Pros, some models have spring loaded poles to flex in the wind, others will pivot in the wind so the banner is always turned for minimal wind resistance, and most all of them feature weighted bases or ground spikes to secure them to prevent tipping over. Many can be used on a variety of surfaces such as concrete, grass, soil, sand or even snow.
Outdoor Banner Details -
Style Options: Static
Outdoor Durability: Temporary
Size Range : Size varies where, for example, lamp post banners may be 2ft x 3ft on the smaller side up to larger banners such hanging banners that are commonly 4ft by 10ft. Outdoor banner height really depends on what type of banner and where it is placed. It could be eye-level or placed high on a pole or building.
Price Range: Commonly outdoor banners range from $6.99 to $479. Material, size, and if an accompanying stand is needed can influence the cost.
Purpose: Outdoor banners are frequently utilized at businesses as well as events. Typically, at business locations outdoor banners are popular for calling attention to sales, advertising events held by that business, or popular products or services. At events, hanging banners may be used by outside advertisers to bring awareness to their brand, menu items, etc. In general, they may also display various information such as business names, event information, deals, and more. Some benefits of these outdoor store signs may be portability, low cost, and they usually don't take up much space.
Placement: Outdoor banners are used all over due to their portability. Depending whether it is a standing banner or hanging banner, they are commonly found roadside, by store entrances, on street poles, placed freestanding around on sidewalks and patios, and more. They could be freestanding or attached to objects such as fences, trees, walls, etc.
Monument Signs
Monument signs are often used to identify the location and grounds of retail locations, offices, schools, or churches. They usually stand around 5ft tall or sometimes up to around 8ft tall. A low profile and a robust sign structure set them apart from other exterior retail signage. They may be made of a variety of materials such as concrete, brick, wood, or a high-density foam. They may have one company name on them or list all tenants in the complex. Like many other kinds of signs, historically, these signs have been static. However, there is the possibility to start constructing digital signage in this format or repurposing old static monument signs.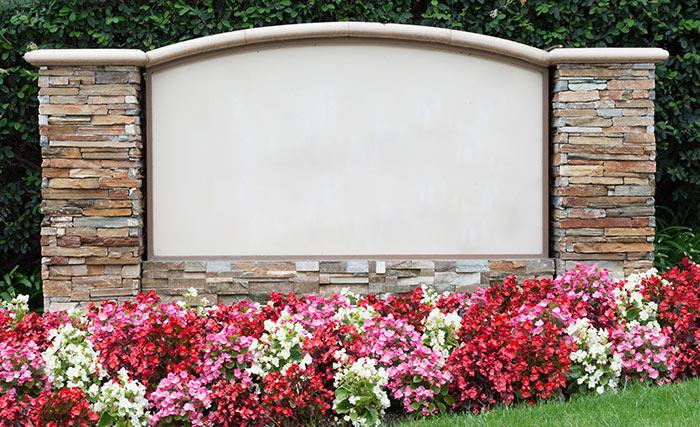 Monument Sign Details -
Style Options: Static, Digital, or LED
Outdoor Durability: Long Term
Size Range : Typically, monument signs are around 5ft tall.
Price Range: Monument signs usually cost around $5,000 to $28,000. Though, with the introduction of digital signage which is saving costs often up front but especially long term, costs may be lower.
Purpose: Monument signs often identify a building location or grounds of retail locations, offices, schools, or churches.
Placement: The entrance of a parking lot or the entrance to a building are common placements for monument signs.
Wall Signs
Outdoor wall signs are signs attached to a wall that may be used for a variety of purposes such as showing a business name, business hours, directions, sales promotions, or other general information. This could encompass any signage that is fixed to a wall either temporarily or permanently from banners or letter signs that form a word to lightboxes and outdoor digital displays. They come in a variety of shapes and sizes. They are popular for a variety of reasons such as cost savings and easy installation.
Wall Sign Details -
Style Options: Static, Digital, or LED
Outdoor Durability: Long Term or Temporary
Size Range : Sizes can range drastically depending on the type of sign that needs to be implemented from 11-inch plaque signs to 85-inch digital signs or even up to 100-inch digital signs and occasionally larger. The size really depends on the type of wall sign.
Price Range: Since sizes and types of wall signs vary from posters which could be the cost of some ink to print at home to 85-inch outdoor digital displays or larger, the cost can vary from some pocket change to $4,000 to $8,000 or for a large-scale project maybe more. Outdoor digital displays are extremely popular wall sign solutions for long-term applications because they can offer huge screen size options without the cost of building additional support structures or poles to support the sign. Outdoor digital signage enclosures play a key role, as they offer low-cost display protection for outdoor or indoor signs to be placed in harsh environments.
Purpose: Usually, outdoor wall signs convey business names, slogans, and sometimes additional information like store information, operation hours, events, advertising, and more.
Placement: Outdoor wall signs could be placed on an entrance or side wall on a building. They may also be mounted on something like a small information booth structure or pergola.
Blade Signs
Also known as projecting signs, blade signs are mounted in a perpendicular direction to the outdoor wall of a building typically near entrance doors. These outdoor store signs may also be mounted on a pole near a building entrance. These signs are sometimes lit and sometimes not. Their primary purpose is to mark the entrances of businesses. They are a common solution for attracting sidewalk foot traffic to businesses.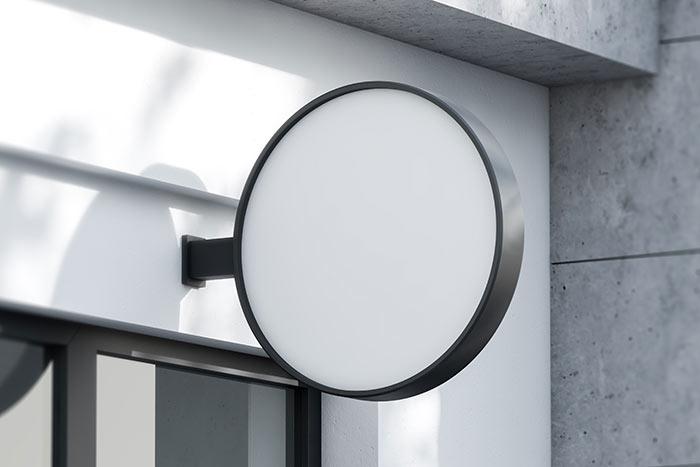 Blade Sign Details -
Style Options: Static or LED
Outdoor Durability: Long Term
Size Range: Blade signs are generally 30 inches to 50 inches but can be made in custom sizes ( Brooklyn Signs).
Price Range: The cost of blade signs could be anywhere from around $30 all the way up to around $550 depending on materials, size, quality, and other factors.
Purpose: Usually, blade signs are meant to indicate a store's location and often draw attention to the entrance door.
Placement: Blade signs are placed outside of businesses to show a shop's location or above a shop entrance door to guide potential shoppers precisely and efficiently to store entrances.
Awning Signs
Awning signs are signs printed on awnings. Awnings can be made from various materials or created in a variety of styles. Most commonly awnings consist of canvas stretched over a frame. Customers tend to appreciate awnings providing sun and rain shelter. If a business is going to have an awning, it typically makes sense to take advantage of the realty and use it as exterior retail signage.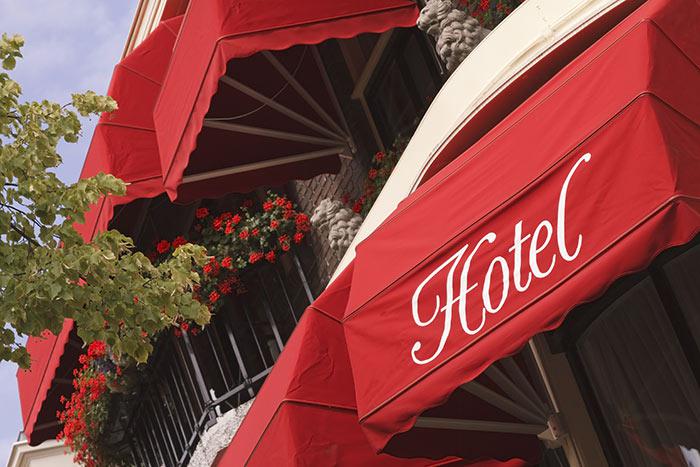 Awning Sign Details -
Style Options: Static
Outdoor Durability: Long Term
Size Range : Awnings are often custom made to fit specific storefronts, but some common standard sizes are 30", 44", or 48" wide.
Price Range: Depending on size and material, awning signs typically range from $250 to $3500 ( AZSunSolutions) or even up to $16,000 plus the cost of installation.
Purpose: Common reasons to choose a storefront awning are to reduce high sun exposure, to decorate a bland store exterior and increase curbside appeal, or to provide shade for situations such as outdoor shopping and lines for entry.
Placement: Awnings protrude from buildings. They often hang over a store entrance. But they could be placed around the sides of buildings for various reasons as well.
Window Graphics
What are window graphics? Window graphics are any form of advertising in windows. Decals, banners, or digital signage on the inside of windows which show out to the public are common forms of window graphics. Window graphics grab attention and can be a space-saving signage option for businesses.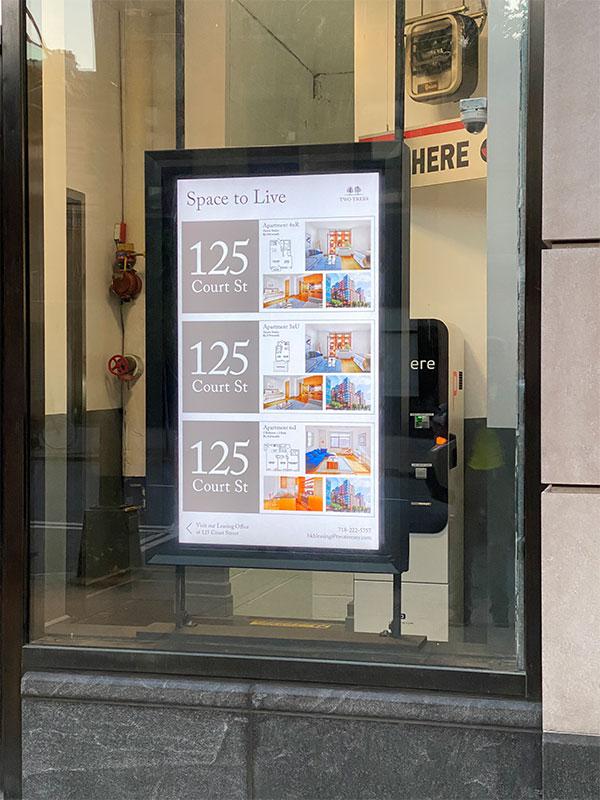 Window Graphics Details -
Style Options: Static or Digital Signage
Outdoor Durability: Long Term
Size Range : Size for window graphics depends on various factors. It could be a series of small window graphic decals that are a few inches each or a large decal the size of the window. Or if you opt for using digital signage in an enclosure facing out a window, it will probably be in the 19" to 85" size range.
Price Range: Window graphic prices can range from as low as $6 to over $1,000 depending on whether it is a decal, banner, or digital sign.
Purpose: Window graphics in the form of decals or static banners usually serve the purpose of displaying long-term information such as business logos, contact information, hours of operation, or provide advertising visuals. Sometimes they may show short-term advertising and for temporary advertising graphics, they need to be switched out frequently. Window graphic digital signage can be used for just about any purpose.
Placement: Just as it sounds, window graphics are placed in windows.
Sidewalk Signs
Sidewalk signs are a popular signage solution for storefronts. Common sidewalk sign styles are a-frame (whiteboard, vinyl, or chalk board), or double-sided LED. Depending on the type of sidewalk sign, they are often designed so it is easy to change the message daily.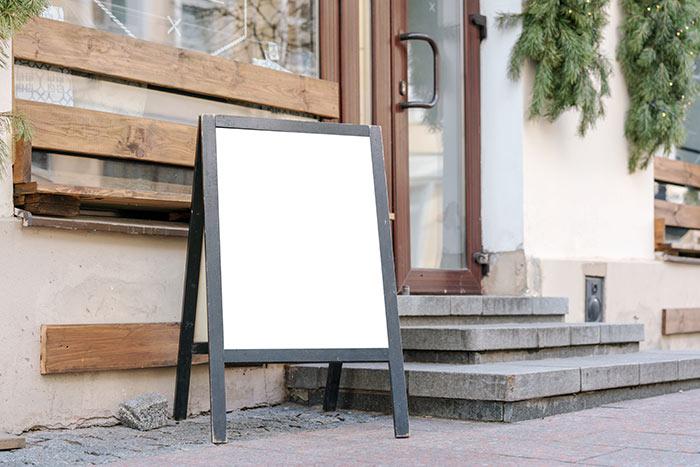 Sidewalk Sign Details -
Style Options: Static or LED
Outdoor Durability: Temporary or Long Term
Size Range : Sidewalk signs often range from 18 inches to 48 inches tall.
Price Range: Typically, sidewalk signs range from $30 up to $250 for static or LED signs depending on factors such as style, materials, size, and more.
Purpose: What is the purpose of a sidewalk sign? Sidewalk signs can serve purposes such as capturing the public's attention or communicating information like store hours or special deals.
Placement: Sidewalk signs are placed on sidewalks. Usually, they are located near store entrances to help the public notice the store entrance. They may also be positioned somewhere else on the sidewalk in front of or around the store.
Outdoor Retail Signage Recap
Understanding the various options for outdoor retail signage enables business owners to make strategic and wise decisions. The different types of signs serve different purposes. At the end of the day, exterior retail signage is the first impression on potential customers, so wisely planning and investing in outdoor store signs is key to success.
Related News & Resources:
Discover Weatherproof Outdoor Digital Signage Enclosures
Digital Signage Displays for Retail & Businesses
Digital Signage as a Customer Service Vehicle (Sound & Communications Magazine Article)
10 Top Outdoor Digital Signage Enclosure Features (Outdoor Touch Screen Options and More)