Posted by Emilyann Allen on 31st Jan 2022
Ultimate Outdoor Signs & Digital Signage Guide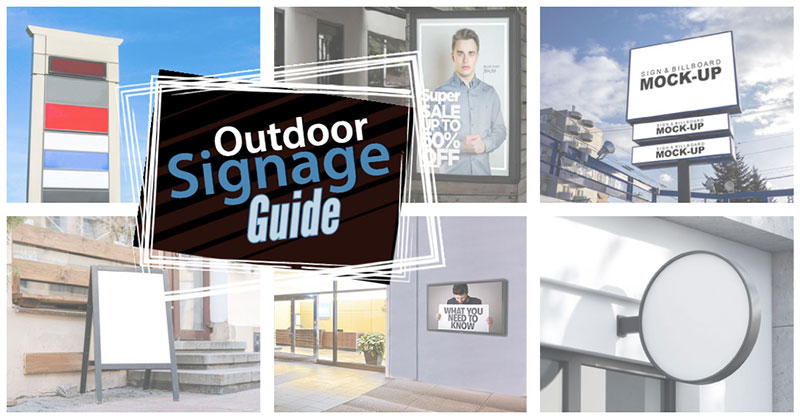 What is outdoor digital signage? What is the difference between outdoor digital signage and other outdoor signs? If you're looking to better understand outdoor signage as a whole or decide on the best outdoor signs for your business, you're in the right place.
From large signs to small signs and temporary signs to long-lasting signs, below is a comprehensive list of various outdoor signage options and what they look like (images of the signs). When it comes to commercial signage, static signage will always have uses and benefits. However, being that outdoor digital signage is a new emerging technology which has been proven extremely effective as mentioned in articles like, " 10 Key Stats Accelerating Digital Signage Adoption," and this Intel brief report, this guide also highlights ways digital signage can be utilized in various types of outdoor signage applications. Digital signage can be a huge money saver in many scenarios as well as offers the advantage of displaying a lot more content. But there are certainly advantages for static signs when it comes to certain uses.
Article Quick Links:
What are Outside Signs Called?
What is Outdoor Digital Signage?
What Businesses Use Outdoor Signage?
What are the Benefits of Outdoor Digital Signage?
What are Outside Signs Called?
Outside signs are usually called outdoor signage. However, there are various alternative or relative terms such as outdoor digital signage, weatherproof digital signage, LED signs, digital LED signs, message boards, and more.
What is Commercial Signage?
Commercial signage refers to any type of sign or display that serves the purpose of promoting, displaying, and communicating information for a business. The information conveyed on commercial signage could range from logos, products, hours of operation, and sales, to menu items and more.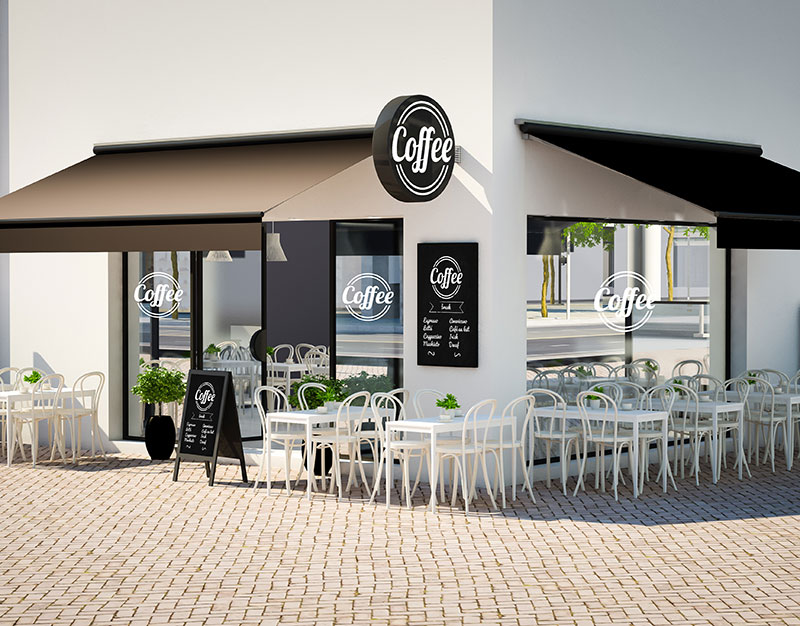 What is Outdoor Digital Signage?
Outdoor digital signs display content on a digital screen which is like a TV rather than being displayed statically via formats such as chalkboards, banners, concrete signs, or other materials. However, it is important to note there are various types of outdoor signage which can be used for either static or digital signage. Some examples for types of outdoor signage are pylon signs, banners, monuments signs, and there are many more. Outdoor digital signage is a segment of electronic signage which can include LCD, LED, projection, and e-paper to display digital images, video, web pages, weather data, restaurant menus, or text. These signs are sometimes used as a network of electronic displays that are managed in one location. Outdoor digital signage options are typically either digital displays built for outdoors or indoor displays paired with outdoor display enclosures.
Outdoor digital signage (a popular form of commercial signage) is a key communication tool for businesses. Outdoor digital signage is often used to showcase new products, promote sales, create awareness for underperforming products, educate customers, increase brand awareness, provide customer service, enhance customer experiences, display additional advertising, provide wayfinding, show exhibitions, display menus, and drive additional sales.
These signs are often found at public spaces, transportation systems, museums, stadiums, retail stores, hotels, restaurants, school campuses, theme parks, and corporate buildings.
What Businesses Use Outdoor Signage?
From theme parks to schools and more, outdoor signage is important for any business with a physical location. Hospitals, theaters, corporate offices, grocery stores and retails stores, restaurants, government facilities, sports arenas, airports, and theaters are some more locations that commonly have outdoor signage.
What are the Benefits of Outdoor Digital Signage?
Good presentation – First impressions are vital. Outdoor signage is the first impression for many businesses. When it comes to commercial signage, a static sign usually has fewer options than a digital display which can show text, images, and video. Digital signs look great and show businesses are keeping up with the latest technology.
Affordability – This depends on many factors such as the needs of the business, how many signs one needs, and other factors. That said, in many cases outdoor digital signage can be a cost saver when it comes to the price of the sign as well as in the long run.
Attention grabbing – Did you know digital signage captures 400 percent more views than a static sign? Outdoor digital signage is a popular way to show top priority information and increase engagement.
Communicating more – A stagnant sign means less space for information than a digital/video sign. Outdoor digital signage can incorporate much more information.
Streamlining and simplifying – Digital signage because can be updated quickly without manual labor. The content can be changed or tweaked as needed anytime. In addition, with digital signage, some software and networks allow displays in numerous locations across a facility or even throughout the country can all be changed at the same time from one remote location.
Interactivity – In some cases, businesses benefit from giving audiences interactivity options such as interactive ads, games, menus, or information centers. Interactivity would be otherwise unachievable with traditional static signs.
Outdoor Signage Options Guide
Types of outdoor digital signage included in this guide are pylon signs, pole signs, outdoor banners, monument signs, wall signs, blade signs, awnings, window graphics, and sidewalk signs. Some signs can only be static, but digital signage is an option for many of these types of signage. Each sign summary has a section called "style options" that highlights whether the sign can be static, LED, or digital (or a combination of those options).
What are Monument Signs?
Monument signs are often placed roadside to identify the location of businesses. Retail locations, doctor's offices, corporate offices, hospitals, schools, churches, and many other businesses use these signs. The height of these signs is typically 5ft to 8ft.
They usually stand around 5ft tall or sometimes up to around 8ft tall. They usually are a landscape format rather than vertical with a low profile and robust structure. Concrete, brick, wood, or a high-density foam are materials usually used for monument signs. Sometimes they feature one business name or other times they list several businesses which can be found at a location. Historically monument signs were static, but many businesses have started constructing digital signage in this format or repurposing old static monument signs with digital signs rather than static signs mounted to the monument structure.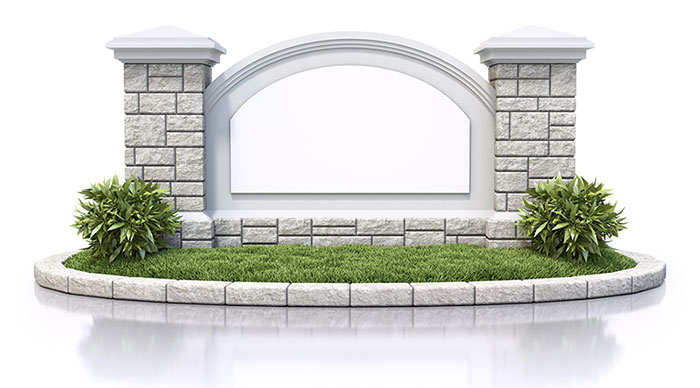 Monument Sign Overview and Options -
Static, Digital, or LED
Long Term
Around 5ft to 8ft tall
Monument signs usually cost around $5,000 to $28,000. However, costs may be lower with digital signage which is saving expense up front but especially long term.
Monument signs often mar the location of a business.
The entrance of a parking lot or the entrance to a building are common placements for monument signs.
What are Pylon Signs?
Pylon signs are typically tall and detached from buildings or other support. They often mark the location of a business or businesses, display important information, help with wayfinding, and more. Some variations and names of pylon signs all roadside pylon signs, entrance pylon signs, highway signs, wayfinding pylon signs. Pylon's often have static imagery, but digital signage is an option growing in popularity.
Most commercial signage consists of more than one component or many components. In the case of pylon signs, the sign itself consisting of the actual visuals or text is either pole mounted or attached to a tall freestanding structure made of concrete or other materials. Pylon signs are differentiated from other signs because they are freestanding (detached from buildings), they are typically tall and easily seen from far away, and they are typically supported by one or more structural elements which are architecturally similar to the design of the sign.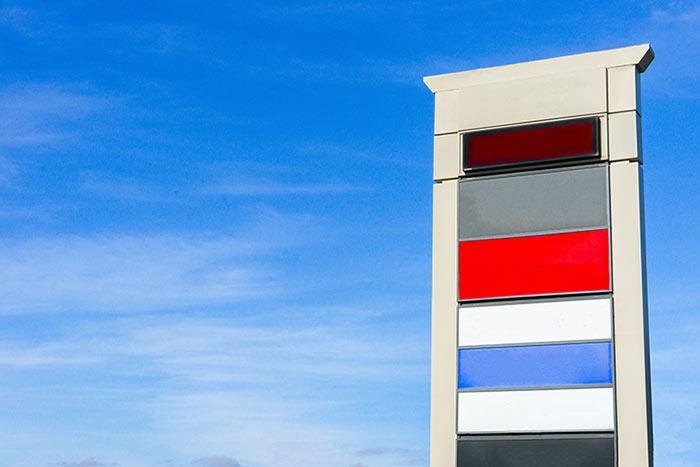 Pylon Sign Overview and Options -
Static, LED, or Digital
Long Term
Pylon signs can be anywhere from 8 feet tall to more than100 feet tall.
The cost could run $8,000 or $20,000 up to $100,000 to $200,000 for both the structure and the signage component.
Most commonly a Pylon sign marks the location of a business or businesses, but it may also incorporate advertising or other information. Pylon signs are intended to be visible from a distance, so usually they are tall. Many signage solutions are evolving and incorporating new technology, and pylon signs are no exception. Businesses are repurposing pylon signs with digital signage. Digital signage still shows traditional pylon sign content, which is usually a logo or slogan, but digital signage allows the addition of attention-grabbing information or graphics. Some variations of pylon signs are tall roadside pylon signs, property entrance pylon signs, and wayfinding pylon signs.
Usually, Pylon signs are placed roadside or by a parking lot. They can also be useful anywhere a tall informational sign is helpful, such as a large campus. Other places they are sometimes used are free-standing at a building entrance, by a building, or in a courtyard.
What are Pole Signs?
A pole sign is a sign displayed on a pole or poles. The poles are typically steel, and the sign is in a lit cabinet on top of the pole. Like most outdoor signs, these signs typically mark the locations of businesses. They may also be used to communicate additional information or advertising. They are also becoming a popular option for drive thru menu boards and could be used similarly for other businesses. For example, any business wanting to offer drive thru or curb side pickup could use this kind of sign. Some people refer to pylon signs and pole signs as the same. However, most times they are considered different since pole signs are mounted on a pole or a couple poles, rather than more complex structures.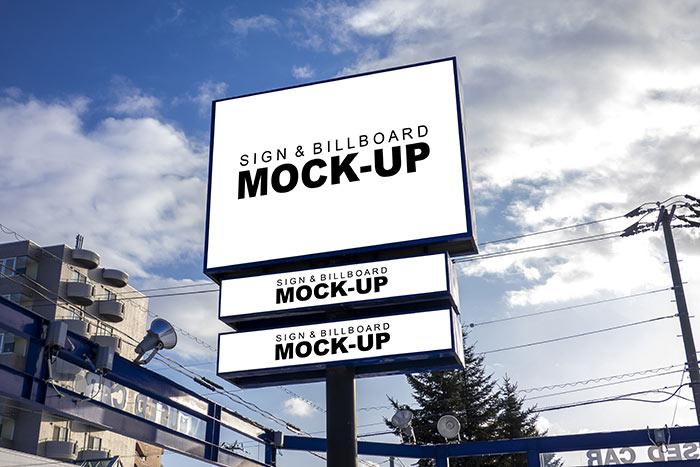 A large industrial long-term and sturdy sign is the best and closest fit for the original term, "pole sign." However, recently the term "pole sign" sometimes also encompass any type of sign that is displayed on any kind of pole or post. A vinyl banner hanging from a pole, billboard pole signs, traffic signs, or other types of signs on poles are now also sometimes considered pole signs.
These signs may be static or weatherproof digital pole signs which are on the rise which in many cases can save money and boost effectiveness. Existing static pole signs can sometimes also be repurposed to outdoor digital signs.
Pole Sign Overview and Options -
Static, LED, or Digital
Long Term
Originally pole signs referred to large signs that are 20ft to 80ft tall. However, over time the term, "pole sign," has expanded to include any sign on a pole, even shorter signs around 5ft and up.
Traditional large pole signs can range from $20,000 to $100,000. The cost includes both the structure and the signage component.
Typically pole signs serve the purpose of marking the location of businesses. They are also used for general advertising, deals, or events. Traditional large pole signs are tall and roadside or in a clear position to identify shopping plazas, car dealerships, gas stations, restaurants, and retail locations. "Pole sign," sometimes also means any sign displayed on a pole which may encompass signs from flag pole signs and vinyl banners to outdoor digital pole signs and more.
Traditional pole signs are often found roadside or by parking lots.
What are Outdoor Banners?
A popular form of commercial signage and typically made from made of vinyl or sometimes mesh, outdoor banners are portable banners. These banners are made to be placed outside for short periods of time and cannot withstand long term outdoor use. Roll-up banners (retractable pop-up banners), lamp post banners (flag signs), hanging banners, fences, or stands, portable banner stands with bases that can be weighted with sand or water, or feather and teardrop style flag banners (also known as flying banners or beach banners) are the main variations of outdoor banner options. Portability, low cost, and small sizes that don't take up much space are usually benefits of outdoor banners. Outdoor banners withstand wind and mild weather elements for temporary use. According to Banner Stand Pros, the majority of these signs feature weighted bases or ground spikes to secure them and prevent tipping over.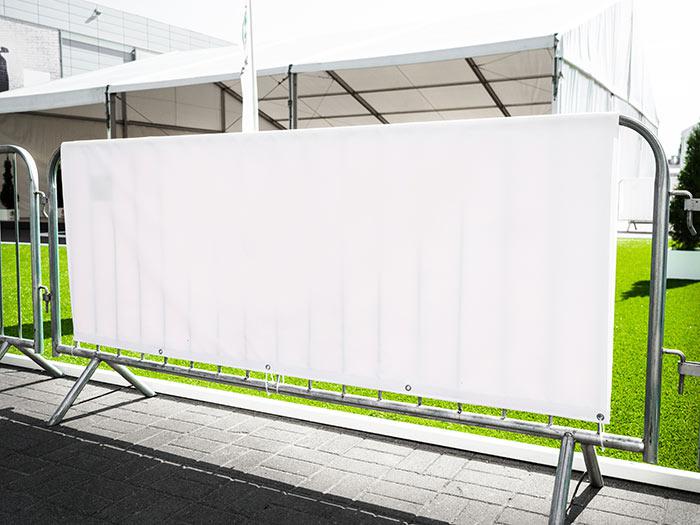 Outdoor Banner Overview and Options -
Static
Short term
Since outdoor banners includes a variety of types of signs such as roll-up banners, hanging banners, flag banners, and more, different types of outdoor banners are different sizes.
From $6.99 to $479, outdoor banners range in price. The type of sign, material, size, and an accompanying stand can be pricing factors.
Outdoor banners are popular for advertising sales, events, popular products, services, brands. They may also be used as menus, and more.
Many can be placed on concrete, grass, soil, sand, or snow. By the road, near building entrances, on street poles, and freestanding around on sidewalks and patios are common places outdoor banners are used. Flag signs are generally attached to pols and other signs might also be freestanding or attached to objects such as fences, trees, walls, etc.
What are Wall Signs?
As their name insinuates, outdoor wall signs are affixed to walls. Any signage that is fixed to a wall (for long-term or short-term use). Most of the time Letter signs, lightboxes and outdoor digital displays are common types of wall signs. Outdoor digital signs are common wall sign solutions for long-term purposes.
Wall Sign Overview and Options -
Static, Digital, or LED
Long Term or Short Term
Sizes can be anywhere from 11-inch up to 100-inch and occasionally larger.
Since sizes and types of wall signs vary, the cost may fall between $4,000 to $8,000 or for a large-scale project might be more.
Outdoor wall signs can be used for just about any purpose from communicating business names, sales, or events, to being used as menu boards, or for wayfinding, and more.
This type of signage is found on the side of buildings.
What are Blade Signs?
Blade signs (projecting signs) are mounted in a perpendicular direction to the outdoor wall of a building. These outdoor store signs may also be mounted on a pole near a building entrance. They attract foot traffic to businesses.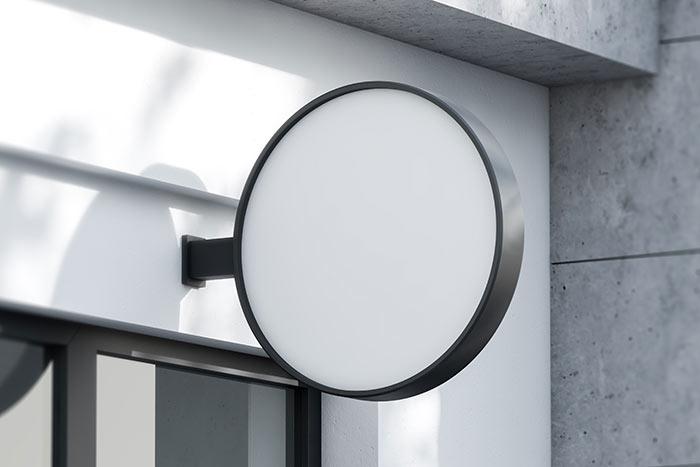 Blade Sign Overview and Options -
Static or LED
Long Term
Blade signs are generally 30 inches to 50 inches but can be made in custom sizes ( Brooklyn Signs).
The cost of blade signs could be anywhere from around $30 all the way up to around $550 depending on materials, size, quality, and other factors.
Usually, blade signs indicate a store's location and are placed near the entrance door.
Blade signs are placed outside of businesses to show a shop's location or above a shop entrance door to guide potential shoppers precisely and efficiently to store entrances.
What are Awning Signs?
Awning signs are awnings which have verbiage or imagery on them so they can be used as signage.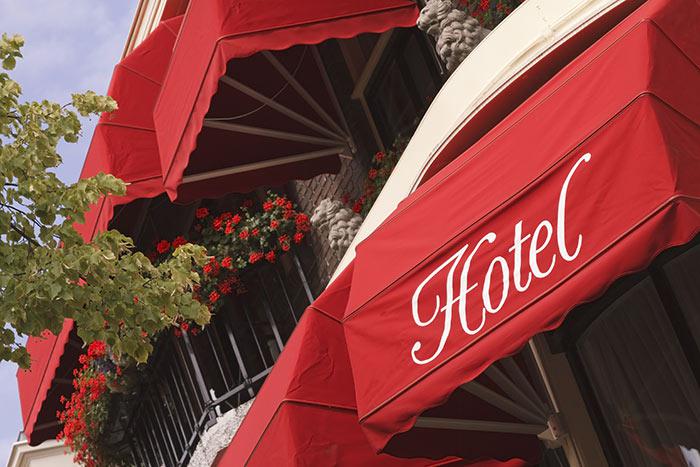 Awning Sign Overview and Options -
Static
Long Term
Some common standard awning sizes are 30", 44", or 48" wide.
In addition to the expense of installation, awning signs range from $250 to $3500 ( AZSunSolutions) or sometimes up to$16,000.
The main purpose of awning signs is to identify the location of a business and other benefits are providing shade, decorating store exteriors, and increasing curbside aesthetics.
Awnings are attached to the outside of buildings. They often are placed over a building entrance. They are also commonly on the sides of buildings.
What are Window Graphics?
The term window graphics refers to signage placed in windows. Decals, banners, or digital signage are common types of window graphics. Window signage catches attention and can be useful because it doesn't take up floor space.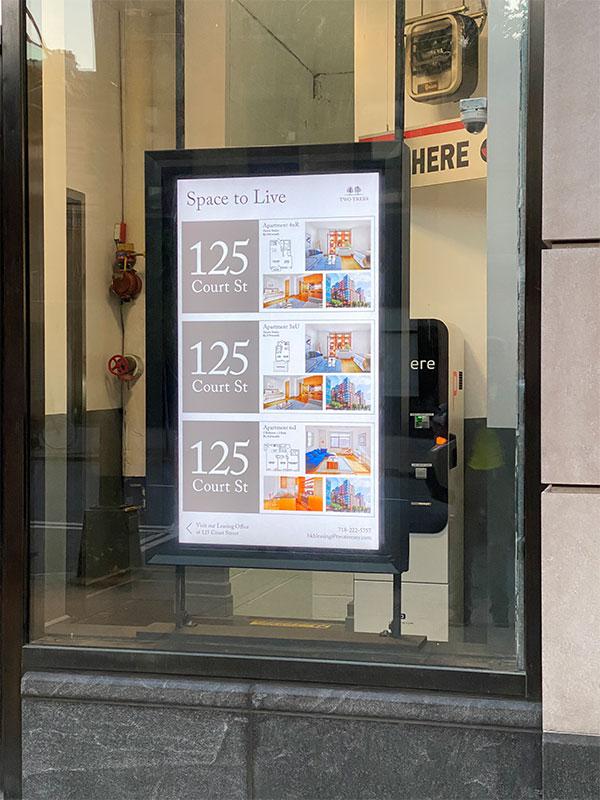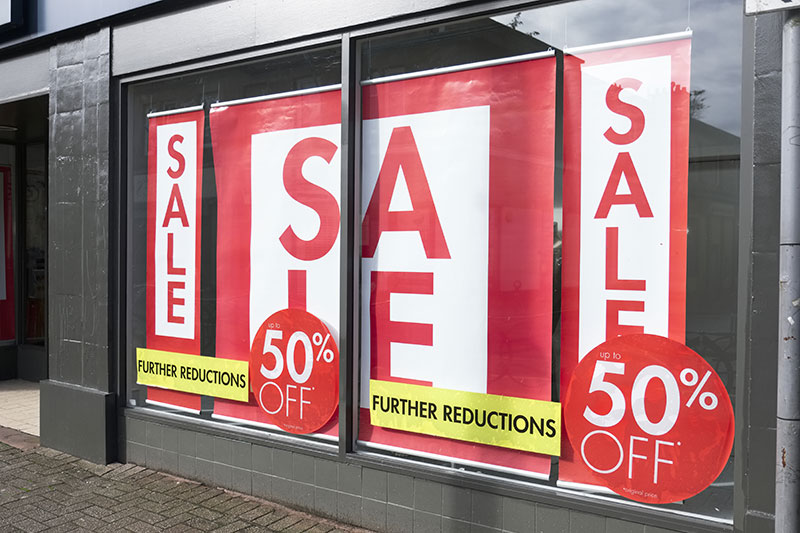 Window Graphic Details and Options -
Static or Digital Signage
Long Term
Window size graphics are all over the board. They can be a matter of a few inches to a few feet in size. And a digital display facing out a window is in the 19" to 85" size range.
Pricing for a window graphic is typically between $6 to over $1,000.
Window graphic digital signage is good for various uses from displaying logos, deals, and products to menus and more.
Window graphics are affixed to windows or placed just inside of windows.
What are Sidewalk Signs?
A sidewalk sign is a common type of sign commonly placed on sidewalks. The structure is either an a-frame (whiteboard, vinyl, or chalk board), or a double-sided LED. One common advantage of most sidewalk signs is they are designed in a way that it is easy to update their content daily.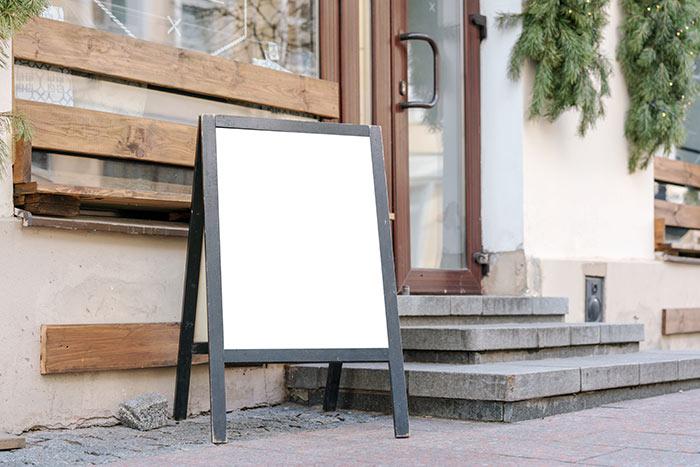 Sidewalk Sign Overview -
Static or LED
Short Term or Long Term
Sidewalk signs are typically 18 to 48 inches tall.
The price of a sidewalk sign will vary from $30 up to $250 for static or LED signs depending on factors such as materials, dimensions, and more.
What is the purpose of a sidewalk sign? Sidewalk signs catch the public's attention or convey information such as hours of operation, product updates, sales, and more.
Sidewalk signs are placed on sidewalks by or in front of businesses.
OUTDOOR SIGNAGE RECAP
Outdoor signage is a tremendous asset and growing in usage by the day. Static and outdoor digital signage are key to helping customers find businesses, promoting sales, increasing revenue, and much.
Related News & Resources:
Discover Weatherproof Outdoor Digital Signage Enclosures
10 Top Outdoor Digital Signage Enclosure Features (Outdoor Touch Screen Options and More)