Get Your Message Across with The Display Shield Anti-Glare Weatherproof Digital Display Enclosure
Overview
Specifications
Protects Against
Protection Notes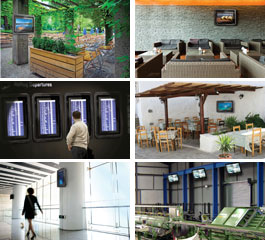 Quick Specs Overview:
Maximum INSIDE dimensions

Width (59.75")

Height (

36.35

")

Depth (4.1")


OUTSIDE dimensions

Width (64.40")

Height (41.10")

Depth (6.90")


WEIGHT:

67 LBS
*For best viewing results, place the display an inch or less from the anti-glare front shield.



*Please measure the outside dimensions of your TV or Display, or the planned TV, and compare to the inside dimensions listed on this page.
Installation Instructions:
Enclosure Overview:
The Display Shield outdoor digital signage solution is Tested and Certified to IP55 (IEC 65209) Standards for water and dust ingress protection!
Unit Protects 60-65" Displays 
The Display Shield® is an indoor and outdoor display enclosure that offers comprehensive protection for digital signage, displays or TVs. It is the most cost effective weatherproof display enclosure on the market for protecting signage investments in almost any environment.


These display cases are manufactured using HMWPE (High Molecular Weight Polyethylene), which is a specific plastic made for outdoor usage and durability. The front panel of the unit is an industry leading .220 inch thick proprietary anti-glare LEXAN® polycarbonate which is perfect for direct viewing of the display and complete defense against a flying object or tampering. The Display Shield has a semi permanently affixed front shield that is designed to stay closed at all times but does give you the ability to remove the front panel in the event of a mechanical failure of your equipment. The Display Shield uses a custom security screw system that requires a specific tool to remove the front panel. This makes unit completely tamperproof and provides optimum safety for your display. The cabinet also has a built-in 60 PPI filtered ventilation system and thermostatically controlled fan system to keep the unit at the ideal temperature in most hot environments.


Sports arenas, theme parks, community centers, educational facilities, hospitals, government buildings, restaurants, bars and an array of other commercial venues favor The Display Shield for TV and digital display protection over other enclosures and expensive outdoor signage due to its low cost, install friendly design, durability, water-resistance and security. PEC enclosures are currently used in over 38,000 locations in 53 countries!

Features:
Entire rainproof unit sealed to defend digital monitor against moisture intrusion and water damage, using our ExactSeal sealing system!
Thermostatically controlled 36CFM, 115V filtered fan system included
Shatter-resistant anti-glare front panel (which is produced with PEC's proprietary anti-glare coating process) is secured with custom security screws that require a specific tool to remove
Windproof back housing manufactured with outdoor plastics that fortifies the TV or display against impact
Two louvered vents with bug and moisture screen that prevent heat buildup and bug intrusion which could fry your monitor
Rounded corners for child safety and hazard prevention in institutional environments
Lightweight and easy to install
Universal design- Works with any standard VESA mount
The Display Shield is a unique and patented design
IP55 Tested & Certified**
PEC units are MADE IN THE USA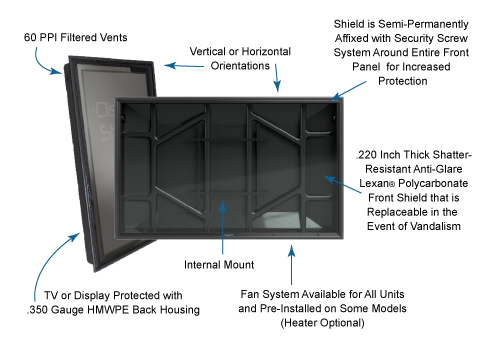 ---
Below we have a description of each product and why we chose it for this combo kit:
 

1. The Display Shield 60-65" Horizontal

 

The Display Shield is designed for 60-65 inch digital displays and televisions. This case provides water, rain and impact protection for your LCD, LED or Plasma displays and televisions.
 

2. Adjustable Tilting & Swivel Wall Mount




This anti-theft tilt mount is designed for large flat panel displays and enclosures from 36" - 65" and up to 143 lbs. With a tilt range of -6 to +12 degrees you are able to minimize reflection or glare and achieve optimal placement for ease of viewing. Mount comes with an anti-theft locking bar for peace of mind and also has a locking tilt mechanism to keep your display and enclosure at the desired angle. At only 2" from the wall, this mount is one of the slimmest on the market in the tilt category. 

Highlights and Features:

Ultra slim design - only 2" from the wall
Solid heavy duty wall plate (25 1/2" x 8")
Max VESA compatible (600x400)
Includes manual and all hardware

  
 

3. Fan Cooling Package


This dual recessed fan cooling system is built to continually filter hot air out of the unit pulling fresh cool air in and creating an air pocket between the screen of the TV or display and the clear front panel of the unit. The fan power cords have a built-in thermostatic control which turns the fans on at 88 degrees and off at 78 degrees to ensure that your enclosure stays at the proper temperature.

 

 

4. Moisture Control Gel Case

We have included this because the moisture control gel case absorbs moisture from inside the enclosure. This is a protective measure and very worth purchasing for your TV investment and protection.

5. Cleaner & Polish Combo Kit


The TV Shield's & The Display Shield's front panels are made of ultra-clear polycarbonate. We feel that optimal viewing of your TV is going to be very important to you. Very simply this cleaner and polish kit helps keep the screen scratch free, smudge free and optically clear. The cleaner and clearer, the better your viewing experience will be. We highly recommend using this product. Also be sure to not use paper towels ever on your TV screen or The TV Shield screen as they generally are abrasive. Refer to your TV's instructions for optimal cleaning of your TV's screen. Do not use this cleaner or polish on your TV.
 
Compare the outside dimensions of your TV or display with dimensions below:
Unit Protects 60-65" Displays (Most 65" Displays Fit, Compare Display to Enclosure Specs)
Maximum INSIDE dimensions

Width (59.75")

Height (36.35")

Depth (4.1")
OUTSIDE dimensions

Width (64.40")

Height (41.10")

Depth (6.90")



WEIGHT: 67 LBS 
*Please measure the outside dimensions of your display or TV and compare to the inside dimensions listed on this page.
Details:
.220 Inch thick shatter-resistant proprietary anti-glare Lexan® polycarbonate front shield "panel"

.350 Inch thick HMWPE High Molecular-Weight Polyethylene plastic back housing

Front panel features custom security screws that require a unique tool to remove

Two openings for cords and wiring with self-sealing grommets

Thermostatically controlled 36CFM, 115V filtered fan system included

Two filtered vents (60PPI) with upgraded wash-down protection to prevent heat build-up as well as keep dust, bugs and water out

Rounded corners for child safety and safety in institutional environments

Lightweight

Able to use any standard VESA mount
Protects displays from everything in any environment:
Water (Rain, pool splashes, wash downs)

Moisture (Condensation, dew, steam, humidity, dampness)

Dust (Grime build up)

Tampering (Burglary, theft, vandalism, attempted destruction of product)

Pests (Bugs, insects)

High impact (Storms, baseballs, flying objects)

Extreme temperatures (Hot and cold)

Sun 
Other things you should know:
This protective signage case is not designed to be water-submerged

Thermostatic fans that click on at 88° and off at 78° are available for all enclosures, and included with some models and kits
Thermostatic heaters available upon request (turns on at 41° F and turns off at 47°)

Graffiti like spray paint can be washed off of screen with special removal spray, and dry-erase markers are usable on the front panel



* Protective Enclosures Company, LLC will not be held responsible for orders placed for TV's or Displays over the listed specifications, and although we will accept a return, there will be a 10% restocking fee assessed, as well as the customer will be responsible for actual shipping and return shipping of the unit. If you plan to use enclosure outside of the recommended and listed specifications, please make sure it will work for you before you order. By purchasing, you acknowledge that you have read and accept these terms and will hold harmless, PEC and all subsidiaries, business partners and officers.**Display Shield tested with vent caps installed and without optional fan system.