Posted by Protective Enclosures Company on 1st Mar 2021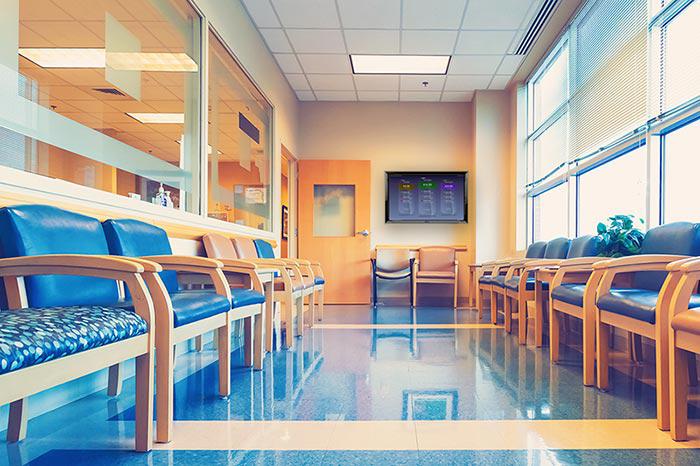 Here's What You Need to Know about TVs for Psychiatric Hospitals
If you're looking to understand if TVs are used in mental institutions, the benefits of TVs in psych ward (also called mental health facility) environments, and how TVs are safely integrated in these facilities with protective TV enclosures, you've come to the right article. Buckle up, here we go….
Do Mental Health Hospitals Have TVs?
Yes. Televisions and and digital signs are used in psychiatric hospitals for many purposes such as group entertainment, therapy and education tools, entertainment in low-risk patient rooms, directories for navigating the hospital, and more.
Benefits of a TV and/or Digital Display in a Psychiatric Hospital
The advantages of utilizing TVs and digital displays in behavioral centers is extensive. Below are just a few examples.
Group entertainment –
Humans are social creatures. Group activities have several positive impacts such as reducing boredom, improving a patient's abilities to interact with others, and more (Activity Programs for Mental Health Units).
Therapy and educational tools –
TVs are an ideal delivery tool for forms of therapy and education. They capture attention and present information in a way that is engaging.
Societal connection –
TVs not only give staff and patients something to bond over, they also provide a connection to society.
Entertainment in low-risk areas –
Television can provide entertainment in low-risk areas such as to patients who aren't at risk of self-harm and to staff during break times.
Information and directories for navigating the hospital –
TVs and digital displays are also popular for use inside and outside of hospitals for information centers and wayfinding.
Risks and Concerns of TVs in Behavioral Health Centers
Introducing TVs and digital displays in mental health facilities begs some obvious questions and concerns. TVs are big heavy objects that can certainly be used to cause damage to others or self-inflicted injury. High wall mounted TVs are also a potential tool that patients could use to hang themselves or others. It is an unfortunate reality, but these are concerns mental health facilities must take into consideration. Fortunately, there are ligature resistant TV enclosures that can prevent those issues….
Healthcare TV Protection and Anti-Ligature TV Enclosure Solutions
The good news is there are a variety of healthcare facility and psychiatric hospital TV and digital display enclosure solutions available. Below are some options that are popular with healthcare facilities followed by more information on ligature-resistant TV enclosures which are designed specifically for preventing self-harm.
Various TV Enclosure Options:
Indoor and outdoor TV and display enclosures offer protection in most situations, even harsh environments. All enclosures mentioned in this article offer high impact resistance, shatterproof front panels, security systems, theft, burglary, vandalism, and tampering protection, filtered ventilation, and cable pass-throughs. These TV and digital signage enclosures can also all be cleaned and sanitized. Refer to the article How to Clean a TV (Indoor or Outdoor): Flat Screen, 4K, LED, Cloths, Wash Down & More for a full overview on TV and display enclosure cleaning and sanitization.
Healthcare Digital Signage & TV Enclosures Comparison Chart: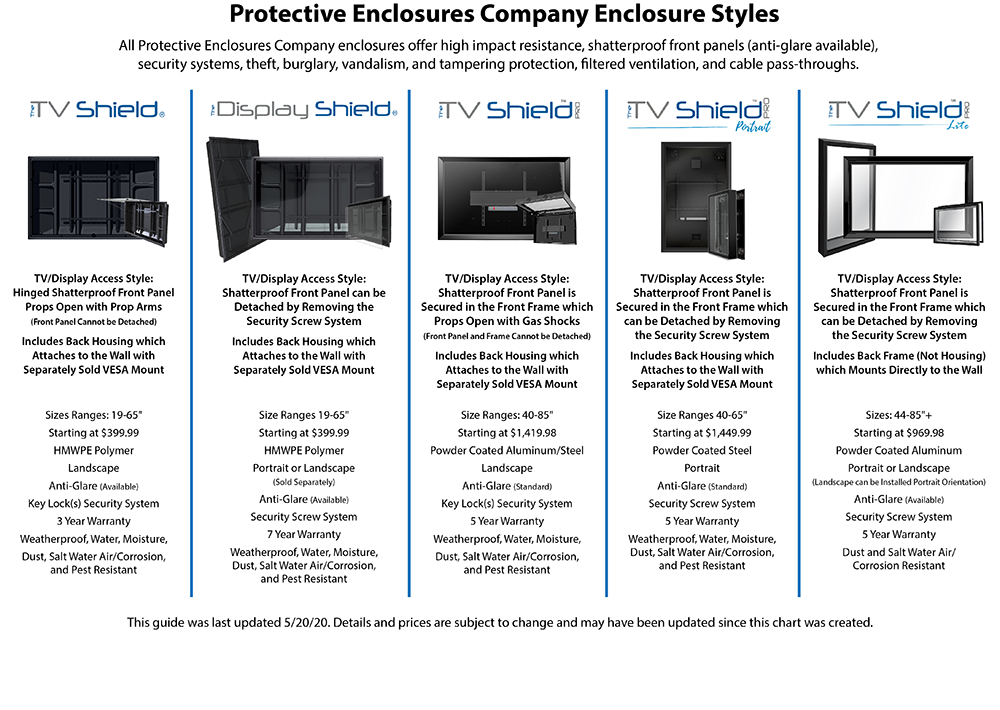 * This chart was last updated 5/13/20
Click Here to Browse these Enclosures
Anti-Ligature TV Enclosures:
The TV Shield PRO Lite Anti-Ligature TV enclosure is specially designed for the commercial market, especially for any jail, mental health facility, hospital, day care, or care homes where people would otherwise be inclined to potentially harm the TV or use the TV to harm themselves or others.
The anti ligature TV cabinet's base frame bolts and seals to the wall over a TV using heavy duty mounting hardware, while the enclosure attaches to the base frame using a high strength security screw system for the ultimate defense against removal from the wall (this is an open back design). The enclosure prevents access to the TV mount which could be used as a ligature point if it were accessible. A slope top hood is also at the top of the enclosure, preventing it from having a flat top surface.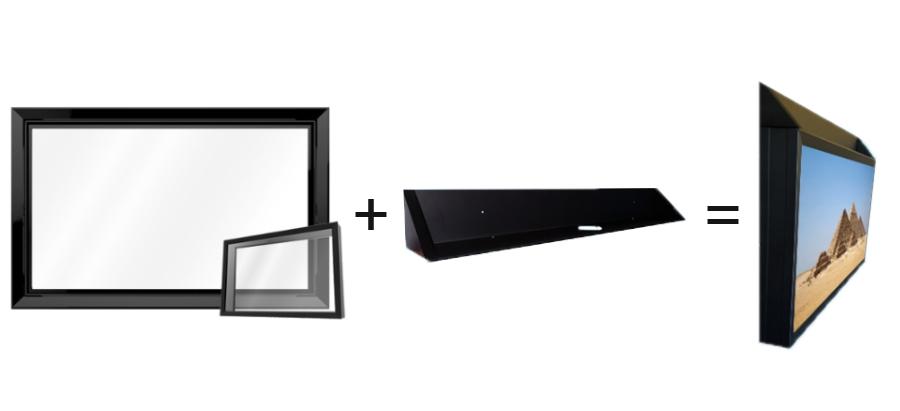 These enclosures make it impossible to form a point of ligature (such as tying a rope around the TV) which could otherwise result in self-harm, injury to others, or even death. Otherwise, though a TV mount may be strong enough to hold the screen, a little brute force is all it would take to send it crashing down. It prevents suicide attempts where otherwise patients or inmates might attempt to use something strung around the TV to hang themselves or others. It's unfortunate these types of concerns exist, but they are a reality in certain settings such as health care and penitentiaries.
Whether the TV is mounted in a recessed area, on the ceiling or wall, or on a table, ligature resistant TV enclosures protect the television in its entirety to prevent damage or unauthorized access to the TV.
Enclosures can be custom made to in certain situations for certain facility needs and come in a variety of sizes to fit your TV size and setup. The depth from the TV to the wall or other backing can vary, which is why companies offer multiple sizing options to get the perfect fit.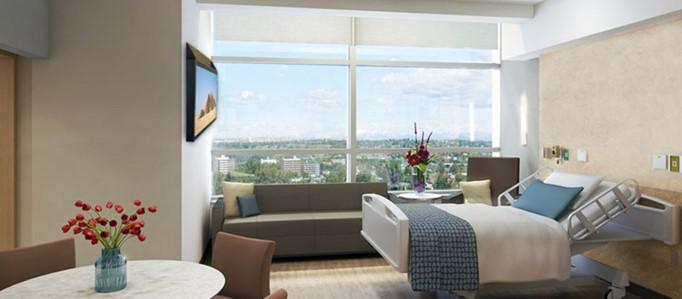 To recap, TVs often play an important role in behavioral centers. Historically there were higher risks associated with having TVs in a psychiatric hospital, but today protective TV enclosures prevent those concerns. If you're looking to place digital displays or TVs in a mental health facility, visit this link to browse TV enclosure options.