Regarding commercial and professional enclosures and outdoor signage, it is helpful to understand the best digital signage software solutions.
There are a lot of digital signage software solutions on the market. And, truth be told, they're not all created equal. Some are better than others. Some are more expensive than others. But they all have one common goal which is to help you create and display dynamic content on your digital signs.
The type of digital signage software you ultimately choose will depend on a number of factors, including:
The type of digital signage you have (or plan to have)
Your budget
Your technical expertise (or lack thereof)
The features and functionality you need
What is Digital Software for Outdoor Signage?
Digital signage software is a type of content management system (CMS) that helps you create, manage, and display digital signage content. Content can include text, images, videos, and other types of rich media. With most digital signage software solutions, you can schedule when and how your content is displayed. Some digital signage software solutions are cloud-based while others are on-premise (installed on your own servers).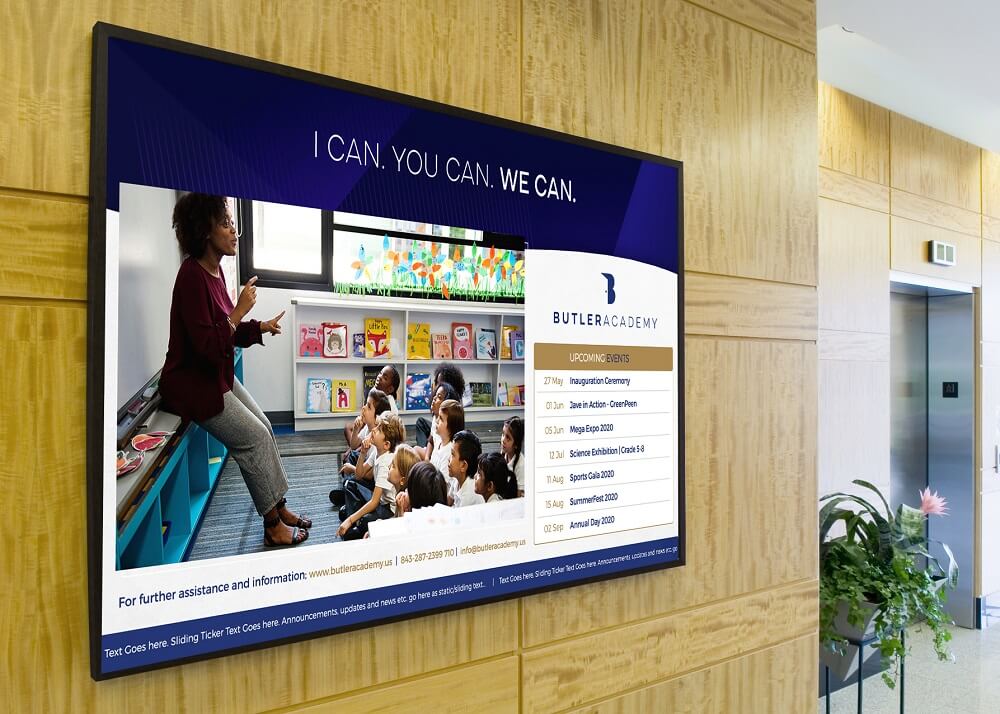 What are the Benefits of Using Digital Signage Software?
There are many benefits of using digital signage software, including:
Increased Engagement
Digital signage is proven to increase engagement with your target audience. With the right digital signage content strategy, you can capture the attention of a passersby and turn them into a customer or a client. One Intel brief reports digital signage captures over 400 percent more views than a static sign.
Improved ROI
Digital signage has a better ROI than traditional marketing methods like print, TV, and radio. With digital signage, you can track who's seeing your signs and measure the results of your campaigns.
Increased Efficiency
Digital signage helps you streamline your communications and get your message across more effectively. With the right digital signage solution, you can automate your content distribution and display real-time information on your digital signs.
Effective Outdoor Digital Signage
Interactive Design
You can stretch the limitations of what outdoor advertising can be with digital signs. While stunning looks can grab people's attention, your content is what really connects with them. Consequently, you want to think about including dynamic and interactive information in your outdoor digital signage.
The utilization of touchscreens is a prime illustration of current trends in the digital signage market. This invites onlookers to engage with your advertisement and learn more about it.
The Right Location
For average bystanders, you would want it to be completely visible. The roadway, where everyone can see it, is an excellent spot to put your signage. Just make sure it is unobstructed by anything, including trees, poles, structures, or other signs.
Additionally, you should ascertain where your target audience typically congregates and which locations will enable them to interact with your signs. One by the bus stop, for instance, allows your audience plenty of time to experiment with your advertisement while waiting for the bus. Waiting lines are another instance interactive signage may be important and many types of businesses from theme parks and restaurants to schools and more benefit from setting up informational digital signs or immersive experiences.
The Right Software
You would need an intuitive piece of software, to start. After all, not everyone has the ability to be an excellent programmer. You require an easy platform that will make it simple for you to automate and carry out necessary procedures.
Security is another aspect you should be aware of. Hackers, con artists, and fraudsters frequently prey on online users. Therefore, you must make sure that your digital signage is secure in order to safeguard both your company and your customers.
Last but not least, you should think about how scalable your software is. This assists you as your company grows in terms of reaching a wider audience.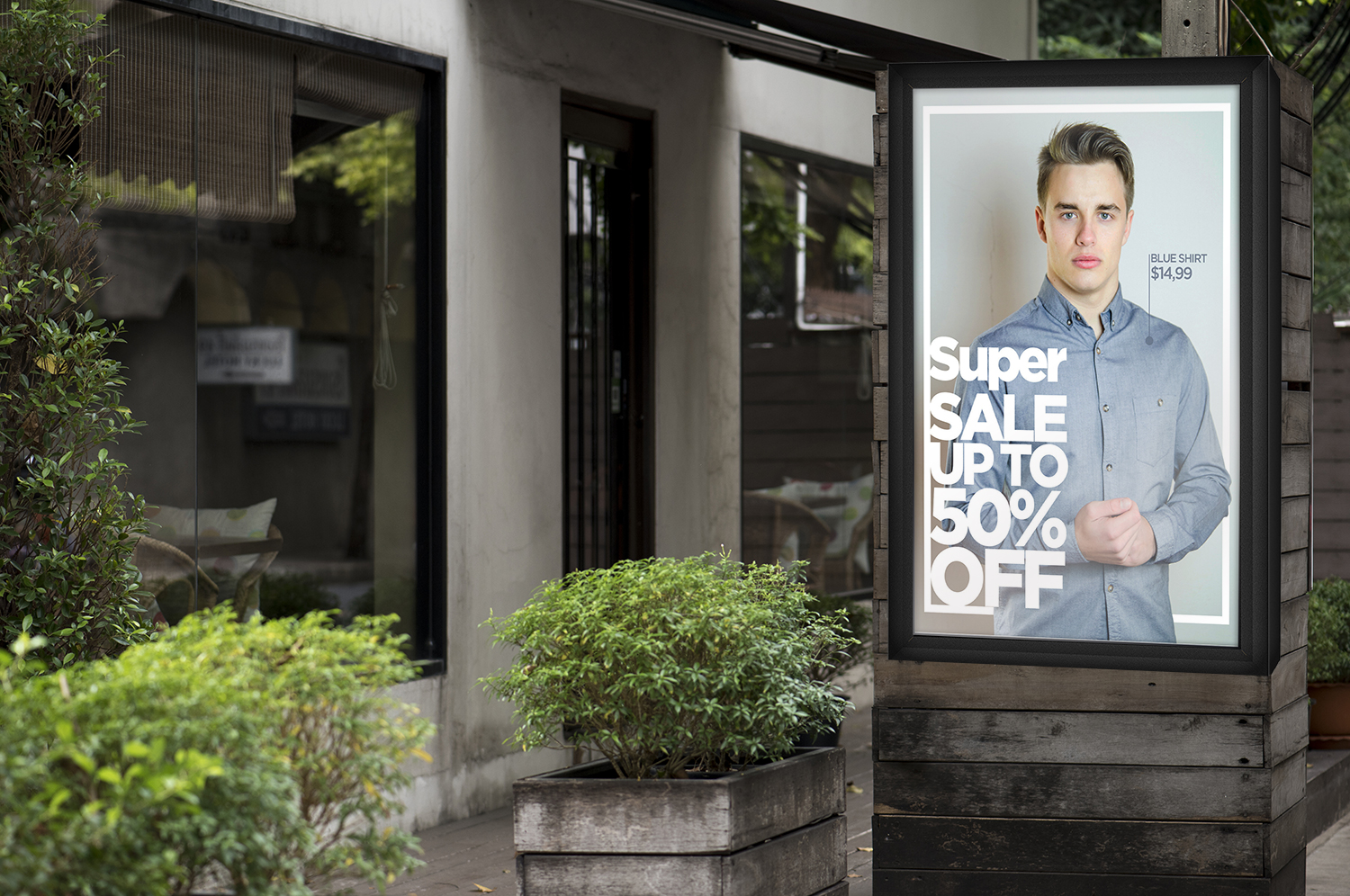 Top Software Solutions for Outdoor Signage
Digital signage software is not a requirement. Some businesses function fine keeping their digital signage content updated via USB sticks. However, some businesses to prefer digital signage software which can have many benefits. Beyond using software for traditional digital signage, many companies need software for specific operations like safety enforcement in manufacturing facilities or educational purposes at schools. Below are 3 popular digital signage software solutions.
1. DigitalSignage.com
You can get everything you need to show your message at DigitalSignage.com. To help you thrive in your business, they provide the most recent information about digital signage technologies and products.
DigitalSignage.com provides a range of digital signage services and products, such as the Material Management System (CMS), a full-featured web-based control panel for managing content on your panels from a single location. Remember if you want to take your digital signage outdoors for a reasonable price, an outdoor TV enclosure with a touch frame is the way to go.
You may easily create and administer several video walls from one location with the help of a digital signage program called a video wall processor.
2. YoDeck
Users can develop and manage their own digital signage or outdoor digital signage content with the Yodeck Digital Signage Solution, a feature-rich, all-in-one digital signage program. This software is simple to use and offers a wide range of features, including the ability to display films, photographs, animations, and text messages on any gadget or computer that has an internet connection.
Why The Display Shield and The TV Shield PRO are Great for Outdoor Signage
When you're looking to invest in your own digital outdoor signage, it's important to keep your equipment in as great a condition as it could be. The Display Shield is an entire rainproof unit sealed to defend digital monitors against moisture intrusion and water damage, using our ExactSeal sealing system. Protect your signage screen with a shatterproof clear or anti-glare front panel and keep the temperature regulated with a thermostatically controlled 36CFM, 115V filtered fan inside the enclosure. Or for even more features, larger sizes, and a picture frame aesthetic, take a look at The TV Shield PRO.

Learn more about The Display Shield features and feel free to reach out if you need any further advice!