TV Enclosures for Supermarkets
Due to the development of technology and contemporary business practices, TVs at grocery stores are a relatively new concept. The typical grocery store setting includes stocked shelves and background music from a radio, but never a TV screen intended for the use of customers and even employees.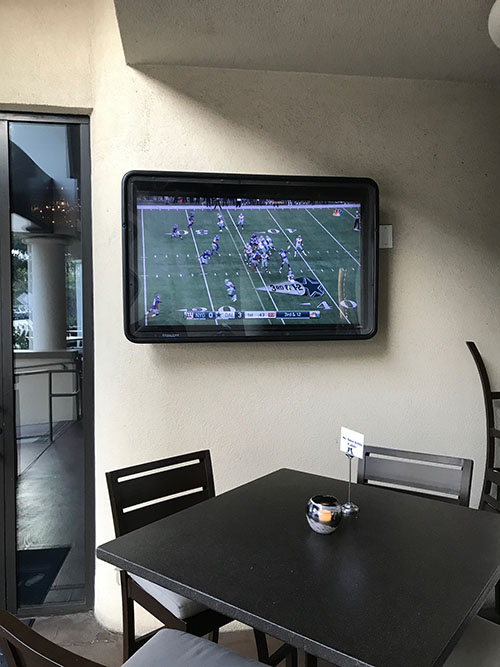 Despite the fact that they have been around for a while, grocery stores are still evolving, adopting new strategies in an effort to improve customer satisfaction and increase sales.
Finding new ways to engage customers in-person and set the brick-and-mortar experience apart from e-commerce have recently received a lot of attention in the retail sector.
Why Do Supermarkets Use TVs and Digital Displays In-Store or Outdoors?
Digital signage is one way that merchants have integrated the digital experience into physical storefronts. What is meant by digital signage is exactly what it sounds like: you may utilize signs and displays throughout your retail space to show customers advertisements, videos, traditional store signage, or any other message you wish to convey.
Boost Sales
Using digital signage to display information about best-selling products is one efficient strategy. These displays can assist your consumer in making an informed purchase decision and free up the time of your sales staff by providing information about the product's materials and comparisons with similar products.
Speaking of using your time productively, think about programming your digital displays to share special offers, related merchandise, extras, and packages. Automated digital stations can increase your revenue above and beyond what your sales representatives are already generating.
Engage Customers
Entertaining, promoting programs and creating connections with customers
A research by the Urban Land Institute found that 50% of millennial males and 70% of millennial women view shopping as a kind of entertainment and a social activity. The obvious type of entertainment that allows you to share everything from social media to news, videos, and dashboards is provided by digital signage. By doing this, you may expand your brand throughout the entire store and contribute to the retailtainment trend.
Even boring digital signage may be interesting. With consumers, you may have fun, take advantage of current marketing trends, launch retail products, and more. It's simple to think of and test new ways to amuse your clients when adding content is straightforward.
Digital Signage and Advertising Revenue
display internal store ads or rent space to external advertises to make some extra income. These may be placed at entrances or on walls that face busy parking lots or streets.
Safety, Inventory, and Operations Communication
Be it in the back warehouse area, in a deli area that needs to be extremely clean and germ free, or even across the store in various locations, it can be very beneficial to utilize digital displays to communicate with customers or with employees about everything from inventory levels or staff information to sales or store policies. It can also be a very effective tool for safety communications.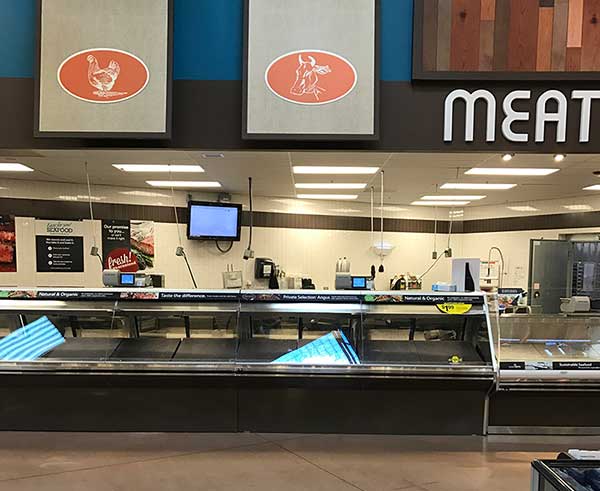 TV for entertainment - common in breakrooms and for indoor and outdoor eating areas for customers
Interactive information screens - Provide information for customers to access themselves without needing to ask a employees, info such as where things are located, what's in stock, prices, etc.
TVs can also be utilized to amuse workers, in a similar way. Televisions in break rooms may allow for more pleasurable break periods, and if a group of employees is viewing together, it can enhance morale and camaraderie among staff, which can result in lower attrition and higher employee retention—something that merchants in all segments can value.
Menu Boards
A digital screen system that shows a menu is referred to as a "digital menu board." Digital menu boards provide dynamic menus on screens as opposed to alternatives like lightbox menu boards or chalkboards that display static words and images. Digital menu boards can use options for text, sound, images, and video.
How to Protect Your Supermarket TV
Now that we've covered why TVs in supermarkets are a great idea to incorporate into your retail strategy, let's discuss the ways in which you can ensure your investments are protected.
Out of reach
One of the most obvious methods of protecting your supermarket TV, would be to ensure you're placing it out of reach from potential tampering.
Install nearby cameras
Installing security cameras, or pointing them in view of your digital signage can also deter any threats to tampering or thieving.
TV enclosures
An all in one way to protect your grocery store TV, one that not only makes it difficult for anyone to tamper with, but also protects it from the elements should you place it outdoors, is a well protected, high quality TV enclosure.
Best TV Enclosures for Supermarkets
The Display Shield
For commercial and professional use, The Display Shield® is a reasonably priced indoor and outdoor digital display enclosure that provides thorough protection for TVs or digital signage. It is the most cost-effective weatherproof display enclosure on the market for protecting signage investments in almost any environment. These display cases are manufactured using HMWPE (High Molecular Weight Polyethylene), which is a specific plastic made for outdoor usage and durability. The front panel of the unit is an industry-leading, thick, shatterproof, proprietary, anti-glare LEXAN® polycarbonate which is perfect for direct viewing of the display and complete defense against a flying object or tampering.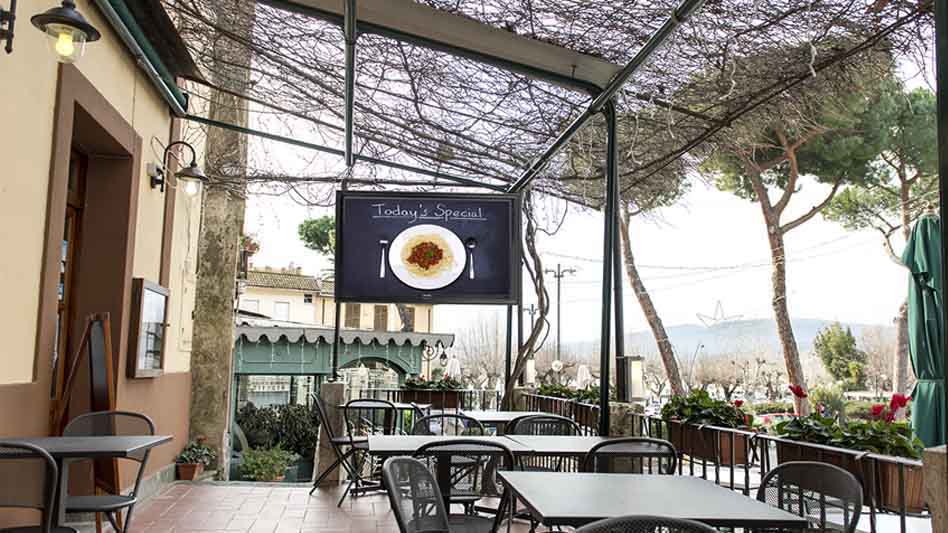 The Display Shield has a semi-permanently affixed front shield that is designed to stay closed at all times but does give you the ability to remove the front panel in the event of a mechanical failure of your equipment. The Display Shield uses a custom security screw system that requires a specific tool to remove the front panel. This makes the unit completely tamperproof and provides optimum safety for your display. Sports arenas, theme parks, community centers, educational facilities, hospitals, government buildings, restaurants, bars, and an array of other commercial venues favor The Display Shield for TV and digital display protection over other enclosures and expensive outdoor signage due to its low cost, install friendly design, durability, water-resistance, and security.
The TV Shield PRO
The TV Shield PRO® is a patented, universal, weatherproof, and secure TV enclosure designed for use with just about any standard Plasma, LCD, or LED flat screen television, invented with the residential consumer market in mind. Ideal for both outdoor TV protection and indoor digital signage defense, The TV Shield's front panel easily props open for an optional direct view of your TV, allowing you to watch, protect, and secure most TVs in nearly any environment.
The TV Shield is the leading affordable alternative to an expensive outdoor TV (that doesn't provide impact/theft/vandalism resistance), and the industry leader in indoor, and weatherproof outdoor TV cabinet solutions. The unit is manufactured in the USA using a HMWPE (High Molecular-Weight Polyethylene) plastic case which is an outdoor plastic proven to last 20 years or more (used in outdoor children's slides and body armor). The unit also features a guaranteed not to crack, thick, shatterproof front shield built with ultra-clear grade Lexan® polycarbonate (the same material used in bullet proof glass, racecar, and spacecraft windshields). This enclosure is great for eating areas, and much more. The TV Shield PRO Portrait variant is a great vertical TV screen protection option too and is popular for outdoor information boards and digital menu boards at grocery stores, drive through restaurants or retailers, and more.
Should you need any further information, or assistance in purchasing the best TV enclosure for your supermarket TV, feel free to reach out today.