Best Outdoor Digital Signage Solutions of 2020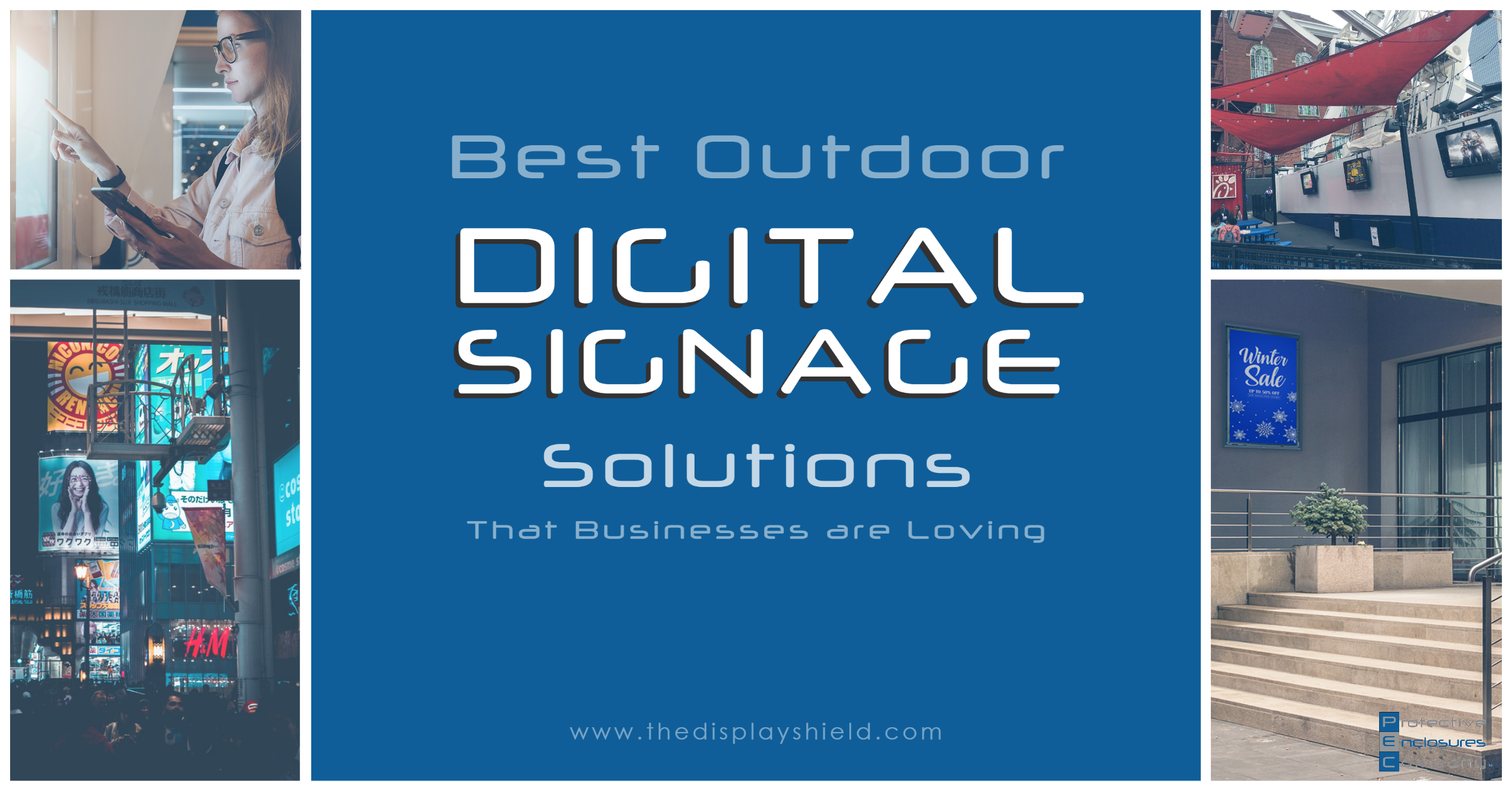 The demand for digital signage is growing. Data from Grandview Research suggests that the global market size will reach $31.7 billion in just five years from now, and given the consumer demand for digitized information on the go, this might actually be a conservative number.
Everything from amusement parks and restaurants to airports and shopping centers are ditching traditional LED signs and jumping on the digital signage trend. LED signs are limited in the number of words and colors that can be displayed at once, plus there's no option for video or touchscreen capabilities. Digital signage is filling in the gaps by offering their guests a better user experience and providing signage owners with a potential source of advertising revenue.
Below is a list of the most exciting and best outdoor digital signage solutions that will likely define the industry in 2020 and beyond including ground-breaking unlimited possibilities with outdoor digital signage enclosures.
Double Sided LED Sidewalk Signs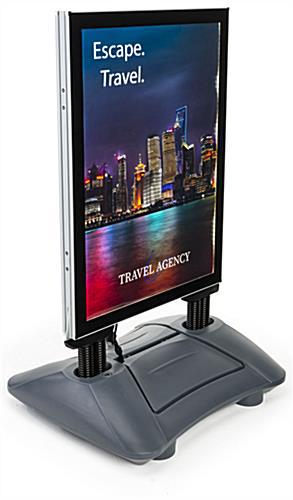 One of the most eco-friendly solutions to enter the digital signage market, double sided LED sidewalk signs like this one, offer twice the visual space at one of the lowest possible operating costs. A major upgrade to the traditional A-frame whiteboards and chalkboards, these sleek signs rely on a rechargeable battery that provides up to 18 hours of continuous lighting. The sign sits on a water-filled base with wheels for easy transport.
One downside, of course, is that these signs will need to be moved each day so the battery can recharge. And many businesses may worry the sign could be stolen since it is portable. But if you don't mind frequent transport, the sign's bright, friendly vibe is ideal for dressing up your storefront or providing signage for events. These signs offer two-sided custom print ads, as opposed to video. That is a wonderful option if you're looking for print advertising. But if you're considering video advertising, some advantages of video are being able to catch people's attention with movement, being able to show a significantly larger amount of content, and having the ability to potentially pair the video with software and touch screen solutions for interactivity.
Outdoor All-in-One Digital Kiosks
Digital commercial kiosks, such as this one from XYZ Displays, are becoming more popular because of their robust functionality. They're very reliable and provide touchscreen capabilities to offer an engaging user experience. Hospitals, office buildings, and government offices use them for checking guests in and out, while retail stores may use them to order products or look up information. You can also stream high-quality video and engage your audience through sound.
On the downside, these kiosks can get quite expensive. Depending on the size and other features, you could easily sink about $10K into each one. And once it's installed, you won't be able to relocate it without extensive labor. You would most likely also be limited to the level of technology of the display at the time of purchase, as opposed to having flexibility to add or change software or accompanying media. And heaven forbid, if high impact damage were to happen to the screen, in most cases that will destroy the internal electronics resulting in repairs coming in at nearly the same cost as the original unit. Or you may be forced to completely replace the kiosk. That's an expensive gamble.
Samsung OH Series Outdoor Displays
A leader in digital displays, Samsung has developed their OH series specifically for outdoor digital signage. Think size and scope of an advertisement you'd see at a bus stop or shopping mall, but brighter and digital. Samsung designed these displays to automatically adjust their brightness to real-time outdoor conditions and maximize efficiency. They also embedded a remote-monitored content management system for seamless playback and easy changes.
This is a large scale (and large budget) solution that makes sense in some cases, with prices ranging from $6,667 up to $28,000. But it could be overkill for many applications and given their smallest display is 46", it might not be ideal for small spaces. Consider as well that unlike a stand-alone outdoor display enclosure that offers a shatterproof shield in front of the TV or display, the outdoor digital display is directly at risk of damage or breakage caused by flying objects (footballs, golf balls, branches during storms, vandalism, you name it). That's an expensive digital display replacement if the screen is damaged which is certainly a possibility in an outdoor environment.
Even if you do decide to go with a stand-alone outdoor digital display, it might be worth enclosing it anyway for the tamper resistance, media device options, and screen protection. Or if you're looking to truly stay on a budget you may be better off to pick a more affordable regular indoor display of your choice and pair it with a low cost outdoor digital signage enclosure solution like The Display Shield or The TV Shield PRO to more comprehensively withstand outdoor threats for years to come.
Outdoor Digital Signage Enclosures (The Display Shield & More)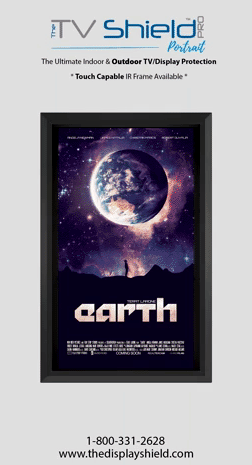 Some of the most cost-effective solutions that don't sacrifice durability are outdoor digital signage enclosures such as The Display Shield, The TV Shield PRO, The TV Shield PRO Portrait, or The TV Shield PRO Touch. These weatherproof display cabinets include everything you need to turn your monitor into an outdoor digital signage solution. They are top-rated enclosures that protect against harsh environments. And because they work with any type of monitor, you can get true video playback on screen and pair it with other smart tech too if you wish.
These affordable, durable, secure, outdoor display enclosures feature protection against water including rain, pool splashes, sprinklers, wash downs, and more. Their guaranteed not to crack, thick, shatterproof front shields built with ultra-clear grade Lexan® polycarbonate (the same material used in bullet proof glass, racecar, and spacecraft windshields) offers top of the line screen defense for peace of mind. Ideal for any arena, stadium, gym, theme park, zoo, aquarium, casino, manufacturing facility, theater, community center, high school, college (university), church, government building, restaurant, bar & grill, hospital, airport, office or other high traffic environment, these outdoor digital signage enclosures offer low cost, install friendly designs, portrait format options, touch screen capability, durability, water-resistance, salt-water air resistance, dust defense, anti-ligature solutions, security (theft protection and vandalism defense), and protection against condensation, moisture, mildew, heat, cold, dust, and grime. Click here to explore outdoor digital signage enclosure options.

One thing is for sure… outdoor digital signage is growing leaps and bounds and therefore is an important factor for business success. Now that you have some knowledge under your belt, you'll be able to make wise outdoor digital sign decisions and enjoy the benefits of the growing market.