Posted by The Display Shield Outdoor on 7th Jul 2020
PEC's The Display Shield Outdoor Digital Signage Cabinet Offers Various Forms of Outdoor Digital Monitor Protection for Bars and Recently Appeared on Bar Rescue in Toucans Oceanside Bar and Grill in Florida
Orlando, Fl. August 27, 2015 - The Display Shield, a Protective Enclosures Company (PEC) weatherproof TV enclosure, was recently used on the hit TV show, Bar Rescue. Protective Enclosures Company is the leading US manufacturer of weatherproof digital display cases and outdoor LED TV enclosures. PEC's products have also appeared on various TV shows in the past, some of which include Lifetime Network's hit show Designing Spaces, HGTV's popular series Spontaneous Construction and Animal Planet's Flipping Ships.
Bar Rescue is a well-known reality TV series airing on Spike in which night club and pub consultant, Jon Taffer, serves up renovation and re-structuring advice to struggling bars in an effort to help save them from closing. On Bar Rescue's Beach Rats episode, Toucans Oceanside Bar and Grill in Hollywood, Fl., was looking rough and losing sales. Among other strategic changes, Bar Rescue brought in The Display Shield protective TV cabinet and outdoor digital display enclosure for the remodel. Now called Bonny & Read's Toucan Hideout, the restaurant's new pirate theme seems to be winning the hearts of visitors.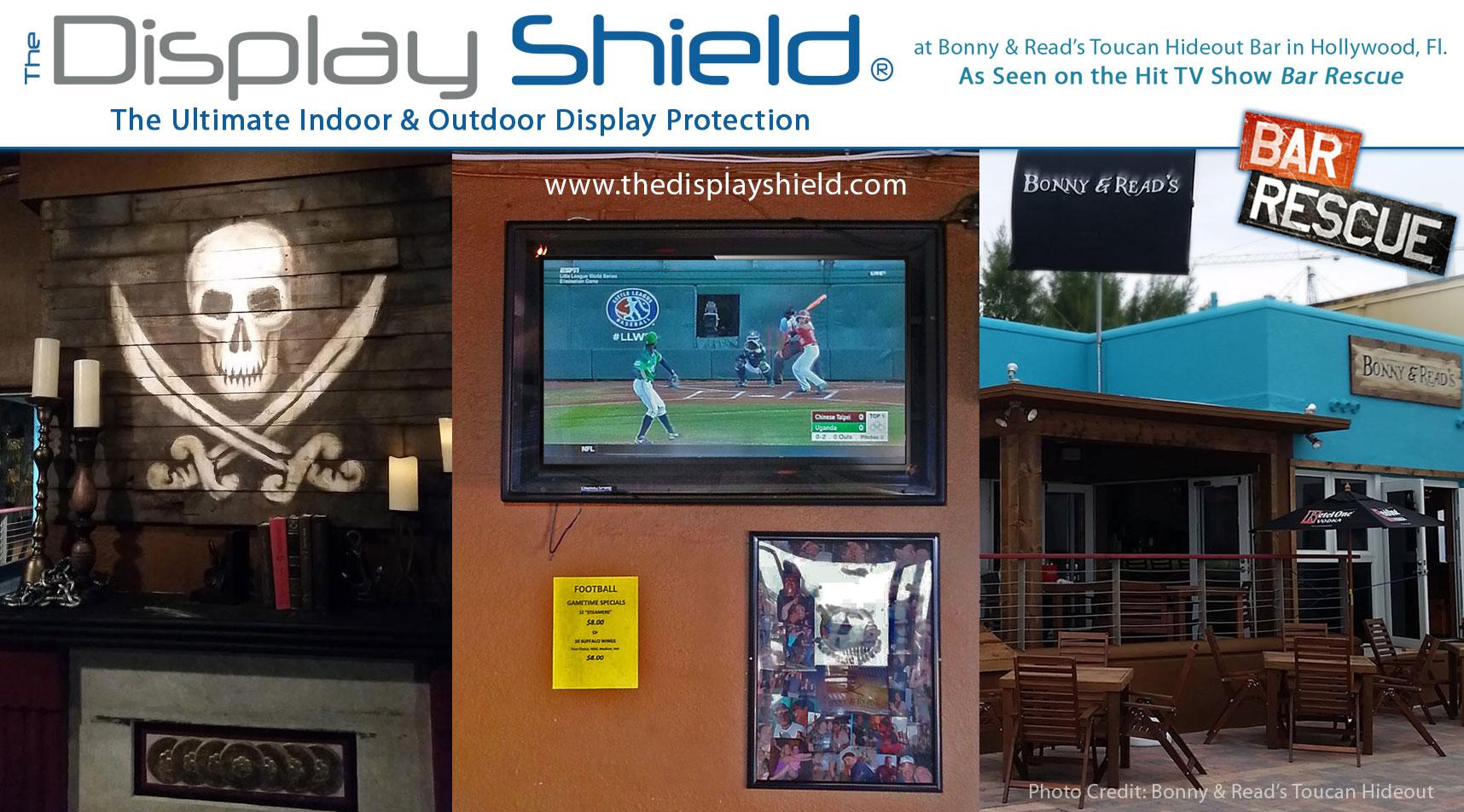 The Display Shield Installation at Bonny & Read's Toucan Hideout
Bringing in The Display Shield was brilliant for the indoor TVs which could otherwise be easily damaged on a busy night. The weatherproof LED TV cases were also the ideal solution for placing a TV on the bar's porch. The Display Shield is made out of long-lasting HMWPE outdoor plastic that is not damaged by salt offering increased corrosion prevention for TVs in restaurants that are located near the beach. These weatherproof digital monitor cabinets also help prevent TV replacement costs for restaurant and bar owners. Perfect for Hollywood, Florida's hot and humid weather, as well as just about any other environment, PEC's weatherproof LED display cabinets offer rain, dust, heat, cold, moisture, vandalism and theft defense.
Built to fill so many TV protection needs, it's no wonder The Display Shield is becoming an asset for so many restaurants, bars, hotels, resorts, theme parks, sports facilities and more. P.F. Chang's, TGI Fridays, Bahama Breeze, World of Beer, The Tilted Kit, Marriott, Sheraton, Wyndham, Trump International, The Ritz Carlton, Six Flags, Bryant-Denny stadium at the University of Alabama, and Green Bay Packers' Lambeau Field are just a few places Protective Enclosures Company's TV cases can be found.
About Protective Enclosures Company :
A+ rated with the BBB, PEC's patent-pending TheTV Shield ® and The Display Shield ® branded enclosures can be found in 6,500+ locations in 15+ countries worldwide.
* Photo Credit: Bonny & Read's Toucan Hideout
* All PEC, The TV Shield & The Display Shield logos and product names are owned by PEC. Other company and product names may be trademarks of their respective owners, and PEC does not claim official endorsement by any named businesses.