Posted by Emilyann Allen (Author of Amazon Best-Selling Books) on 26th Aug 2020
Video Digital Drive Thru Menu Boards & Outdoor Menu Displays
Affordable digital drive thru menu boards are more important now than ever in the food service industry. The advantages of integrating an outdoor digital menu board plan are extensive. From capitalizing on eye-catching graphics, reducing signage costs in the long run, and being able to stream up-to-date information, to reducing the use of paper products and minimizing physical interaction, outdoor digital drive thru menu boards are the ideal solution. Be it during a pandemic or the years to follow, it will remain important to offer outdoor ordering and low-contact solutions for consumers.
Below are challenges to consider and how to take advantage of the best affordable drive menu boards and restaurant digital signage plus save countless dollars.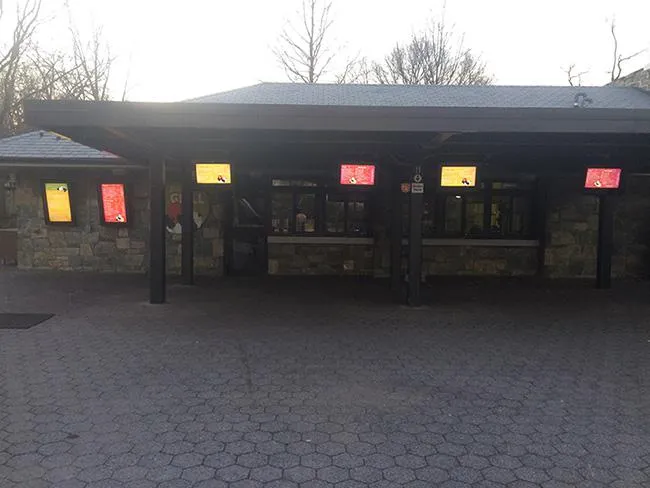 Outdoor Digital Menu Board Challenges
Unfortunately, in the past, outdoor menu displays have simply been weatherproof display boxes that have paper menus posted in them. Those may be fine in some scenarios, but in general they don't offer much in the way of visual appeal or engagement. Digital menu boards have started to become popular for many reasons and do a great job, but the challenge is protecting restaurant digital menu displays in scenarios where they're being used as touch screens or especially for outdoors. As a result, companies have tried to provide outdoor digital menu board options but they require changing out panels and are very expensive. Plus, often these boards are limited to static digital images rather than moving graphics, video, and sound.
Are you ready for a modern, easier, and more affordable solution? What if you could use a standard low-cost TV or indoor digital display, with all the video, image, text, and sound features you love as an outdoor menu board? The good news is you can. Read on to learn more.
The Best Digital Drive Thru Menu Board Solution: Use a TV or Digital Display
Forget changing out panels or paper menus in an outdoor display menu case… you can simply put a TV or digital display in an outdoor digital display enclosure to enjoy an easy and affordable outdoor menu board solution.
Not to mention, you can also pair a TV or display with an outdoor TV enclosure to entertain guests in outdoor seating areas or use an outdoor digital signage cabinet for advertising and curbside signage. But let's stick to discussing menu boards for now.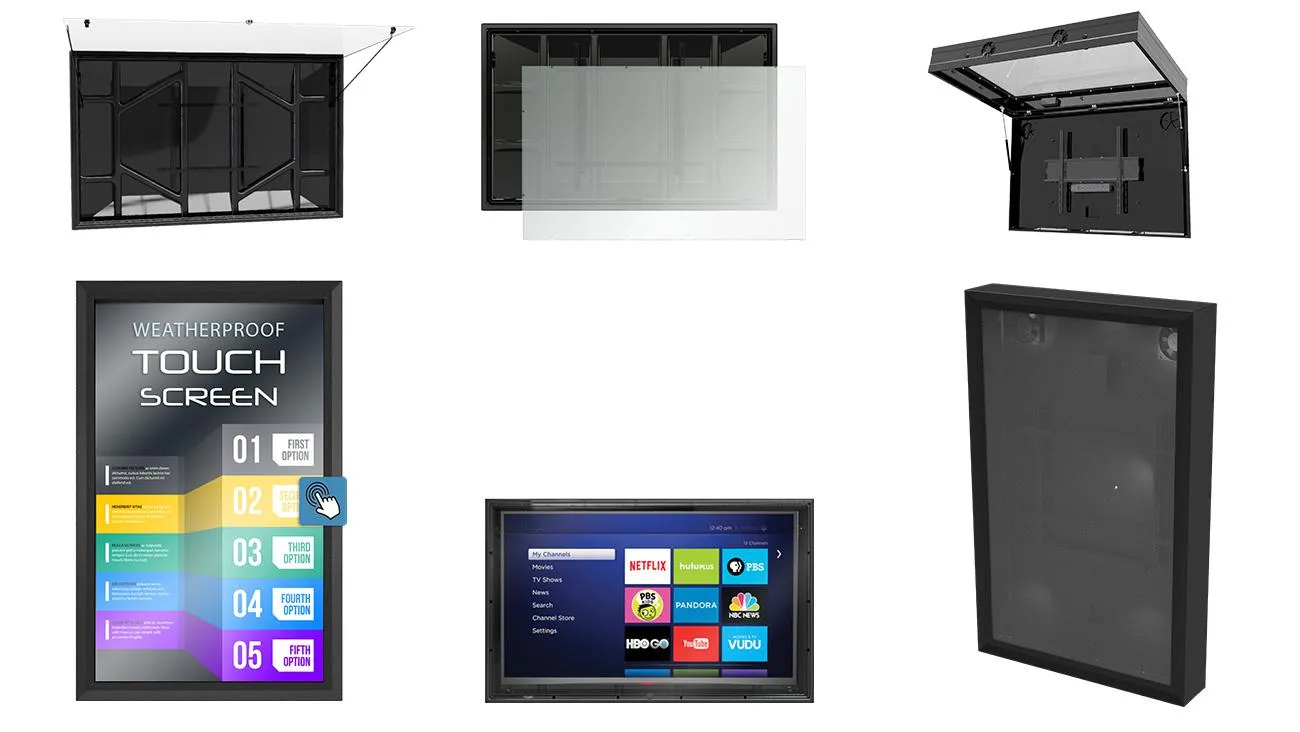 Outdoor Menu Display Enclosure
How does an outdoor TV and display enclosure work? The best TV and digital signage enclosures feature shatterproof front panels and housing made of robust, durable, and lightweight materials like aluminum, steel, and HMWPE (High Molecular Weight Polyethylene). These enclosures offer options to protect from impact, tampering, theft, weather, dust, bugs, corrosion, and other various threats. Here are some examples of how these cost-saving outdoor digital menu board solutions can be integrated.
Wall-Mounted or Ceiling Mounted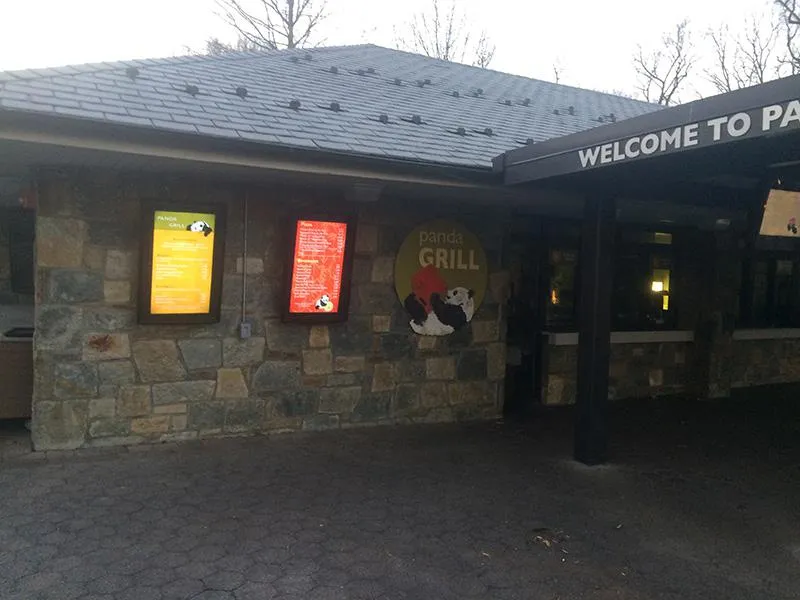 Mounted on a Stand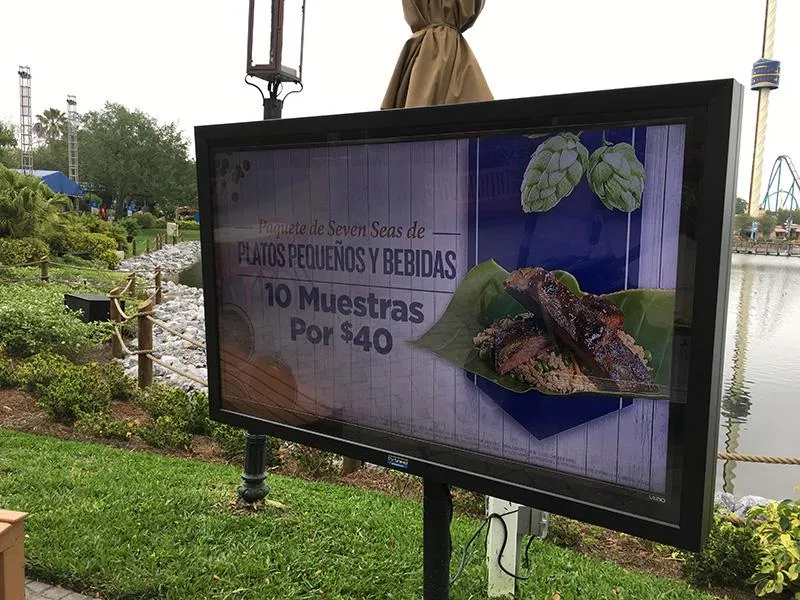 Mounted on a Display or Cabana
The following photo was taken during the install process before the surrounding display aesthetics were completed.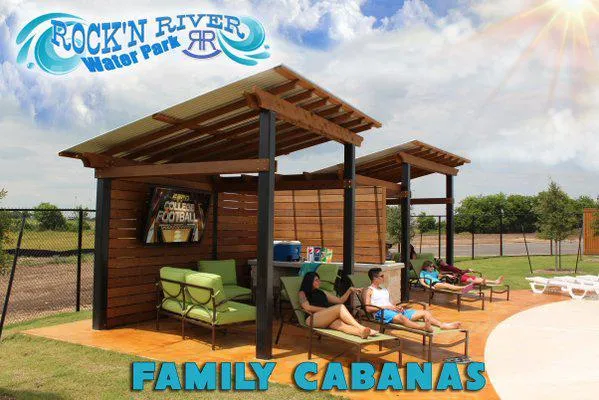 Key Digital Outdoor Menu Display Benefits
Be it fast food establishments, restaurants, food trucks, or bars, there are many advantages to implementing TVs and digital signs with outdoor digital display enclosures as menu displays and digital outside drive thru menu boards.
Use restaurant digital signage software or even load data as needed onto a USB stick to keep your menu up-to-date and up-sell easier without dealing with the usual complicated maintenance of menu board panels
Promote public health and make customers feel safe by delivering content on an outside digital screen which reduces physical interaction
Utilize eye-catching video, imagery, text, and sound to boost sales and engagement
Due to cost savings and the many size options of these outdoor video menu boards, you can creatively place them around the outside of the restaurant (give people drive thru and walk up ordering options)
Being able to choose your preferred TV or digital display and put it outside is a wonderful solution for restaurants and fast food chains. From saving costs, to utilizing the technology you prefer, to being able to place more menus and signage in more places due to the size and orientation options, it is clear that pairing a TV or display with an outdoor digital signage enclosure is the best affordable drive menu boards solution.