Posted by Emilyann Allen on 30th Nov 2020
Need an Outdoor Touch Screen Solution for TVs and Displays?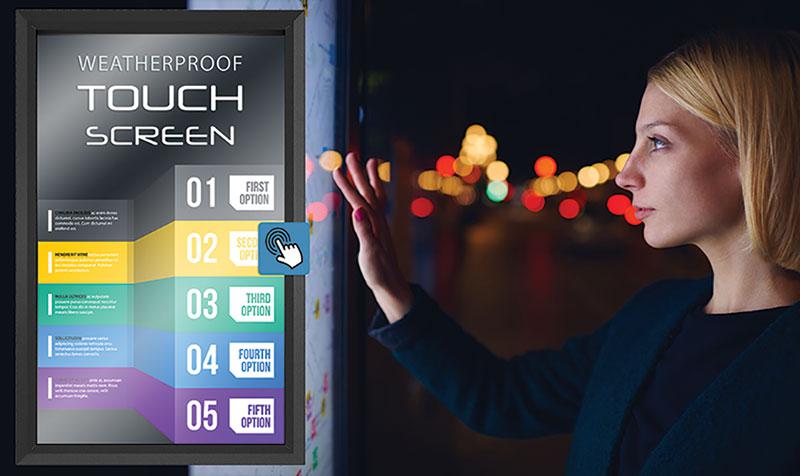 Usage for outdoor touch screen solutions spans from wayfinding, menu boards, digital signage, and score boards to much more across many industries. Often these applications require durable touch screen solutions that can withstand everything from hot climates, cold temperatures, moisture, rain, tampering, to impact from flying objects, and more. Below is an overview of what you need to know about outdoor touch screen solutions.
What is an Outdoor Touch Screen?
An outdoor touch screen means any outdoor rated digital screen. Most commonly, the term outdoor touch screen refers to an outdoor touchscreen TV or digital display. Theoretically the term could also make reference to outdoor smaller touch tablets or relative devices. An outdoor touch screen enclosure is also a popular choice for an outdoor touch screen TV solution as well.
What is an Outdoor Touch Screen Enclosure?
An outdoor touch screen enclosure is a weatherproof case built to protect TVs and digital signage from harsh environments. Known by various names, such as touch screen monitor protector or outdoor touch screen monitor cabinet, a quality outdoor touchscreen enclosure should ideally be built from robust outdoor materials and can withstand everything from extreme temperatures to high impact and more.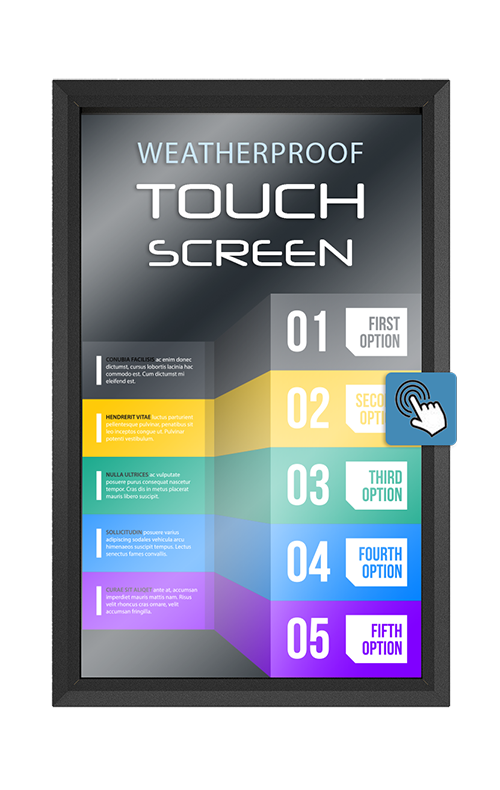 Ready to Grab an Outdoor Touch Screen Enclosure?

Does an Outdoor TV or Digital Display Need an Enclosure?
An outdoor touch screen enclosure may be needed for both indoor and outdoor TVs and displays. A weatherproof touch screen enclosure may seem like it would not be needed for an outdoor rated TV or digital display, however, outdoor TVs and displays are typically designed for low impact environments such as on a screened in porch. They typically don't stand up to extreme temperature climates, moisture, or high impact flying objects. They are very expensive, and repairs run high as well. This is why in many scenarios an outdoor touch screen enclosure paired with an indoor TV or display is the best choice for cost savings. But at times when someone does invest in the high cost of an outdoor TV or display, they want to protect that investment further by covering it with an enclosure.
Outdoor Touch Screen TV vs Outdoor Touch Screen Enclosure Comparison
Quality outdoor touch screen TV enclosures like The TV Shield PRO Touch® are completely shatterproof. These touch screen monitor protectors are extremely robust and impact resistant. Typically, outdoor TVs can have some added durability compared to a regular TV. But because they are actual electronic equipment, rather than robust casing, they just can't take as much impact as a touch screen monitor protector (enclosure). So, for anyone worried about flying objects say during storms or during play like basketballs, baseballs, you name it… an outdoor touch screen enclosure is the type of protection you need.
In a similar way, because outdoor TVs are compact built electronics, the design may be able to be built in such a way to combat some temperatures and conditions, but electronics just aren't built in a way to handle extreme temperatures. So, again, for anyone that has extreme temperatures in their area, a top-rated outdoor touchscreen enclosure like The TV Shield PRO Touch comes with heaters or fans to create the air circulation a TV needs.
In the same manner, the materials used to build any outdoor TV or TV in general are not moisture resistant. Moisture is a huge TV killer in many environments. On the other hand, weatherproof touch screen enclosures offer moisture control to address this issue. And for extreme situations like on the coast or yachts, there are high corrosion resistant enclosures available via The Display Shield website.
It is also good to consider that you can put any TV, the newest technology, and more in an enclosure and protect it outside. Often outdoor touch screen TVs are limited in quality and features. An outdoor touchscreen enclosure can house media devices like a Roku or Apple TV to create an all-in-one weatherproof media center solution.
Best Outdoor Touch Screen Enclosure Solution
Options like Protective Enclosures Company's The TV Shield PRO Touch touch screen enclosures are ideal for interactive outdoor touch screen digital displays. Featuring extremely tough metal housing that encases the TV or display and a high strength shatter-resistant anti-glare polycarbonate front shield, The TV Shield PRO Touch water-resistant interactive display solution eliminates the risk of having to replace an expensive outdoor touch screen TV or interactive digital sign if the screen breaks.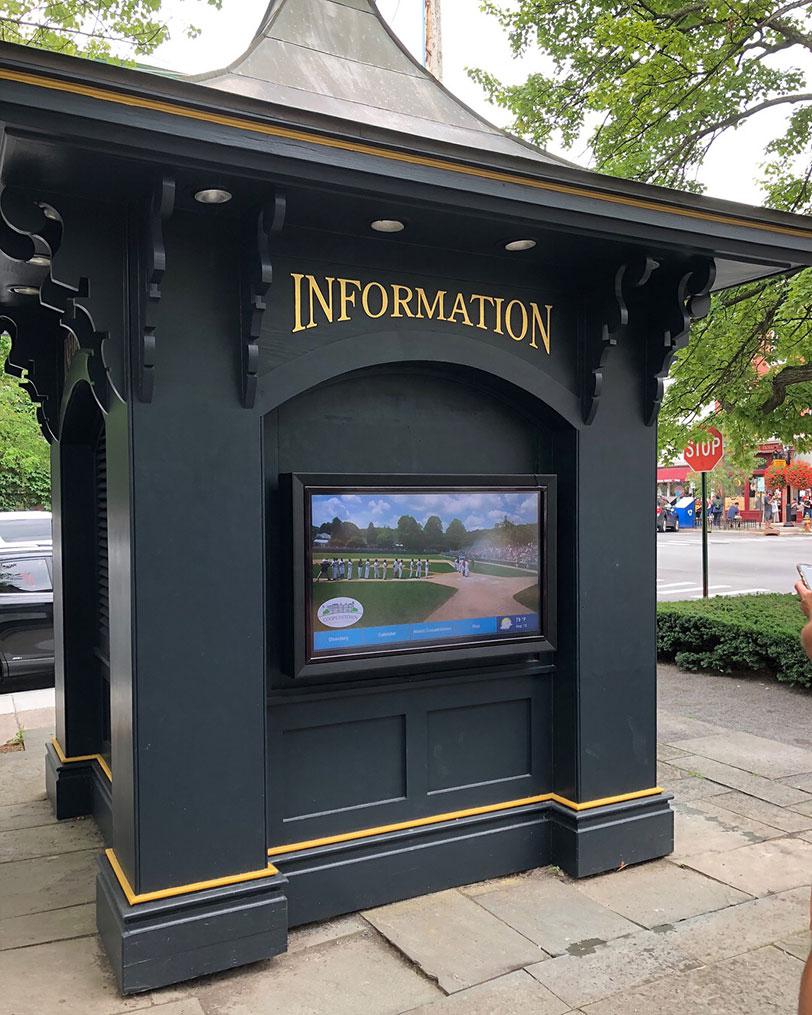 Ready to Grab a Touch Screen Outdoor TV enclosure?