Posted by Emilyann Allen on 23rd May 2019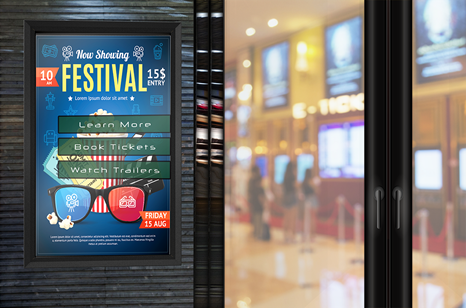 Everyone who runs a movie theater uses movie posters and other informational banners outside and inside their building. Due to technology advances, most theater managers today are shifting from stagnant posters and movie poster light boxes to movie theater digital signage. Below are some compelling considerations for upgrading to indoor digital displays, outdoor digital signage and touch screen solutions .

Advantages of Movie Theater Digital Signage
Utilize a digital display as an electronic menu board for concession stands
Offer wayfinding to communicate locations of auditoriums, restrooms, etc.
Show a playlist of HD movie posters with showtimes, ratings and video trailers, essentially creating a digital box office display solution
Promote concession stands, loyalty programs, advanced screenings, theater events, etc.
Display important alerts and emergency information during an emergency
Show movie theater news, job offers, etc.
Display weather and traffic on displays near the exit
Entertain customers waiting outside, in lines or in lobbies to reduce perceived wait times
How to Protect Indoor Movie Theater Digital Signage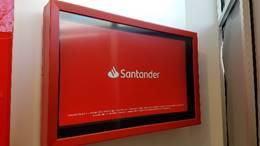 Indoor digital signage is a great solution for theaters for the reasons listed above. However, one concern many theaters may face is that their TV or digital display investments may get damaged. Fortunately, there are indoor TV enclosures on the market that protect TV and digital display investments from tampering, theft, or vandalism. The TV Shield PRO Lite ™ is a popular affordable protective TV enclosure that is manufactured in the USA and built using lightweight aluminum for ultimate strength and durability. Perfect for indoor TV protection, these enclosures come in portrait or landscape orientations, have touch screen options and can even be painted custom colors.
Outdoor Digital Signage for Movie Theaters & Outdoor TV Enclosures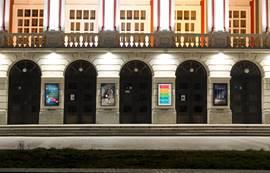 Imagine rows of beautiful digital movie poster displays lining theater entrances rather than stagnant movie posters. It's a lovely vision, to be sure. Until recently, there were obvious limitations to putting digital signs outside at movie theaters. Even if a theater purchased outdoor digital displays which have an astronomically high cost, there were still concerns of vandalism or theft of their signage investment. Meanwhile, movie poster light boxes aren't designed to house TVs or displays. Historically outdoor cinema digital signage wasn't very practical. However, weatherproof and secure outdoor digital signage enclosures and outdoor TV enclosures are changing the game. Below are some factors for consideration.
What are the Advantages of Outdoor TV Enclosures for Theaters?
Movie poster light boxes are lovely, but there are important reasons an outdoor digital movie poster display (paired with a weatherproof outdoor TV enclosure or weatherproof digital display enclosure) is proving to be a wiser investment for theaters.
Movement Catches the Eye and Increases Engagement
Movement catches the eye and holds attention much better than lack of movement. This truth is a big consideration for advertising and entertainment. In fact, the article 36 PPC Trends to Expect in 2019 published by PPC company, AORI, says that, "open rates on emails with the word 'video' have been shown to go up 20%." Video is taking over the world and becoming the most popular medium for advertising and entertainment. That's a compelling reason to use outdoor digital video signage at theaters rather than stagnant posters.
TVs and Displays Can be Paired with Outdoor Touch Screen Digital Display Enclosures
Not only can outdoor TV enclosures and outdoor digital movie poster display enclosures be used with any off-the-shelf TV or digital display of choice, but touch screen capabilities are an option too. Imagine interactive outdoor digital movie poster displays engaging theater visitors with games or allowing them to book their seats or scroll through upcoming movie posters.
More Advertising and Revenue Opportunities
Utilizing digital displays outside in addition to inside multiplies income opportunities. Theaters are popular and fun social spaces, which means there's a significant amount of foot traffic. Due to their attendance rates, they're an excellent space for endless entertaining and communication. In fact, according to some studies, moviegoers are more likely to embrace advertising at the theater than on the internet or TV. TVs and digital signs communicate significantly more information and allow for significantly increased ad space opportunities. That means theater managers and operators have ample chances to implement engaging interactions, increase theater income through advertising, and improve communication through outdoor cinema digital signage.