Here is the Official Inside Technology Scoop on The TV Shield PRO Touch & The TV Shield PRO Lite Touch (the TV Cases that are Changing Outdoor TV Entertainment & Weatherproof Digital Signage Forever)
| | |
| --- | --- |
| | |
Theme parks, schools, restaurants and other various industry clients have been asking us here at PEC about interactive digital signage enclosures for quite a while. We work hard to meet the needs of all customers, so we've taken these inquiries under serious consideration. We've done our research and are thrilled to now have interactive TV protection solutions (indoor and outdoor touch screen capable TV enclosures and digital displays). These responsive touch screens offer industry-first large sizes up to 80" and never before matched IP ratings. If you've been searching for a durable weatherproof touch screen TV or interactive outdoor digital signage solution, The TV Shield PRO Touch is here to help. Likewise, if you're in a high traffic commercial environment or institution where electronics are easily destroyed by children or patients, The TV Shield PRO Lite Touch could save you the frustration and financial burden of dealing with broken TVs or digital signs.

The TV Shield PRO Touch (weatherproof) and The TV Shield PRO Lite Touch are secure and robust touch screen display and TV enclosures that are made in the USA. We have combined these enclosures with our IR touch frame to offer the best solution for protected (and even weatherproof if needed) touch screens. With The TV Shield PRO Touch and The TV Shield PRO Lite Touch you can use any standard off the shelf flat screen TV, completely enclose it and turn it into an interactive touch screen. Featuring extremely tough metal housing that encases the TV and a high strength shatter-resistant front shield, both The TV Shield PRO Touch and The TV Shield PRO Lite Touch interactive display solutions eliminate the risk of having to replace an expensive touch screen TV or interactive digital sign if the screen breaks (because they prevent screen damage).

Common Interactive Display & TV Content:

Interactive Ads

Menus

Games

Schedules

Tickets

Directions

Whiteboards

Photos & Videos

Instructor Programs

Movies/ TV Shows

General Information
Technology Revealed - The TV Shield PRO Series IR Touch Frame (Weatherproof Option Available)!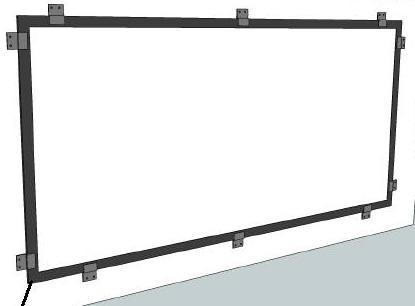 Our touch frame can convert nearly any computer imaged surface into a responsive interactive device. Examples of "computer imaged surface" include flat panel displays (LCD, LED, plasma), all-in-one PCs, projection screens, video walls, whiteboards or white walls (up to 200" diagonally). It is compatible with Windows, Mac, Linux and Android.
Embedded IR sensors inside the touch frame emit and receive invisible infrared light beams in front of the computer imaged surface. When your finger or an object breaks through the light grid, it is seen as a touch point which is same as a left mouse click. Your touch can also perform all the standard tablet gestures and multi touch functions.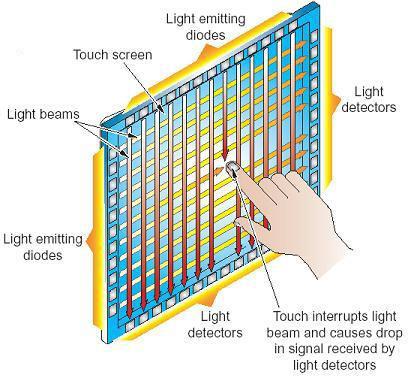 To learn more about getting your own touch screen TV enclosure, call Protective Enclosures Company at:

800-331-2628

PEC's enclosures protect TVs and video displays in over 9000 residential and commercial locations in 17+ countries worldwide.