Posted by The Display Shield Outdoor on 7th Jul 2020
PEC Now Partnering with Philips to Offer Digital Displays in Addition to The Display Shield Weatherproof Display Enclosures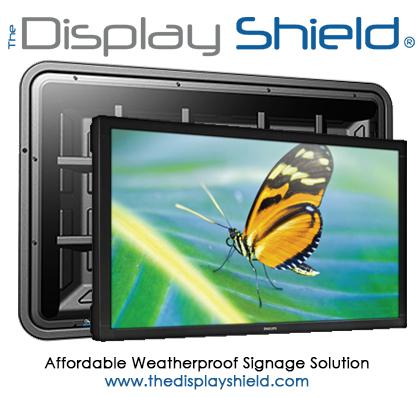 Protective Enclosures Company - Oct. 3, 2014 - ORLANDO, Fla. -- The digital signage industry is booming, but outdoor sign pricing is a sticky issue. Protective Enclosures Company (PEC) has partnered with Philips to offer a less expensive comprehensive weatherproof and durable outdoor signage solution. "Thanks to this partnership with Philips, PEC clients can purchase affordable signage protection and displays in one easy process" stated PEC CEO, Justin King. PEC is also working with a supplier to offer customers LG displays. A one-stop-shop, buyers can select only a digital display, or they can purchase The Display Shield in addition, to protect their investment.
Protective Enclosures Company is a leading provider of weatherproof display enclosures. PEC's product, The Display Shield, allows commercial displays to be placed outdoors or in high traffic areas at a cost 50-75% lower than a typical outdoor sign. The Display Shield is often found in stadiums, educational facilities, theme parks, restaurants, bars, hotels and other commercial venues. Offering defense against water (rain and wash downs), damaging sun rays, moisture, dampness, tampering, theft, vandalism, pests, high impact and varied temperatures, these durable signage cases provide the ultimate display protection. Already used by Marriott, TGI Fridays, Six Flags, Dallas Cowboys, Oakland Raiders, the University of Alabama, and many other organizations, The Display Shield is becoming the outdoor signage enclosure of choice.
In partnering with Philips, PEC now carries an array of digital signage display models with features from TV tuners (Wi-Fi capable), and 350 plus nit displays to a variety of sizes. This means PEC offers commercial integrators and buyers cost savings and convenience. The Display Shield outdoor signage option isn't just saving buyers money up front, it's also offering long term savings. Unlike a $5,000 outdoor display that has to be completely replaced as technology evolves, PEC's protective display cabinets allow customers to upgrade their display with a newer model for $500 to $2,500. The Display Shield cases are designed to enclose displays ranging sizes 19 inch up to 60 inch. Commercial buyers are no longer restricted to a typical 42 or 46 inch outdoor sign, but can purchase their ideal display at any size up to 60 inches and place it in The Display Shield. Now that PEC and Philips are working together, these enclosures and displays are all available with PEC in one place, for a great price.
About Protective Enclosures Company:
PEC manufacturers weatherproof and secure protective enclosures for TVs, Flat Panel Displays and Digital Signage. PEC is the patent holder and manufacturer of The TV Shield ® and The Display Shield ® branded enclosures. PEC products, The TV Shield and The Display Shield, are used in over 4000 locations, in 12 countries.
* All PEC, The TV Shield & The Display Shield logos and product names are owned by PEC. Other company and product names may be trademarks of their respective owners.
Press Contact :

Emilyann Girdner
Protective Enclosures Company
Marketing marketing@protectiveenclosures.com
(407) 982-7330
Read more about this story on Commercial Integrator:
Protective Enclosures Partners with Philips for Outdoor Digital Signage