Posted by Kraig Koelsch on 6th Dec 2018
Demand for Vertical Outdoor Digital Display Protection Drives PEC to Act
ALTAMONTE SPRINGS, Fla. - December 05, 2018
Protective Enclosures Company has begun shipping its latest weatherproof outdoor TV cabinet, The TV Shield PRO Portrait, the company announced today. The enclosure is compatible with almost every 42" to 65" TV or digital display.
Designed for use with any standard indoor TV or digital display, it is ideal for commercial and professional markets where a monitor is needed in a vertical orientation. With its sleek and aesthetically pleasing picture frame design, it will seamlessly integrate into any high-end environment. Developed for outdoor areas, The TV Shield PRO Portrait's proprietary "Quick Install" system is faster to install and maintain than other metal TV enclosures and the front frame opens effortlessly with our tabbed lift off system.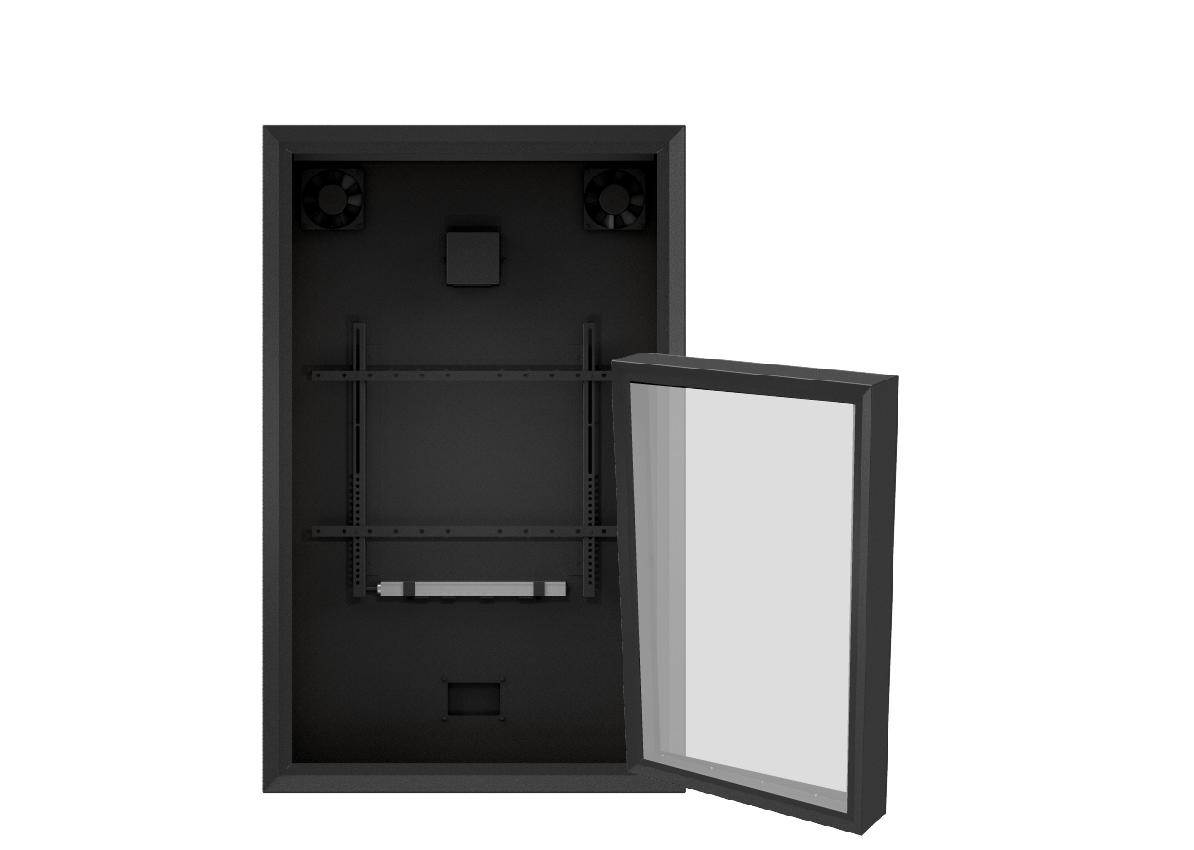 The TV Shield PRO Portrait can accommodate any VESA pattern from 75x75 to 600x600 with depth and height adjustment and comes standard with a custom-built aluminum commercial-grade power strip with a 12 ft. cord, 15-amp breaker and a 60ppi filtered ventilation system with dual thermostatically controlled 120mm fans.
The triple powder coated steel enclosure is ideal for businesses that need to display messaging vertically. Some examples include menu boards for restaurants and food trucks, flight and transit messaging at airports and city bus/train stations, movie times at theaters, customer messaging at theme parks and sports stadiums and many more.
The secure (protects against theft and tampering), durable and shatter-resistant enclosure expands the company's professional line of TV and digital display enclosures building on the successes of the The TV Shield PRO, a horizontal enclosure made of powder coated steel and aluminum with sizes ranging from 42"-85"+ inches. The TV Shield PRO Portrait has been a popular hit with customers and was recently showcased at The International Association of Amusement Parks and Attractions Expo in Orlando, FL.
"Customers have expressed a constant demand for a vertical version of the highly-popular The TV Shield PRO," said President Jarad King. "We're always looking to grow and improve our product selection and strive to provide our customers with a complete line of enclosures through our latest innovations," he added.
"The TV Shield PRO Portrait really helps to round out our extensive variety of enclosures. We started with The TV Shield (horizontal enclosure) that encases 19"-60" inch TVs and displays and then expanded to The Display Shield, which is available in horizontal or vertical format and fits 19"- 60"-inch TVs and displays," King said. Both The TV Shield and The Display Shield are manufactured using HMWPE (High Molecular Weight Polyethylene), which is a specific plastic rated for outdoor usage and durability.
Pricing for The TV Shield PRO Portrait starts at $1,449.99 and includes free shipping. For more information, contact the company at 800-331-2628, see The TV Shield PRO Portrait Outdoor TV Enclosure or email info(at)protectiveenclosures.com.